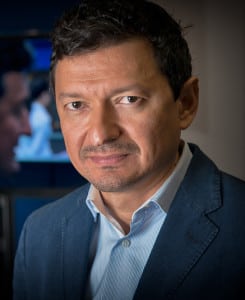 Two automobiles—a 2012 Jetta and a 2013 Passat—became the protagonists in a "soft launch" of Volkswagen's transnational crisis in May 2014, alerting the Environmental Protection Agency (EPA) and the California Air Resources Board (CARB) to issues with VW's reported emissions data.
VW remained silent until December 2014, when the company began a voluntary recall of nearly 500,000 vehicles in the U.S.
Then, on Sept. 3, 2015, and without going into detail, the German carmaker admitted to regulatory agencies that "clean" diesel cars included software to cut emissions when testing in a laboratory. Two weeks later, the U.S. Environment Protection Agency (EPA) announced VW's violation, spearheading a dynamic global news flow and social media bursting in flames.
In short order, VW CEO Martin Winterkorn resigned; Matthias Müller from Porsche replaced him. A series of executive suspensions, somber and upbeat apologies and announcements about customer communications and restructuring followed. But the controversy and new revelations continued.
Throughout, VW has been consistent in its crisis communications: The company has said little. Public apologies and customer correspondence have been repeated on online platforms. VW has asked for patience while it looks for an optimal remedy for the deceived customers who may be offered a mechanical solution to repair the illegal device.
Late last year VW offered affected customers a "Goodwill Package." VW describes it as "a first step toward restoring your invaluable trust." It includes a $500 prepaid Visa gift card (aka loyalty card), a $500 VW dealership card and free 24-hour roadside assistance for three years.
How have customers and other active publics responded to the package?
Peak coverage, based on data from Factiva, occurred between Nov. 9 and 15, with 1,267 hits, 152 publications, 1,095 web news items and one multimedia channel. Over 16 days, 1,498 Tweets were posted, including VW goodwill package or #goodwillpackage.
More specifically, Consumerist.com found 120,000 people accepted the package online. That is roughly 25% of the affected 482,000 vehicles covered by the package guidelines, said VW spokesperson Jeannine Ginivan.
There was support for the package on Twitter, but most postings seemed negative. Some Twitter users think this is an unacceptable form of remediation, categorizing the gesture as a disappointment after waiting for a more concrete response more than two months after the scandal became public, and charging that it is not enough to win back loyalty.
Other Twitter users highlighted the additional wait to activate the cards offered in the package (i.e., four weeks) and the confusion over an arbitration clause. For instance, one person wrote "It appears that @VW clarified the fine print for goodwill package. Take it or leave it. Won't affect class action. Yes, they still suck."
A Taxonomy of Respondents
As of Nov. 30, 2015, more than 641 comments were recorded. I read and sorted them into five distinct categories. I called the first category Dissatisfaction with Amount of Compensation. Many commenters believed the goodwill package to be not enough, or insignificant. Commenters debated the value of a $500 VW gift card versus a $500 check, insinuating that a gift card to a dealership is worth far less than the cash.
I named the second category Ulterior Motive. There was a large discussion over whether titling the compensation the "Goodwill Package" accurately represented its purpose. As one commenter pointed out: "It should not be called 'goodwill package.' This is a 'we committed felonious fraud and we were caught package.' Goodwill insinuates that they do this, well, out of goodwill."
The third identified category is American Focus, reflecting a considerable amount of discussion on VW's focus on the U.S. market—which for VW has global PR implications. Consumers from countries such as the U.K. and Australia felt that VW is not doing enough to address their markets. Comments such as "What about us in Europe????" demonstrated that commenters believe VW should expand its attention to other parts of the world.
I called the fourth category Refund Consumers. Many commenters in this category brought up the popular notion that anyone who purchased an affected vehicle should be given a full refund for the car. As one commenter put it, "Can someone explain why car owners aren't allowed to return the vehicle and be paid everything they've paid toward the vehicle they were sold by VW? I feel like this is common sense, you paid for something that wasn't what VW said it was and you should be fully reimbursed."
The fifth category was Confusion Over Terms. Many commenters asked if their model is eligible, where it is eligible and what the legal implications are. Commenters repeatedly emphasize "reading the fine print," as suspicion as to whether or not this negates other compensation was expressed.
Implications for VW and PR PrOs
To date, the outcome of VW's actions and strategies appear more negative than positive and have generated many more questions (although in VW's defense, a frequently asked questions section of vwdieselinfo.com clarifies concerns and consumer doubts about the goodwill gesture).
Meantime, VW's stock price has fluctuated wildly. It fell to its lowest value Oct. 2 ($92.36), before reaching its highest value ($135.35) Dec. 29. The DoJ lawsuit, with as much as $45 billion in fines, sent VW down more than 13+%. For PR pros, four takeaways can be drawn from the VW diesel crisis thus far:
•Come Clean Early: When management knows troubling news is coming, your best counsel to the C-suite is to come clean, take responsibility and announce the brand will collaborate with authorities. Get ahead of the crisis.
•Take Action and Demonstrate Confidence: Announce and implement actions in full force, one following the other, as a systematic strategy to regain control over the crisis on all fronts. The responses need to show confidence despite your being in the middle of a perfect storm.
•Ensure Your Publics Understand: For complex cases where the remedy or resolution involves delicate steps, make sure your target audiences clearly understand your intent. Be ready with follow-ups soon after the announcement. Forecast concerns and questions and offer real-time clarifications across multiple channels.
•Make Communications Central to Your Response: Ensure the communications team is as close as possible to the contingency. This is a time for strengthening and empowering the PR and communications team and the organization's appreciation of its role, significance and contributions.
CONTACT: Juan-Carlos Molleda is professor and chair of the Department of Public Relations, University of Florida's College of Journalism and Communications. [email protected]
 This article originally appeared in the January 11, 2016 issue of PR News. Read more subscriber-only content by becoming a PR News subscriber today.