As loyal readers of PRNEWS know, we periodically gauge the industry's mood via short surveys. In our latest (below), we turned around the data within 10 days. Yet several important issues broke during that period, including resumption of Major League Baseball and the game's virus issues, as well as Google's July 27 announcement that its 200,000 full-time and contract staff have the option to work from home through June 30, 2021. In addition, coronavirus cases spiked in several southern and western US states.
It is difficult to say whether or how these might have influenced the 120 PR pros who took part in our latest survey. Still, a survey is a snapshot in time. And when this survey was live (July 13-24), these issues were not in play.
Working 'Much Harder,' But Upbeat
One of the big takeaways from our new survey is that in the time since our June survey, PR's verve has dimmed only slightly. In June, we found PR moderately optimistic about the future, despite there being no end in sight for the pandemic. Our latest survey finds the same attitude, though there's a twist, which we address below.
The new survey finds PR pros working "much harder" during the pandemic (chart 1), yet the reasons for this are positive. 72 percent said the extra work results from businesses needing additional help during the pandemic. By contrast, just 22 percent said they're working harder to fill in for laid-off and/or furloughed colleagues.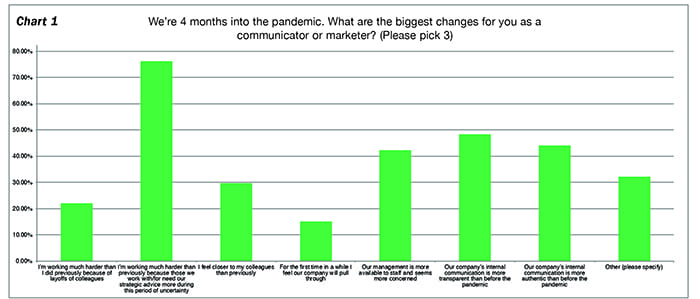 "Working harder because" those we represent "need our help more–you bet," says Meredith L. Eaton, N. America director at the firm Red Lorry Yellow Lorry.
Adds Marisa Long, EVP, Inspire PR Group, "Our industry is important in helping [companies] navigate unprecedented challenges."
Like Eaton and Long, Crystal Cooper Mathis, who heads marketing at wealth firm SignatureFD in Atlanta, agrees communicators are working harder. Communicators, she says, "have had to figure out new ways to increase communication with clients."
Pre-pandemic, SignatureFD often met clients in person. These meetings were "crucial" to its business, she says.
Not only are PR pros working harder, research shows they also are logging more hours. For some communicators, office hours lose their meaning when they're working at home. Working from home "has its benefits," Eaton notes, "like being able to more easily take calls across varying time zones."
On the other hand, there's a danger of being always available and getting burnt out. "Striking a balance with work and life while working remotely is crucial to being on top of your game and providing the best advice...during this demanding time," Eaton says.
Post-Pandemic Rebound
The subject of PR's upbeat attitude is addressed in chart 5. An overwhelming majority (85 pecent) are confident that PR will return to its former size and that the pandemic has heightened strategic communication's status.
When we asked a similar question to a larger group of communicators (200 respondents) in our June survey, we received essentially the same positive response: 88 percent said PR would bounce back to its pre-pandemic size and that the virus has highlighted the need for strategic communication, raising PR's prestige.
Two Roads to 80+ Percent
While the collective total is similar (88 percent vs 85 percent), it is important to note the composition is reversed. In June, 51 percent said PR would return to its pre-pandemic size; in August, it's 28 percent. In June, 37 percent said the pandemic enhanced PR's prestige; in August, 57 percent thought so.
Commenting on PR's gaining prestige, Cooper Mathis says,"There was a sentiment that PR...was becoming a lost art to more integrated strategies." However, "the combination of the pandemic with social unrest has created a significant need for internal and external communication." The world, she says, is "more attuned to what's going on because they're home and able to pay more attention to news. This focus comes with an increased need for smart PR counsel."
Strategic Communication Enhanced
Robert Hastings, CCO and chief of staff at aviation company Bell, says, "The pandemic has been a proving grounds for businesses that embrace the power of strategic communication." He adds, strategic communication "will emerge stronger and more effective than before."
In June, we remarked that the industry's positive attitude about the future was remarkable given the state of the economy and the pandemic's scourge. That's still the case, especially considering the nation's record unemployment, PR industry layoffs, continued spikes in coronavirus cases in nearly 40 states and social unrest.
Room for Doubt
While the majority of PR pros seem upbeat, chart 2 shows doubt is part of the equation. When we asked August survey participants to pick their top two professional concerns, the overwhelming choice (70 percent) was "When will the pandemic end?" (chart 2). Nothing else was close.
The second choice, at 40 percent, "Can we survive until the pandemic subsides enough for business to rebound?" tempers the upbeat attitude referred to above.
WalkerSands president Mike Santoro says, "I've talked to so many [PR] leaders who have broken down from the stress of having to manage during this time." He adds, "This has been the toughest time I've ever had as an agency leader." Still, he's hopeful. "Count me among the optimists," he says.
The Future of Work
It was not a surprise to find respondents thought the pandemic's top two lasting effects will be that "PR will use virtual platforms more and travel less" (56 percent) and that "work from home will become the norm" (61 percent) (chart 3). In our June survey, 59 percent of respondents said they'd would be working from home.
Several Surprises
What surprised us in the present survey, though, was that just 3 percent told us they are considering breaking their leases (please see chart 4).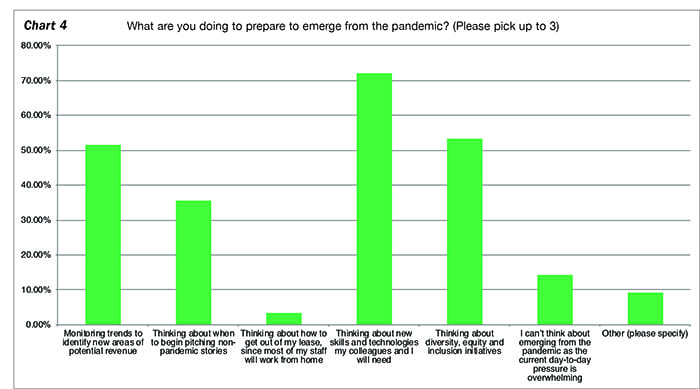 It is possible the response about leases was low because respondents are not involved in those issues. As you can see, the leading choice was, "Thinking about new skills and technologies my colleagues and I will need" (72 percent). For Santoro, though, "Any smart agency is taking all of these steps to prepare to emerge from the pandemic."
Diversity Concerns
It was not surprising to see that diversity, equity and inclusion (DEI) was next, at 53 percent, besting "Monitoring trends to identify new areas of potential revenue" (52 percent). The May 25 killing of George Floyd and BLM protests have pushed DEI to a top-of-mind issue for PR pros.
"People have more time to pay attention to the actions companies are taking," says Cooper Mathis. "So, like it or not, all brands are on the hot seat," she adds.
Angela Chitkara, researcher, World in 2020 Project, says, "We cannot view DEI as a mere compliance exercise. Senior management must commit to DEI or it simply won't be integrated into the workflow and culture of a brand."
DEI received less attention in our June survey, which closed days before Mr. Floyd's murder. In June, 38 percent of respondents said they were not including DEI information in messaging; 44 percent said they were including it in both internal and external messages.
Note that video of two white men shooting Ahmaud Arbery, an unarmed Black man, surfaced days after our June survey opened, likely raising DEI in the consciousness of PR pros.
In addition, statistics showing the pandemic hitting Black and Brown citizens disproportionately were making headlines when the June survey was live. Those stories likely raised DEI to a higher position in the zeitgeist. For comparison, an April survey from Peppercomm and the Institute for PR found just 19 percent of PR pros saying they were incorporating DEI content in their internal communication.