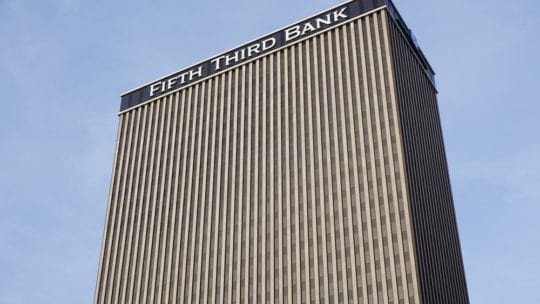 Despite the public's increased demand for transparency, many brands still prefer to keep bad news quiet. In announcing it will be phasing out Google+ for consumers, Google mentioned (some would say buried) the discovery of a data breach of potentially 500,000 Google+ users. The breach occurred in March. Google revealed it Oct. 8, some seven months after it occurred.
So, when bad news is not swept under the rug, it's noteworthy, more so when one brand whacks another in the process.
Earlier this month, a representative of Fifth Third Bank, the 24th largest bank in the U.S. by assets, allegedly told gunmaker Spike's Tactical CEO Cole Leleux it was no longer interested in doing business with the company.
Founded the day before 9/11, Spike's Tactical makes guns for the civilian, military and law enforcement sectors.
A family business that employs 40 people in Apopka, Fla., Spike's managers and its PR firm, Judge PR, decided to buck the trend and announce via press release what the bank did. The title of the release, "Fifth Third Bank joins war against guns, notifies certain account holders they will no longer do business with gun manufacturers," sounds like something the bank would have released.
Line of Credit Closed
Fifth Third Bank, the release said, was "discreetly planning" to exit the banking sector for gun-related businesses.  The release added that not only had Fifth Third decided to not renew Spike's line of credit, it encouraged it "to find a new bank to hold" its accounts and even mentioned that its commercial mortgage, which a subsidiary of Fifth Third owns, "should be transferred or it could potentially be called early."
Another unusual touch: the release even provided background material for reporters, noting, "Earlier this year, Bank of America and CitiGroup announced they would also begin restricting their business dealings with gun-related companies."
The release failed to mention those moves came on the heels of the Feb. 14 shootings at Marjory Stoneman Douglas High School, also in Florida.
Shooting in Cincinnati
Also absent from the release was mention of something that occurred last month in Cincinnati, at Fifth Third Bank's headquarters. A gunman entered the headquarters Sept. 6 and opened fire in and around the building, killing three people, including one bank employee, and wounding two.
One of the wounded eventually died; the other victim, Whitney Austin, 37, was shot 12 times. She recently was released from the hospital and hopes to eventually head back to her job as a product manager at the bank, the American Banker reports.
We asked James Judge of Judge PR why that story wasn't included in the release. "I didn't know about it when I wrote the release," he told us.
He added, "Any time there's a loss of life it's tragic," but Judge noted law enforcement used a gun to kill the perpetrator. He also said it's "hypocritical" for a bank to turn its back on gunmakers when they "have been and continue to be protected by guns ... they are attacking the very industry that is often their first line of defense."
Is Fifth Third In or Out?
Fifth Third, though, refuses to confirm details of Spike's news release, citing privacy concerns. A spokesperson admitted to the American Banker via email it is committed to "keeping firearms out of the hands of the wrong people," but it continues to have ties with gun makers.
On the other hand, CEO Greg Carmichael, told the Cincinnati Enquirer after the shooting, "This has to stop — we have to find a way to stop the gun violence in this country."
A humble suggestion: Fifth Third Bank needs to explain its position clearly.
Publish or Perish?
Another question we asked Judge is why Spike chose to go public with a story most businesses likely would bury. "Most businesses are not under attack the way Spike's and other gun companies are under attack," he said.
In addition to banks, social media sites such as YouTube, Facebook, Shopify, Google, Walmart and Dick's Sporting Goods restrict or prohibit gun-related business, Judge said. It's even challenging for communicators representing gun companies to get press releases distributed, he added.
A Mutual Decision
Was the decision to issue the release based on his counsel or did Spike prompt it? "It was a mix," he told us. "We both felt we wanted the public to know what the bank was doing."
In the release, Spike's co-owner Angela Register said, "We understand that the gun industry is not a protected class and that banks and other businesses can choose to not do business with us, but we also believe that customers should know if that vendor has decided to enter the political arena and they've taken a stand against guns."
Judge says his firm represents clients "running the gamut" from restaurants to veterinary hospitals. None has urged him to drop Spike's or other gun makers from its roster. If a business is operating legally, Judge says, "it's our job to tell its story."
Seth Arenstein is editor of PR News.  Follow him: @skarenstein