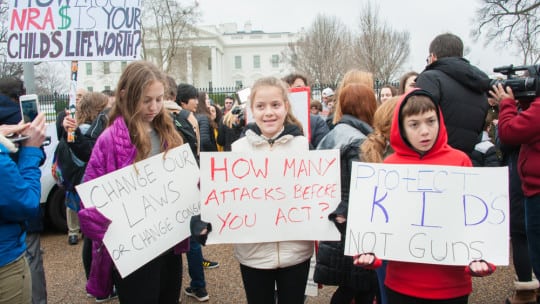 With more than 48,000 tweets and counting, the #BoycottNRA hashtag is trending and brands are listening.
In response to the outcry following the Feb. 14 Parkland, Fla. school shooting, several national brands have rescinded their National Rifle Association membership discounts in support of gun control. The list includes Best Western, Wyndham Hotels, Alamo Rent A Car, Enterprise Rent-A-Car and First National Bank of Omaha, among others.
Customer feedback has caused us to review our relationship with the NRA. As a result, First National Bank of Omaha will not renew its contract with the National Rifle Association to issue the NRA Visa Card.

— First National Bank (@FNBOmaha) February 22, 2018
Given the divisive national discussion around gun control, these brands have taken a big risk in severing ties with the NRA. While many have called for gun control legislation following the Parkland shooting, other voices—equally as loud—have argued for their Second Amendment rights.
But the brands taking a stand on gun control are also getting rewarded for their efforts, from influencers applauding the organizations to positive earned media in The Washington Post, USA Today and MSN. Speaking out against gun violence could also be seen as a crisis-prevention move. Brands that haven't joined the boycott, such as Hertz, Avis and FedEx, are being targeted by activists on social media.
The U.S. has seen 150 mass shootings since 1966, according to a recent Washington Post article, which begs the question: Why now? What's different about the current climate?
After the 2012 shooting at Sandy Hook Elementary School in Newtown, Conn., in which 20 children between six and seven years old were killed, parents and educators took up a rallying cry to "save the children" from future gun violence. But the Parkland shooting survivors, teenagers who grew up channeling their voices through social media, have a potentially even more powerful message: Save us.
Follow Sophie: @SophieMaerowitz