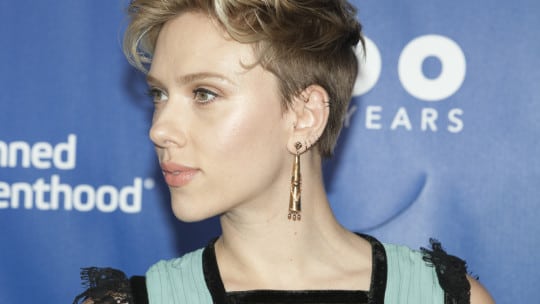 To some, it's a reminder of life in the hyper-democracy of the digital age, where everyone with a social media account is entitled to share her/his opinion on social. To others, it's a non-issue, receiving attention in the news-starved July 4 break and far too inside-baseball to be important.
The story concerns the actor Scarlett Johansson, who's due to play the part of a transgender person in an upcoming film, "Rub & Tug." [See update at the bottom of this story.]  The character Johansson is set to play is based on the late Dante Gill, who owned a string of massage parlors (read: houses of prostitution) in the 1970s and 80s in the Pittsburgh area. There's little known about "Rub & Tug" in terms of its release date, though it's said to be starting production soon.
(Yes, we can hear PR pros groaning with envy; a film that's not even started shooting already is generating tons of buzz.)
A trans actor should be playing Gill, not Johansson, critics of the decision to cast her in the role charge.
An Easy Target
Johansson is a large target for such criticism. In 2016 her voice was used to portray a Japanese character in "Ghost in the Shell," a film about the manga series. Its director was Rupert Sanders, who's also at the helm of  "Rub & Tug."
Social media's been all over Johansson, accusing her of stealing roles from trans actors as well as actors from other groups who receive few opportunities to play characters like themselves. Tweets include those claiming, in jest, that Johansson eventually will play both Barack and Michelle Obama in upcoming films.
One of the saucier tweets declares Johansson "is playing a trans man in her next movie because her ultimate career goal is to take an acting job from a member of each and every marginalized group."
In a way, the issue has existed in some form for years. Hollywood draws actors from all over the globe. The result is English and Australian actors, who seem to fake an American accent with ease, often are cast to play the roles of Americans.
For example, Hugh Laurie, a Brit, starred as Dr. Gregory House for years on "House." Emmy-nominated Welshman Matthew Rhys just finished playing pseudo-American Philip Jennings on FX series "The Americans." The fine English actor Tom Wilkinson won an Emmy and Golden Globe for his portrayal of Benjamin Franklin in HBO's "John Adams." He's also played President Lyndon Johnson, Kennedy patriarch Joseph Kennedy and George W. Bush chief of staff James A. Baker in television films. The list is endless.
A Non-Apology
Part of the problem in Johansson's case, though, and one directly related to PR, is her response to the criticism, which was seen as dismissive. "Tell them that they can be directed to Jeffrey Tambor, Jared Leto, and Felicity Huffman's reps for comment," the 33-year-old actor is quoted as saying in a statement to Bustle.
For 4 seasons Tambor, a heterosexual actor, played trans character Maura Pfefferman on the Amazon series "Transparent." Tambor's portrayal was met with acclaim and resulted in a Golden Globe and an Emmy.
Yet Tambor's success ended ignominiously after transgender actors Van Barnes and Trace Lysette alleged during the height of #MeToo last November that Tambor had harassed them on the Transparent set.
In an apology hewing far better to traditional PR, Tambor's response read in part that he was "deeply sorry if any action of mine was ever misinterpreted by anyone as being sexually aggressive…I know I haven't always been the easiest person to work with. I can be volatile and ill tempered, and too often I express my opinions harshly and without tact. But I have never been a predator–ever." Tambor will not be part of the fifth season of "Transparent." Johansson might have considered Tambor's fall from grace before including him in her statement.
Of the other two actors Johansson mentioned, Jared Leto's transgender woman in "Dallas Buyers Club" earned the actor an Oscar in 2014. Felicity Huffman received an Oscar nomination for her work as a transgender character in the 2005 film "Transamerica."
Johansson's statement was not an apology. Traditional PR says things should have been handled differently. Her use of a no-apology statement seems to have flopped here. The tactic works well for few. Like him or not, President Trump has perfected the no-apology apology, preferring instead to attack his attackers.
Is Apologizing Dead?
Another way of looking at Johansson's curt response is that it might be a product of the lowering of civility in internet discourse. Commenting on the recent brouhaha between Elon Musk and a Ford communicator, PR News' Steve Goldstein wrote of "the gloves-off tenor of political discourse on social media" bleeding into corporate messaging. Some would argue the gloves-off tenor bled long ago into actors' online messaging.
Not mentioned is the fact that Johansson is an actor with tremendous box-office appeal, transcending that of thousands of actors of various sexual and ethnic identifications. In other words, the concept of a film with Johansson in it makes sense from a profit-and-loss viewpoint.
The counter argument, though, is how can marginalized actors, trans or otherwise, lacking Johansson's fame catch a break in Hollywood? It's an age-old question.
Acting vs. Reality
In a way, Johansson's response is an attack on her critics, though it's subtle. Johansson seems to be implying that her decision to take the part in "Rub & Tug" is based on the idea that acting is founded on playing somebody you're not.
For example, when the actor Jennifer Beals was cast as a lead in the series "The L Word" on Showtime in 2004, she was asked if she was a lesbian. The question, she replied, was irrelevant. In a recent role she'd played a Jewish former tennis player. Nobody had asked her, she said, whether or not she plays tennis or is Jewish.
As the Hollywood saying goes, "That's why they call it acting."
UPDATE (July 18, 2018): Johansson pulled out of the film Rub & Tug. Her excellent statement announcing the move likely was the work of a professional communicator. It was issued July 13.
Seth Arenstein is editor of PR News. 
Follow Seth: @skarenstein