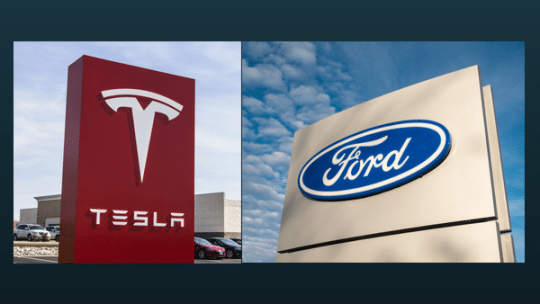 The gloves-off tenor of political discourse on social media might finally be bleeding into corporate messaging.
In a June 27 Wall Street Journal feature-length article about delays in the production of the Tesla Model 3, Tesla chairman and CEO Elon Musk compared Ford unfavorably to his own company, calling the legacy car maker a "morgue."
Here is a brief excerpt from the beginning of the article:
On a chair next to him was a white caseless pillow that he used while sleeping on the floor under his desk. The billionaire CEO and chairman of the electric-car maker wasn't far from two general assembly lines making the Model 3 sedan, surrounded by the sound of banging metal.
Outside, under a giant makeshift tent, workers were also building sedans on a third, hastily constructed line.
And another excerpt, from midway through the article:
"I'm feeling good about things," [Musk] said. "I think there's a good vibe—I think the energy is good; go to Ford, it looks like a morgue." He said he just learned the phrase "What's your vibe?" from his new girlfriend, the musician known as Grimes. Earlier in the day, Draymond Green, the Golden State Warriors star fresh off winning an NBA championship, stopped by the factory.
Mark Truby, VP of global communications for Ford Motor Co., shot back at Musk in a June 28 tweet.
No doubt the vibe is funky in that "makeshift tent," but it's not bad either across the street at the #FordRouge plant where a high quality, high-tech F-150 rolls off the line every 53 seconds like clockwork. Come check it out @elonmusk#BuiltFordToughhttps://t.co/1KoEZIyf0D

— Mark Truby (@mtruby) June 28, 2018
It's difficult to imagine Truby's predecessor, Ford's former VP of global communications Ray Day, taking to Twitter so quickly to pointedly dismiss an insult from a rival—not that Musk wasn't asking for it. Truby took a calculated risk with his Twitter retort, and he's gotten dozens of Twitter replies—not all of them supportive. One such reply:
Better to get a car from a "makeshift tent" in California than a Ford factory in China or India. BTW, when are any of your sedans going to hit a 5,000 per week production so that you need to expand?
Ford is in the news cycle, though, thanks to Truby's social media parry, which embodies the "Built Ford Tough" motto.