Facebook is criticized on many fronts. Still, its importance for brands seems solid. Unexpectedly, nearly 80 percent of consumers choose it as their go-to vehicle for following brands, according to a Sprout Social survey detailing consumer and marketer trends on social media. In addition, Facebook tops the charts as consumers' most-used platform (87 percent).
These findings serve as a reminder to social media communicators to revisit Facebook as a platform for driving business, despite a groundswell of buzz for newer platforms like TikTok and Clubhouse.
When consumers follow a brand on social, 91 percent say they are likely to visit its website or app. This high level of conversion is surprising, given social platforms' (particularly Facebook) aim of keeping social media users on-platform.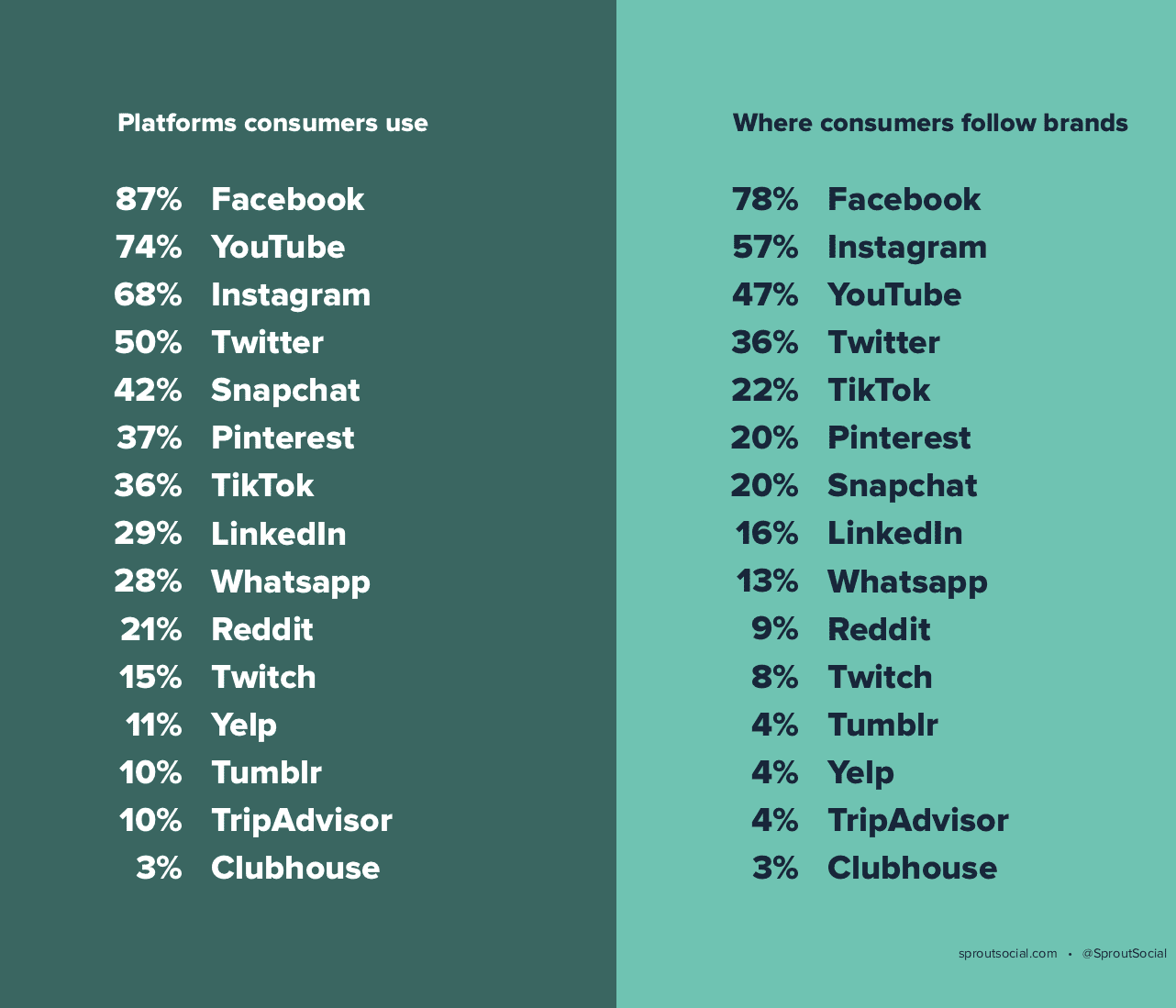 For its survey, Sprout Social questioned 1,002 U.S. consumers and 1,001 U.S. marketers in early April 2020. Also included was an analysis of 782 million messages from 534,000 public social profiles that were active between January 1, 2020, and December 31, 2020.
Customers expect service
In terms of customer service, consumer expectations for responses from brands on social to queries remain strong. When asked what they think makes a brand best-in-class on social, consumers ranked "they offer strong customer service" at the top of the list of criteria out of nine categories. The rest of the list included storytelling, "distinct personality" and "the first to join a social network."
This is in stark contrast to the survey's marketer respondents, who ranked customer service sixth. Higher on the priority list for marketers is brands that "engage their audience."
While 'audience engagement' arguably is an umbrella term that includes customer service, 'engagement' usually refers to the good stuff—how often audiences interact with content in a positive way, through likes, views and comments.
But customer-support questions, which often drip negative sentiment, also are a good place to strengthen audience interest and loyalty.
"Whether someone is asking a question, requesting customer support or simply sharing their opinion or experience, every interaction represents an opportunity for brands to connect with their audience and build a deeper relationship," Jamie Gilpen, CMO of Sprout Social, told PRNEWS.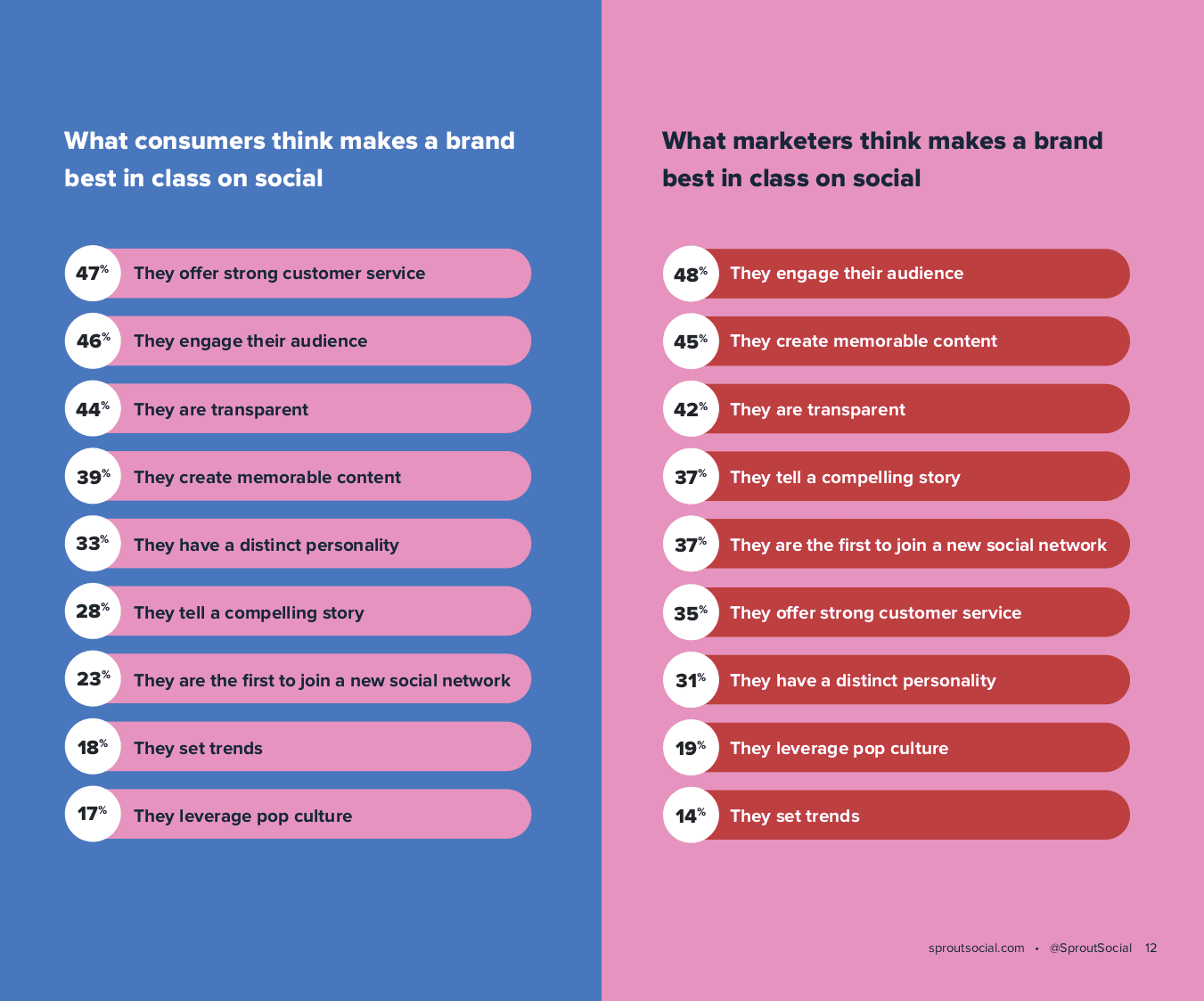 Follow the followers
Sprout's analysis concludes follower counts are no longer a vanity metric, considering that most business-critical actions consumers take appear to result from following brands on social first.
Nine of ten consumers said they'd buy products or services from brands they follow on social, with 86 percent of respondents sharing that they would purchase from a brand they follow over a competitor. This would indicate that social media practitioners would do well to place a renewed emphasis on recruiting followers (or poaching them from the competition).
Upward momentum
The report's usage statistics are unsurprising. Consumer use of social continues to increase (spurred on, no doubt, by the pandemic). Moreover, Sprout reported a 54 percent increase in Boomer usage of social media, and Gen Z upping usage a whopping 78 percent.
The survey makes a case for leaning on social media for competitive advantage. Nearly all (93 percent) marketers say social media accelerated competition in their industry. In other words, competitors' social media strategy—from creative, to response time when a customer complains—is an open book, and with smart analysis, can help brands establish consumers' baseline expectations and preferences. Studying competitors' posts and metrics helps 86 percent of marketers "identify new business opportunities," according to the survey.
Social, mental health and communication
In addition to social media's prowess as a business tool and role in personal communication, social is associated with depression, anxiety and other mental health issues. Yet it's more complicated than 'too much social media leads to mental health problems,' according to a survey of 1,000 U.S. adults.
Released last month, the survey from PR firm EvolveMKD and Ipsos includes some surprising findings. For example, half of Americans say social media doesn't influence their mental health. And of those who say it does, 3 in 4 believe social media is a positive influence.
There's a gender gap, though. More women (30 percent) than men (18 percent) say social media impacts their mental health in a negative way. The survey suggests the culprit perhaps is how the sexes spend time on social. Men and women spend comparable time on social. Yet women (54 percent) devote more effort to scrolling through their feeds than men (40 percent).
One reason to look at social media and mental health is that women's mental health has declined during the past decade, especially in the pandemic. 75 percent of women who reported changes in mental health said it got worse in 2020, compared to 49 percent of men.
Moreover, there's a connection to communication. The survey found 7 in 10 respondents believe how they communicate is linked directly to their mental health.
Certainly, communicators will continue to follow links between communication, gender and social media.
Sophie Maerowitz is senior content manager at PRNEWS. Follow her @SophieMaerowitz.