In the Best Advice Guidebook, you'll find hundreds of contributors from all walks of PR life, who share personal and professional advice. This guide is a living, changing professional resource. By understanding what other people, agencies and companies did around campaigns and initiatives, we all benefit and improve our own practices.
---
Overview | Chapters | Samples | Buy Now
---
Overview
With hundreds of contributors from all walks of PR life, this PR News Best Advice Book is your guide to personal and professional success. From advice on advancing your career, managing employees, mitigating crises, leveraging social media and boosting brand leadership, this book is filled with valuable nuggets from communicators worldwide. Our chapter on Empowerment is a treasure trove of tips and guidance to get you through a tough day or to motivate you to take that chance or make that move.
The idea for the Best Advice Book stemmed from our PR News Conferences, where attendees and speakers share best practices and are at the top of their mental game as they consume a tremendous amount of material and ideas on communications advancement. We decided to take the age-old advice and "strike while the iron's hot," and began circulating a notebook and pen and asking attendees to share their best advice. Over the past two years, we've accumulated thousands of pieces of advice and have narrowed it down to what you'll find in this book.
You'll discover tactical advice on how to deal with the social media tsunami and how to position your brand. As Krista Todd with Logitech shares in the book: "Communication is not what you say, it's what the other person hears." You'll find advice worth repeating, like "The harder you work, the luckier you get" (Marcy Massura, Weber Shandwick). And helpful instruction, such as "Your brand is talking behind your back, do you know what it's saying?" (Adam Smith, Advent Creative).
We hope you find this book to be a helpful guide for advancing your communications efforts, validating your thoughts and realizing your goals.
Chapters
Crisis
Social Media
Empowerment
Media Relations
Tactical
Agency/Client Relations
Employee Relations
Writing
Leadership
Samples
Here's a sample of some of the exclusive content in this guidebook:
Buy Now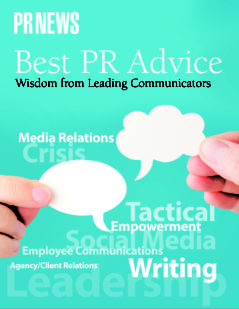 If you have any questions or would like to order by phone, contact Client Services at [email protected] or (888)-707-5814. All PR News book sales are final.