[Editor's Note: The PRNEWS staff encounters many examples of brand communications. Each Friday we compile an assessment of some of the best and not-so-great examples. Our intent is to provide a learning experience about what works or doesn't. You can find last week's examples here.]
Sophie Maerowitz, senior content manager
Manischewitz/"The Marvelous Mrs. Maisel:" B 
While some brands have switched over to a more somber tone throughout the COVID-19 pandemic, Amazon Prime's hit show about a Jewish American housewife-turned-comedian in late 1950s-early 1960's New York City has kept things relatively light. Recognizing the show's role in entertaining audiences stuck at home and sticking with its overall brand voice, the Mrs. Maisel team has shared interactive exercises ("Maisel Libs"), quizzes and user-generated content in recent weeks.
For Passover, the show partnered with Jewish foods company Manischewitz to release a line of branded coconut macaroons—a traditional Passover treat—available for a limited time via Amazon. Seeing Amazon products marketed at the moment, however, may be a tough pill to swallow for those aware of Amazon's workforce safety issues and subsequent bad press throughout the crisis. (To be fair, it appears Manischewitz has been handling most of the social media marketing.)
Was Passover 1960 so pink? Well, it is now with our @MaiselTV-themed #Manischewitz macaroons! #MrsMaisel
Buy it here: https://t.co/yW3z7c5MtT#Passover #macaroons #passover2020 #kosher pic.twitter.com/bNoIICrmjd

— Manischewitz (@ManischewitzCo) March 23, 2020
Mark Renfree, event content manager
Lady Gaga: A
With all the ire Gal Gadot's star-studded rendition of John Lennon's "Imagine" generated, it's nice to see that one celebrity isn't suffering the same pitfalls. This week, Lady Gaga announced that she's working with the World Health Organization and Global Citizen, an international advocacy organization, to put on a virtual benefit concert April 18. What's the difference between Gaga and Gadot? While the best-selling recording artist put together a similarly high-profile lineup, she's already generated $35 million to support the WHO's COVID-19 Solidarity Response Fund. But the benefit has a catch: Gaga wants people to close their wallets April 18. Instead, she's fundraising before the event and wants people to focus on "kindness currency." Gaga said she "wants to raise the money before we go on-air; when we do go on air, put your wallets away, your credit cards away and enjoy the show."
#TogetherAtHome @WHO @GlblCtzn https://t.co/9nxv0J96JC pic.twitter.com/3mXi6d5tbF

— Lady Gaga (@ladygaga) April 7, 2020
Erika Bradbury, editorial director
Handpicked Wines: A
Award-winning advertising vet Alex Grossman realized he could help businesses by creating spots for free. While he's certainly not the only one offering pro bono services during the pandemic, the spots he turned out were done on a very short timetable, without any input on the concept from the client. Each spot had unique flair, but the one shot for Handpicked Ones stood out for its refreshing honesty.
Parents stuck at home with their stir-crazy kids can definitely relate.
Nicole Schuman, reporter/content manager
Dove's Courage is Beautiful Campaign: A
Dove, who has been known for its trailblazing beauty ads, created a new campaign honoring the faces on the front lines of the COVID fight, healthcare workers. It can be tricky for companies to insert themselves into coronavirus messaging, but Dove hits the mark with this ad, showing the simple beauty in humanity and the seriousness of what these essential workers are going through. In addition Dove made a $2 million donation to Direct Relief for personal protective equipment (PPE), ventilators and medicines for healthcare workers on the front line in the U.S., as well as $2.5 million worth of products to Feeding America.
Seth Arenstein, editor
The home-gym commercial dressed up as a resource: A sweaty C-
One thing that's become apparent during coronavirus: It's hard to go wrong in this moment if you lead not sell, think about your staff and audience's emotional needs and employ the basics of PR: honesty, transparency, clear, concise writing, to name a few.
In normal times it's bad form to include a commercial in a pitch. It's especially inappropriate at this moment.
We received a pitch from a PR firm representing a pair of fitness pros. The trainers were available to comment about working out at home since gyms and health clubs are closed. Great.
Unfortunately, early in the pitch we're told about the "award-winning ultra-compact 'anywhere anytime gym' that works perfectly in any room in the home or outside in the yard or on the deck." Huh?
You guessed it. This 'wonder product' is the two trainers' brainchild. Hmmm.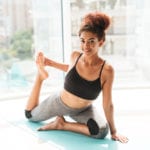 Still, the pitch offers several excellent tips about home workouts. Maybe we'd write an article encouraging PR pros to cut their stress with exercise.
In the third of five tips, though, we see this: [The trainers' home-gym product] is "leading a new generation of connected, home-based fitness equipment that allows you to do all types of gym machine workouts at home. If you are used to working out with a coach or a trainer, the…coaching app, along with other training apps, are available to give you training programs and even track your workouts."
Whew. We'll sit on the couch for now.