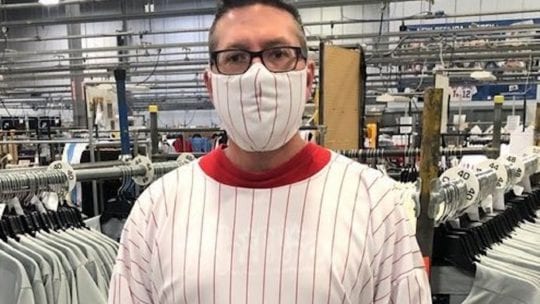 "Staying in because of the pandemic? Here are some recommended pajamas that'll make you feel comfy." Who hasn't been inundated with email from companies trying to sell something because of COVID-19? Or telling you what their policy is on the virus?
We need leaders.
Credit the NBA for helping lead the country to take notice and believe coronavirus is serious. The NBA took action. It didn't send clever email, put masks over its logos, or space the font out in its wordmark.
Brands that take action are those that people admire.  (Several brands followed the NBA's lead. Credit them for being leaders in their industries.)
In a capitalist country, we need more brands to be leaders by taking action. We are a society that worships brands, athletes and musicians. Politicians we don't always trust.  That means company leaders have an opportunity to figure out what their brand can do to help. Here is an inspiring and ever growing list of companies that clearly are pitching in.
A Pivotal Moment
This moment will be telling. Will leaders continue to step up and point the masses in the right direction? Will we see innovators and thinkers pushing their teams to do the right thing? How many C-suites care about more than profits? True brands need to have values that shine during times like this. Most consumers want to see how different companies are stepping up to help the world instead of just worrying about their own business. It's hard to do, but it's what the country needs.
A few thoughts and ideas brand leaders could implement:
Masks
Sports and fashion brands could create masks and face coverings with logos on them. It might seem self-centered, but people may feel better about covering their face with an aspirational brand. Already, Fanatics said it will make masks with material previously used to make MLB uniforms.
Ventilators
More car companies can make ventilators. GM and Tesla are doing so already. Can your company do it without the president requesting it?
Donations
Give the CDC Foundation and other health organizations. Several of the largest brands, such as Starbucks, are doing more than producing clever ads. You can see the list of corporate donors to the CDC Foundation here (sort by "highest" to get a good idea). Unfortunately, the big donor list is short.
Brands, celebrities and musicians can turn their social channels into amplifiers for people like Dr. Fauci and local leaders who are providing facts and truth. As our news channels and federal government focus on politics and debating what the president did or didn't say and do, can brands lead in the war for truth even if it's not on tone for the brand?
Good Will Hunting
Put others first and they will remember your brand as a leader and support you when this all passes. And it will pass, so don't cheapen your brand in the short term.
It's clear people want and need leaders. Can your C-suite lead? Can its members help those who have helped grow your brand? Go ask. Bring them an idea that is an action, not just a clever marketing tactic.
And then when this is all over, remember to continue being a brand leader. Don't just "give your brand to your audience" like so many want to do with social media. Stand for something. Don't try taking a quick sale in the time of crisis.
Let's show capitalism and companies can be for the people, not just the profit.
Mark Sorensen is co-founder of Seed Factory