Stronger alignment among PR, marketing and advertising executives is one goal shared by brands and organizations, at least on paper. Despite the best of intentions, however, many PR, marketing and advertising pros have been stymied by a siloed business approach, senior managers who are reluctant to start collaborating on their media budgets or, in many cases, corporate inertia. But that may be starting to change—and to the betterment of PR. According to an exclusive survey conducted by PR News and PR Newswire, 40% of business professionals said their PR department is "very aligned" with marketing and advertising, meaning that all sides coordinate campaigns and assets and share KPIs.
Thirty percent of the respondents said they were "aligned," in which PR strongly supports marketing campaigns, and 25% of the respondents said they were "somewhat aligned," in which PR and marketing work together only on major initiatives. Just 5 percent of the respondents said PR and marketing are "not at all" aligned.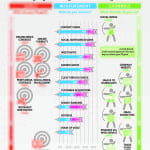 "The opportunity is to look at places for potential alignment [among the three media disciplines] and use that opportunity to drive better results," said Eva Rohrmann, director of solutions and channel marketing at PR Newswire. "As a marketer I would want to look at every piece of content produced for marketing campaigns, and then work with the PR team to evaluate whether the company needs to invest in, say, press coverage or engaging with influencers on social channels."
The online survey, titled "How are Your Business Communications Evolving?" produced nearly 380 responses, with more than half of the respondents from medium-size and large organizations.
The survey took a granular approach to the many issues PR pros are grappling with on a day-to-day basis, ranging from overall PR goals to the indices that communicators now deploy in order to gauge a campaign's success.
While debate rages in PR precincts about communications goals—and how to distribute finite budgets—the survey found that PR goals are fairly disparate. For instance, 83 percent of the respondents said online media coverage was a primary goal. But almost the same percentage of respondents (79 percent) cited both social media engagement and print media coverage as primary goals, an indication that the death of print has been greatly exaggerated (again).
"While the choices reflect that multi-channel programs are growing, their adoption rate is not consistent with the daily emergence of new channels," Rohrmann said. "Communications professionals must differentiate, vary and expand their channel strategies to take their message further and reach their target audience."
Unlike even a few years ago—when share of voice and media clippings were the two main metrics to quantify PR—the survey found a growing number of metrics that communicators are now embracing, including content views (67 percent) earned media (60 percent) and, perhaps most important to PR managers who want to exert their value, revenue (29 percent).
"If we had conducted the survey a few years ago, I am sure that percentage would have been lower," Rohrmann said. "And I expect over the next few years that PR and marketing will align themselves more closely on tracking metrics like conversions and revenue."
But some of those same metrics are not being deployed to gauge PR campaigns. Asked what metrics they would like to measure but currently are not, respondents cited improved search ranking (32 percent), customer acquisition (23 percent) and revenue (22 percent).
According to the survey, communicators are also using multiple digital media channels to get their messages out, whether that's social media (91 percent), company website (76 percent) or email marketing (70 percent).
Despite the gravitational pull of social channels, press releases still hold tremendous value. About 64 percent of the respondents said they use press release wire services to get their messages out.
However, when it comes to distribution, PR managers are being more selective and moving away from mass mailings.
"News releases used to be a 'core function' of my job because you could send out news releases far and wide and newspapers would put a little something in their next issue," said Teresa Veazey, public relations manager at Wichita Art Museum.
She added: "Now, if I want to see a story in my local newspaper about a new art exhibition we have opening, I pick up the phone and call the editor or reporter directly and make the pitch. Then, after they've committed to the story, I follow up with a news release that gives more information."
CONTACT:
Eva Rohrmann, eva.rohrmann@prnewswire.com; Teresa Veazey, pr@wichitaartmuseum.org.
This article originally appeared in the November 10, 2014 issue of PR News. Read more subscriber-only content by becoming a PR News subscriber today.