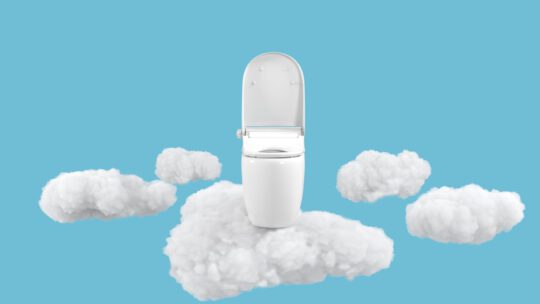 [Editor's Note: Every day journalists receive wildly creative pitches. While many may not correlate with their assigned beats (tsk tsk, that's a PR blunder), some definitely cause a double take.
At PRNEWS we receive some of these pitches. And we wanted to know more about the people behind the pitch. How do PR pros feel about promoting bidets or an adult toy? How do they approach their jobs when tasked with getting coverage for an odd product or event? And how did they get involved with this product or organization?
Our second dive into "Offbeat PR" highlights a PR pro who promotes the bidet company TUSHY. Miki Agrawal launched TUSHY in 2016. The product consists of a bidet attachment that hooks up with  standard toilets.  
Abra Williams, founder of Made You Feel, leads PR and communication for TUSHY. We chatted with Williams. Responses were lightly edited for length and clarity.] 
PRNEWS: How did you start working with TUSHY?
Abra Williams: I met TUSHY's founder Miki Agrawal in 2019, shortly after she released her second book, Disrupt-HER. At the time, she was planning TUSHY's Funeral for a Tree event. 
PRNEWS: What has the collaboration between you and Miki been like? Did she have a vision for promoting TUSHY?
Williams: Miki has always been clear on her mission to challenge our culture's shame and stigma around the bathroom. She infuses the sterile bidet category with freedom, humor and inventiveness, which opens up so many fun doors for PR. She challenges herself, and us, to dream big and swing for the fences unabashedly.
PRNEWS: What are your goals with Tushy?
Williams: De-stigmatizing bidets and removing shame around pooping is in TUSHY's DNA. It's our top priority. We want to show people the superiority of a TUSHY bidet compared to toilet paper, from an environmental, financial and hygienic perspective. And how committed TUSHY is to converting all wipers to washers.
PRNEWS: Tell us about the #WeDoSh*& campaign? Why is it important to de-stigmatize women's bodily functions? 
Williams: TUSHY's creative team tapped into the insight that the shame created around pooping holds back women from living authentically. It often forces them to choose stomach pain and bloating over using a public restroom, or even mentioning to doctors or friends that they're suffering from gastrointestinal issues.
In fact, fecal scholars have found that ​​women are more likely than men to have parcopresis, a.k.a. bowel movement anxiety. Everybody poops, but societally, we place more shame around women doing it—and it's time for that to end.
PRNEWS: So, what did you do?
Williams: TUSHY's #WeDoSh*& campaign sought to end the patriarchal, puritanical and archaic stigma around women's bodily functions. A short film celebrates that girls not only do sh*& (literally, poop), but they also do some really cool sh*& that's way more important than worrying about whether or not they take dumps. 
The brand also launched a limited-edition "Girls Do Sh*%" t-shirt. 100 percent of sales and $1 for every retweet went to Girls with Guts, a nonprofit serving women with inflammatory bowel disease.
PRNEWS: Have there been challenges? 
Williams: The biggest challenge has been breaking through the cultural stigma in the United States associated with bathroom talk and bidets. 
PRNEWS: Tell us about fun experiences you've curated. 
Williams: In 2019, we hosted TUSHY's first-annual ButtCon event. We gathered a team of GI doctors, anal rejuvenation surgeons, anal porn stars, sex experts, and glute-focused fitness gurus to talk about everything from sex and pleasure to gut and butt health.
There were butt workouts, a history of butt cleaning, twerking, an ass-kissing booth, a belfie station, even a cake-sitter.
PRNEWS: What do you hope customers take away from TUSHY promotions?
Williams: Talking about poop and taking care of your butt health is not shameful! Washing your bum with water is not only a more hygienic choice, but also promotes the planet's health.
Andrew Byrd is a Media Associate at PRNEWS