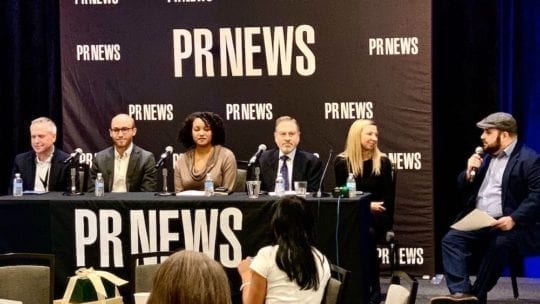 Nowadays, an email pitch is the equivalent of a needle in a haystack. Sure, newswire distributions still rank, and picking up the phone is always an option, but email still reigns supreme for the majority of public relations professionals and journalists.
So how can a pitch really stand out in a crowded inbox? A panel of experts from both sides of the comms fence dispensed wisdom at the How to Pitch Reporters on Email panel at the PRNEWS Media Relations Conference on Dec. 13 in Washington, D.C.. The panel included Laura Brusca, vice president for corporate communications at Forbes, Tom Butts, content director at TV Technology, Monica Melton, assistant editor at Forbes Innovation, Howard Mortman, director of communications at CSPAN and Seth Gilpin, product marketing manager at Cision.
The Pitching Approach
One-thousand, nine-hundred ninety-nine journalists offered insights for Cision's 2019 State of the Media report, said Gilpin. Among those surveyed, pitches range anywhere from 100 to 1000 per week. Obviously, they do not have a lot of time to go through them all—if any. 
Out of all of those pitches, journalists said fewer than 25 percent were actually relevant to their publication or beat. Therein lies an obvious jumping off point for pitchers to work from. Do your research. 
Melton, a technology reporter, specifically covers venture capital and cyber security, and receives a lot of "tone-deaf pitches" in her inbox. 
"Know where you are pitching," she said. "What I don't like is receiving pitches for companies/industries we don't cover at all. I don't cover consumer packaged goods. It's obvious, but bears to be said."
Melton did note that while she may not cover a specific industry, a company can approach her to develop a relationship, who could become a source to tell a larger story on trends or emerging innovation. When Foursquare initially approached her for a story, she initially balked as it was not part of her beat, but continued conversation led to a mutually beneficial partnership. 
"[Foursquare] just pitched building a relationship—saying that they were an example of a company that has pivoted to enterprise technology," Melton said. "They didn't say we have a new product, but wanted to help tell a larger story about the enterprise technology industry. The PR person had a lot of one-on-ones with me to cultivate that relationship and help sculpt a story."
Setting Expectations
Brusca asks internal or external clients to share their dream headline when they want to get media coverage around a new initiative, product launch or other news. She uses it as a test point to determine a goal and objective. 
"Everyone wants to be on the cover of Forbes or top tier outlets, but there is something to be said for who is going to tell your story right," she said. "Sometimes that is a great trade publication, or it's a morning newsletter callout. Sometimes [the pitch] just doesn't match up with the outlet."
Brusca also noted that not all rejected pitches go to waste. The outreach helps develop a relationship. 
"Our interactions with journalists should also be, 'I want to be a source, someone you think of if you are writing about this topic area,'" Brusca said. "Make sure executive teams are sources for those pitching, and people that journalists [want to] call when writing a certain story, rather than just waiting for pitches."
Timing Isn't Always Everything
For some pitches and launches, holiday timing is just bad news. But for others, it may be an opportunity. Butts went against the popular opinion that holiday time is not a great time to pitch a story. 
"We still have to feed the beast," he said. We might actually be more likely to pick up something on a slow news day than another time, and the holidays can be filled with slow news days." 
Mortman, meanwhile, spoke about the stretchiness of reporters and their ability to see the bigger picture—no matter what time of year. 
"Reporters are able to multitask," he said. "Impeachment is the big story, but there is a hearing on Boeing, or Syria—an amazing series on Afghanistan from Washington Post...if you have something to say, don't try to time the market of news. Put out your stuff when you feel it is right for you. If it's relevant, you'll still get your story coverage 365 days a year."