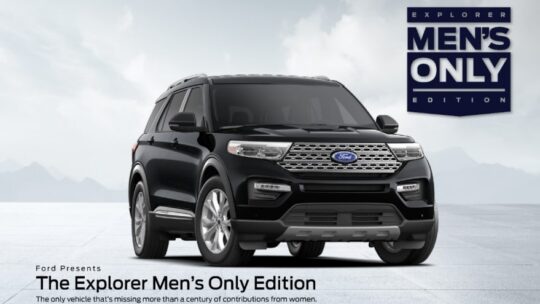 While it may seem like banking collapses and March Madness are flooding this week's headlines, we decided to focus on some quieter, yet just as important, stories making PR news this week. Ford celebrated Women's History Month with a clever messaging package and MuckRack's State of Journalism found a positive trend for pitching, while Mercyhurst College responds with a disappointing statement when a student goes viral for the wrong reasons.
Ford Automotive's Ode to Women
What happened: Ford's latest commercial, released just in time for International Women's Day, caused many viewers to do a double take. Upon first glance, it reveals its newest creation, the Ford Explorer Men's Edition. 
However, after several seconds of watching the video, the narrator reveals it's produced without any inventions pioneered by women. Those include everything from a rearview mirror and heat to turn signals and GPS. 
A visit to the Ford Explorer Men's Edition website reveals the engineering history behind much of the groundbreaking technology in the automotive industry—all of those parts created by women.
To support the campaign throughout the month, Ford will highlight the contributions of female innovators of the past and present on Ford.com and across the company's social media accounts. 
Communication lessons: This clever, creative and humorous ad worked for viewers and the company on many levels. Lana McGilvray, founder and CEO, Purpose Worldwide, says Ford and its team at WPP, showed courage and inclusion. 
"From a DEI&B perspective, it acknowledges women throughout the history and the future of the brand, not simply as part of International Women's Day or month," McGilvray says.
She also believes humor, when done right, can be memorable. 
"It…uses the best of advertising to drive smiles and attention. Its YouTube views alone showcase the favorable outcomes."
Finally, McGilvray says, "it's not lazy" messaging.
"It lists the many central figures who also happen to be women in the auto brand's authentic journey, which is a good reminder of how important women are to the brand, as builders and as buyers," she says. 
"These are the sorts of ads that often get left on the cutting room floor at the expense of "safer ones."
MuckRack State of Journalism
What happened: This week communications platform MuckRack released its sixth annual State of Journalism survey. And just like other industries in this shaky economy, the media has experienced many layoffs and furloughs over the past year, seriously impacting the work of journalists. 
The survey states that of respondents, 20% of journalists have found their workload increased due to downsizing. And they are busy. Survey results show 47% of reporters create more than five stories per week and cover an average of four beats. 
But it's not all bad news. In a bright spot for PR pros, the survey shows a 7% increase in journalists saying they are more likely to respond to pitches, compared to last year. The top reasons for pitch rejection? Lack of personalization and bad timing. 
Communication lessons: Gregory Galant, cofounder & CEO, MuckRack says the organization releases this information to help PR teams be successful when connecting with the journalism community. He says the data helps communicators to approach media relationships with empathy, patience and real insight into how news gets made.
And it seems like PR practitioners are taking pitching advice regarding personalization to heart, which makes things better for everyone.
"One reason why journalists say they're more receptive to pitches this year is that PR professionals are becoming more strategic in their approach to pitching," Galant says. "They have better tools, data and research, which make them more knowledgeable about who the journalist is, what kinds of stories they cover and the type of content an outlet's audience wants."
Galant says he sees more communicators using PR organization platforms, like MuckRack, which also has "safeguards in place to remind PR pros of pitch best practices—such as length and personalization."
Mercyhurst University Diffuses Viral Student Video
What happened: A fellow student caught Carson Briere, 23, student and hockey player at Mercyhurst University, on camera, pushing another student's (Sydney Benes) wheelchair down a set of stairs. A friend of the disabled student posted the video on social media, hoping for some retribution for the incident. 
I usually don't post anything serious on my twitter but something happened Saturday night and just can't stomach the thought of this kid getting away with it. In the video below is a @MercyhurstU student and is currently on the @HurstMensHockey team. Carson Briere. pic.twitter.com/kWWlEYEc7V

— julia (@juliazukowski) March 14, 2023
However disturbing the footage may be for some, Briere's family name further complicates things. Briere is the son of Daniel Briere, former NHL player, and current interim general manager for the Philadelphia Flyers. 
Daniel and son Carson, both released apology statements this week. 
Benes' friends put together a gofundme campaign to raise money for a new wheelchair. As of press time, the campaign has raised almost $9,000.
Communication lessons: 
Regardless of apologies from a famous father and a son (who also raised an eyebrow when reports surfaced of his dismissal from previous college, Arizona State), many onlookers have paid more attention to how the school responded. It did not seem as the school wanted to own much responsibility when reading its public statement on the event. 
You know where we're headed as soon as you read the word "unoccupied." https://t.co/XWgWwPSEgG

— Molly McPherson (@MollyMcPherson) March 16, 2023
Molly McPherson, founder, Molly + Co. | Indestructible PR®, is also a former external affairs officer for FEMA and director of communications at Cruise Lines International Association. McPherson has ample experience when it comes to crisis communications and says Mercyhurst's statement made it sound like the school wanted to maintain its distance from the student-athletes involved in the incident. 
"The first sentence alone showed two examples that hinted at the strategy behind the statement," McPherson says. "By acknowledging public outrage before addressing the role their students played in causing it, they seem to be attempting to distance themselves from a potential PR disaster."
She also noted the crisis happened on Mercyhurst's annual giving day. 
"A subtle way of downplaying the severity of the act was to use the word "unoccupied" in relation to the wheelchair," she says. "A PR crisis can be costly, especially if it breaks on the day of an annual fundraiser."
Nicole Schuman is senior editor for PRNEWS. Follow her: @buffalogal