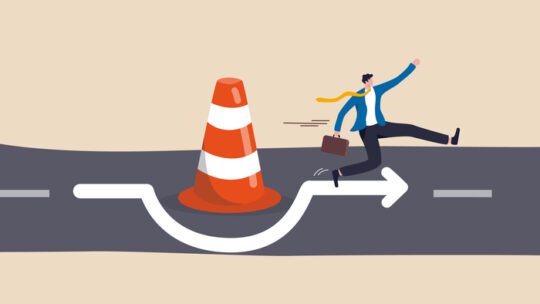 In some ways, this year's global observance of Communication Measurement Month should be a bigger celebration than normal. After all, considering the nearly two-year-old pandemic, any excuse for celebration is welcome.
More than that, there's plenty of good measurement and analytics findings from the new PRNEWS survey of 150 communicators, fielded online last month. For example, there may be a small silver lining in COVID: 40 percent of PR pros are measuring more now than prior to the pandemic's start in March 2020 (see Chart 1).
A possible explanation is that the pandemic posed an existential threat to business. As such, budgets and margins for error tightened. In turn, there was heightened interest in measuring everything, including communication.
Chart 2 contains more good news for advocates of measurement and analytics. 64 percent of respondents say they measure earned, paid and owned media all or most of the time.
"This makes my day. If 64 percent measure most or all of the time, I have a long career in front of me," measurement guru Katie Paine says. Add the 28 percent who say they measure them sometimes and nearly everyone's measuring. Indeed, nobody said they never measure.
Mark Weiner, our measurement columnist and chief insight officer at Cognito, interprets the first three bars of this chart as proof of the increasing integration of organizations. He wonders, though, who will lead the integrated ship of communication and marketing. Sometimes it's the CCO, but in other cases it's the chief marketing officer.
Lack of Academic Preparation
On the other hand, there are reasons not to celebrate. For example, Chart 3 is sobering. The lack of preparation in college for measurement (53 percent say new PR pros lack academic training in measurement) is a surprise for Weiner.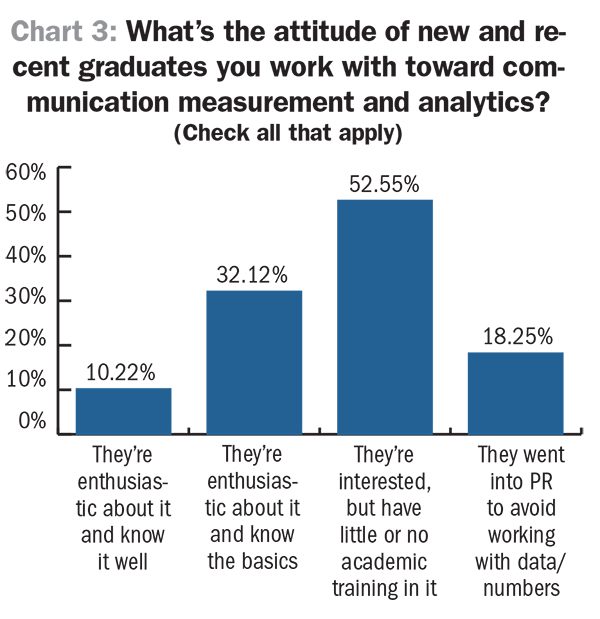 "The academy has to do a better job" if communication wants to rise as a strategic force in the business world, he says.
Paine says the 53 percent figure is "not surprising, but depressing."
Both Weiner and Paine are upset with the 18 percent who find some young people still enter PR to avoid numbers.
Perhaps this outdated image of PR grabs nearly 20 percent because of reruns of HBO series "Sex and the City," where Samantha Jones (played by Kim Catrall) is a PR pro who seems to do little more than sashay between glamorous parties.
The Samantha Syndrome is real, though Sex and the City and avoiding data are "fiction, folks," Paine says. "Even truck driving and retail positions require working with numbers."
Measurement Hurdles
Another downer for measurement proponents and a shocker, at least for Paine, is Chart 4, where almost 70 percent say they encounter measurement barriers.
Weiner is upset with talk of barriers, particularly when he looks at the next graphic, Chart 5. He zeroes in on the 43 percent who say measurement tools are too expensive.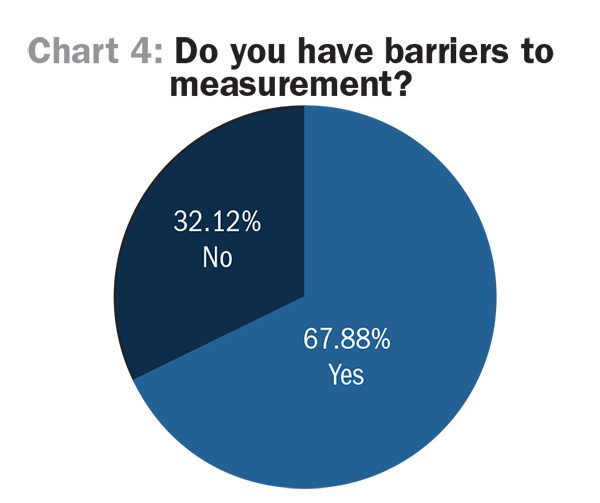 "They're not…[and] there are a bunch of reasonably priced tools now, not to mention free tools, like Google Analytics," he says.
As for the nearly 40 percent who say data is unreliable, Weiner believes they're not measuring. If they were, he says, they'd know good tools will help determine if data is reliable. For this reason Weiner points out a flaw in this survey.
"It would be great to know the demographics of the survey group," he says. For example, how many respondents work for PR agencies vs nonprofits and in-house? He's right. That's on us.
PRNEWS' Image Patrol columnist, Paine is less diplomatic about the respondents citing barriers to measurement.
"My question to this group," she says, "is 'What's the cost of ignorance, risk and wasting more of your budget on things that don't work'" when you choose not to measure?
In addition, Weiner knocks the 27 percent who say PR's influence can't be measured beyond raising awareness. "It absolutely can," he says. Paine agrees.
Data Siloes
Both Paine and Weiner express concern with the 33 percent who say important data is off limits to communicators, siloed in other parts of their company.
"This is a huge and very common frustration," Paine says. That's why more PR agencies are inserting language in contracts requiring clients give them access to data.
Yet, "data is still hopelessly siloed," she admits.
Her 'solution' calls for PR pros to build relationships with people in the departments where useful data resides. Paine's approach is direct.
"Start by taking a plate of fresh, out-of-the-oven, home-made chocolate chip cookies into whatever department is hoarding data and say, 'Please help.' Stay until they do!"
Also concerning is the 33 percent who checked that a hurdle is the lack of measurement culture in their company. Paine says that's hard to swallow.
"I bet there's a measurement culture in the company's accounting or finance department," she says.
Her suggestion is to "go spend time with [accountants or finance executives at your company]. Learn how they created [a measurement culture] and what they measure. And find out how you can replicate that culture in" the communication department.
A Conundrum
For Weiner, the next chart (Chart 6) is perplexing. It's difficult to correlate the 96 percent of respondents who see measurement and analytics as an advantage with the large group that has barriers to measurement, in Chart 5. "The PR profession is still confused" about measurement, he says.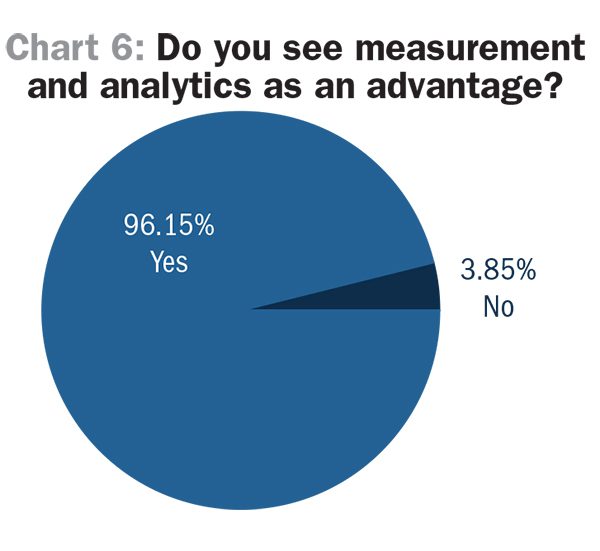 In contrast, Paine sees Chart 6's response as "the best news of the decade that so many people see measurement as an advantage."
Weiner's theme of PR's confusion with measurement continues with Chart 7. He's confounded about how so many respondents say they have barriers to measurement yet they seem informed about the advantages of measuring and analyzing. For example, he's upbeat about the 64 percent who appreciate the operational insights gained from data collection and analysis. Similarly, he notes the strong response (nearly 50 percent) about data helping communicators avoid being blind to their campaigns' effectiveness (I don't have to guess at the effectiveness of PR initiatives). This response, he notes, tracks well with the one about using analytics to make a more informed case for PR budgets (Having data helps when requesting a budget increase for PR). Half of respondents chose that response.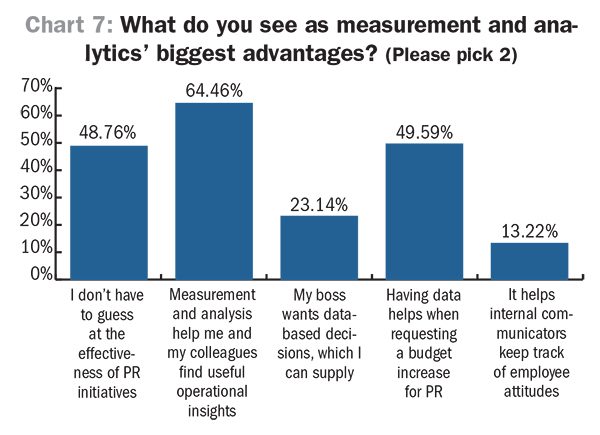 Weiner is upset, though, with the 23 percent response to 'My boss wants data-based decisions, which I can supply.' He expects a much higher figure.
[ Please see Mark Weiner's column (page 5) for more about the measurement and analytics portion of the survey.]
Future of Work and The Big Three
In addition to measurement, the survey touched on one of the most-talked-about issues, the return to office and post-pandemic work world's evolution. We treat these issues in depth elsewhere in this edition, including citing results from the survey (see Careers, pp 6-7).
In short, flexible work hours, WFH options and better salaries dominate PR pros' back-to-office issues, the survey finds. Below we'll look at related issues as well as another large topic: technology investment.
In some respects, the next chart is amazing. As you see (Chart 8), the response was a perfect 50-50 split on requiring PR staff to return to a physical office for at least some period of time.
The odds of having a perfect split are long.
More than that, with flexibility being an important theme, you can argue it's concerning that such a large percentage of PR pros are required to return to the office.
"You want to tread lightly on requiring people to come back to the office" since there still are a range of concerns about COVID, says Jody Johnson, chief people and culture specialist at ClarityPR.
Several sources speculate about the demographic split behind this question. For example, are more agencies than corporations being lenient about communicators returning to the office? Is it the opposite?
In addition, it's important to consider that our survey question is imprecise. A communicator required to report to the office once a month answers 'yes' just as one who must be there twice weekly.
Fewer than 5 percent skipped the question, indicating most PR pros have received their back-to-office instructions.
Following from that, it's clear that even though WFH is a strong preference, nearly one in three has concerns about it (Chart 9). Still, that means 70 percent have few issues. This suggests a plethora of empty office space beckons.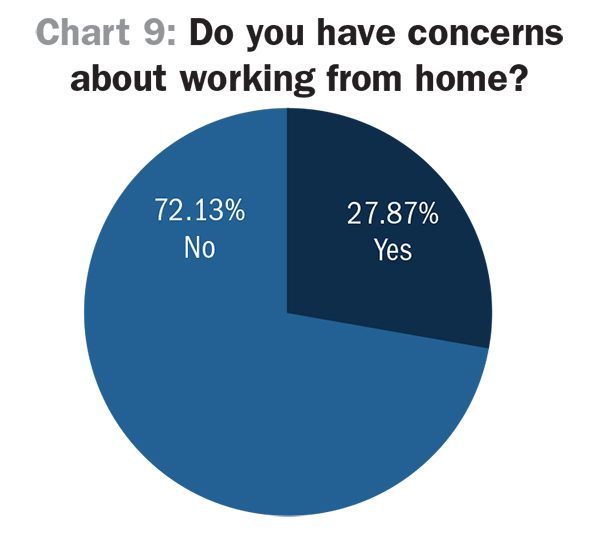 Regarding concerns about WFH, there really wasn't much doubt about the most dominant response. Nearly 70 percent of those who answered said their top WFH concern was lack of brainstorming and ideation time with colleagues.
None of the other five responses (respondents were asked to pick two) was close. The closest WFH issue to the above-mentioned one was related to it and the isolation factor: a lack of direct contact with those we represent and media (31 percent). You can find this chart in the online version of this article.
The final area of the survey was technology investment. Its results were hopeful; 51 percent predicted their company's tech investment in 2022 will rise signifcantly (15 percent) or moderately (36 percent). At a moment of economic uncertainty, that finding seems hopeful. This chart is found in the online version of this story.
Speaking of uncertainty, there was a lot of it linked to technology investment. In response to a question where they could pick two choices, 62 percent of PR pros say they are unsure where their firm will invest its technology dollars. Perhaps not surprisingly, 37 percent believe their firm will invest in technology to facilitate working from home. 25 percent see tech investment in predictive analytics.