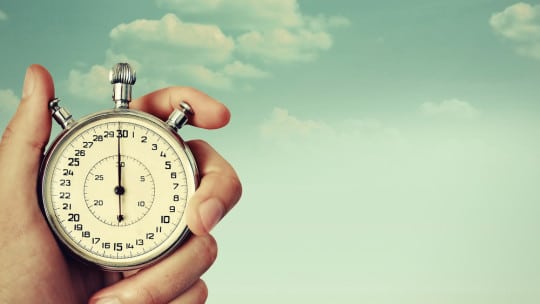 Knowing your audience may be the first rule of communications and marketing. Part of that knowledge is understanding the type of messages your audience craves.
A new study from Bain & Company in cooperation with Google adds complexity to that basic tenet—not only do brands need to know what messages to send to audiences, but when to do so and how often.
"Mastering timing raises the odds of seizing attention for the immediate purchase and building brand equity in the longer run" the study, It's About Time, says. Communicating at the most opportune times, companies can increase business "with fewer or more efficient ads," it argues.
Companies that take more control of their marketing and advertising data and technology will be able to respond quickly to a customer's zigs and zags and send a tailored message at precisely the right moment.
Finding the correct times to send messages, the study argues, is an insight companies can glean from data and technology. Sending messages, collecting data and then examining it can lead brands to the ideal time(s) and frequency to send messages.
Polling some 1,700 marketers at large B2B and B2C companies globally, the research found leading marketers (the top 20% marketers, based on a composite score of revenue and market share growth) don't just understand which customers to reach and what to say; they also know the importance of connecting with customers at the right moments.
Timing also figures into how quickly a brand is able to react to a customer's behavior. Faster reaction times go a long way toward more effective marketing, the study says.
The single greatest investment over the next three years cited by the North American executives surveyed is improved understanding and selecting of customers (see graphic A).
While all marketers share that goal, the leaders have advanced furthest in three ways:
 First, they control their consumer data by integrating their marketing and advertising technologies. Marketing leaders are 1.6 times more likely than laggards to prioritize integrating their platforms, and they have a stronger understanding of how to deploy their technology (see graphic B).
Second, marketing leaders encourage a test-for-results culture. They use metrics and share lessons among marketing and commercial groups.
Third, they react faster. They achieve this by having the in-house team responsible for customer acquisition and retention take more accountability for budgets, technology, data and analytics. Many also empower the CMO to own marketing technology decisions.