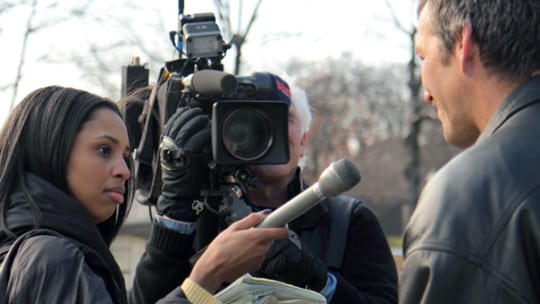 It's not a secret that some journalists complain about PR pros. Likewise, communicators grouse about media members. Analysis of recent data about the two professions cements some well-known differences, but also raises less-mentioned similarities. Perhaps there's hope we'll see media relations peace in our time.
Kidding aside, highlighting the two groups' similarities could lead to better relations and perhaps prompt discussion of important issues. How these data will or will not change pitching isn't clear.
Let's look at the always-interesting compensation category. As those who've left journalism for PR's greener pastures know, the communicator's pay stub is larger than the journalist's. Thanks to Muck Rack's analysis of Department of Labor figures, we know it's about $10,000 larger. The mean salary of PR pros in 2021 was $73,250 versus $63,230 for media members.
(We'll guess superior medical benefits and other perks, such as stock and bonuses, make the PR pro's total comp package even sweeter.)
Still, the $10,000 gap isn't as bad as it was in 2016, Muck Rack notes. Back then, the difference was nearly $20,000. PR pros pulled in $58,020 and journalists earned $38,870, a nearly 70 percent divide.
More bad news for the journalists in your life: their salaries are declining. In 2020, journalists received average of $66,000 yearly. That fell to $63,230 in 2021.
Meanwhile, PR pros saw a modest rise in take-home pay during the period, going from $71,940 in 2020 to $73,250.
'They're Just Like Us'
Yet, lest you think the divide between PR pros and journalists is insurmountable, consider these figures on race, gender and education.
A tranche of government figures finds race and gender characteristics of the two professions similar. A majority of PR pros are white (84 percent), with Blacks at 9 percent, 5 percent Asian and Hispanics/Latinos at 12 percent.
Similarly, 77 percent of journalists are white. Blacks are 12 percent, 9 percent Asian, 3 percent Hispanic or Latino.
PR has just slightly more members identifying as women (59 percent) than journalists (55 percent).
The two groups also have similar educational profiles. A total of 83 percent of PR pros have a bachelor's or higher degree. For journalists the figure is 85 percent.
Obviously, PR and media have a great deal of work to do on racial diversity. This could spark a collaborative effort. In addition, perhaps this similarity could raise the importance and frequency of collaborating on stories surrounding diversity.
Something not mentioned often is the age difference between PR pros and media members. PR pros' median age is 42. For content creators it's 35.
Declining Ranks...of PR
We know the ranks of media members is declining, of course. Perhaps less known is that the number of PR pros also fell, at least last year.
In 2020, there were 244,550 PR pros in the U.S. That number was down slightly, to 242,710 last year. Similarly, media's rolls fell, from 41,580 (2020) to 39,080 (2021).
As you can see from the above figures, the oft-mentioned uneven ratio of PR pros to content producers remains. It now stands at 6.2 PR pros to every one journalist. That's a slight change from 2020, when it was 5.8 to 1.
These data seem to imply not only are more PR pros chasing fewer content people, but each media member is following a greater number of stories than previously. Several surveys reinforce this trend.
For Violet PR president April Mason the uneven ratio of PR pros to journalists means communicators "need to be smarter than ever in how we approach" press. "We don't want to bombard them, but instead be a resource."
And since content producers are pressed for time, they no longer have the luxury of doing interviews on spec. As such, Mason advises delivering well-developed stories that meet audience needs and don't require media members to spend hours on research.
Seth Arenstein is editor of PRNEWS and Crisis Insider. Follow him: @skarenstein