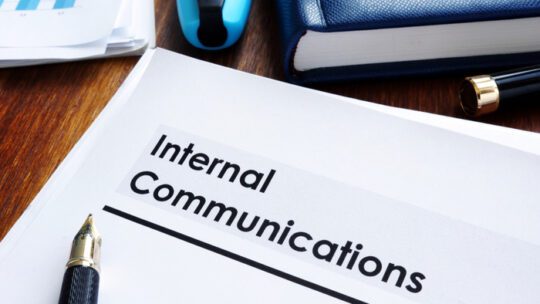 A communication maxim is that employees can be an organization's greatest PR asset. They can represent a company at its finest—organically sharing messaging about perks and successes on social media and subconsciously gathering the interest of potential candidates as well as consumers.
On the other hand, the words and mistakes of employees, at all levels of a company, can lead to PR crises.
For example, think of the racist and sexist emails of now-former Las Vegas Raiders coach Jon Gruden.
Or more recently, Better.com's CEO coldly firing 900 employees via Zoom.
And Amazon—well, we've all heard a story or two, or 10, about worker mistreatment.
Indeed, failing to rectify employee activities takes its toll. The Society for Human Resource Management (SHRM) says companies lose more than $220 billion a year from employee turnover due to toxic work environments, which can include harassment and discrimination. This doesn't include the cost of litigation or emotional damage.
As such, internal communication has become a critical part of how companies think about crisis. As we know, some of the best ways to limit damage from a crisis are planning and preparing. Thinking through potential crisis situations, creating a response plan and practicing regularly can help an organization reduce fallout from a crisis or reputation disaster, if not avoid it from happening in the first place.
"Internal communication used to be looked at as somebody is going to tell me when the next all-hands is, or somebody is going to tell me when my benefits have been updated, and it'll be really low key," says Sarah Stadler, VP of marketing at Fairwords.
However, internal communication leaders now are "on the hook for creating a lot of what people experience as culture, [especially] in a remote environment," Stadler says.
Since it seems a remote environment will remain a large part of business, with or without a pandemic, companies likely will pay more attention to internal communication's many aspects. It's expected that this could result in investment in tools that include an internal communication element.
Compliance as Education
While giving employees outside the communication department added room to create positive messages about the company often is a good thing, questions of compliance become more of a factor.
Fairwords offers an AI-powered tool that's integrated with employees' communication systems. As it checks on employee communication, the tool offers suggestions of updated, correct language and usage.
If you've used Grammarly to spell-check email and social media posts, you may find Fairwords works similarly. The difference is it finds terms and phrases that may conflict with company cultural policies or proprietary wording.
For example, a program like Fairwords might have warned Coach Gruden against using off-color jokes or terms in his emails.
Yet, Gruden would have made the final choice. Compliance is not forced on employees—Fairwords provides an explanation and education for word choices. The user chooses to proceed or not with the original language. So, while tools can help reduce the chances that improperly worded messages will lead to a crisis, they are not a cure-all.    
Says Stadler: "We help in the moment to educate [employees that]...what they're about to say ...might not be ideal…."
In addition, compliance software can benefit a company's reputation as it holds up workplace culture as a priority.
Listening Tools
When communicators think of listening tools, they often consider monitoring consumer sentiment on social media.
However, listening tools can also offer help monitor what the public is saying about employees or even what employees are saying about the company. Monitoring chatter can head off not only a brand crisis, but internal strife as well.
Kathleen Hessert, a sports communication veteran, knows the importance of staying close to digital media. Her client roster includes NFL Hall of Fame quarterback Peyton Manning, former NBA superstar, Hall of Famer and now master-of-marketing Shaquille O'Neal. In addition, Pope Francis is a client.
One of her first listening lessons came in the earlier days of Twitter. It showcased how various teams rallying around one listening tool can make a big difference when it comes to warding off an issue with crisis potential.
Shaq Attacked
Hessert says she counseled O'Neal to create a Twitter account as she "thought it was a perfect venue for him." In turn, she built a system to monitor her clients on social media through a third-party platform.
The tool allowed her to see that O'Neal was on Twitter before he'd alerted her. Except he wasn't.
"I texted him, and I said, 'Is this you?'" Hessert says. "Did you do it and not tell me?'
He responded, "'No. Call the lawyers.' And I said, 'No, you're going to go on there, but be your larger-than-life self, and you're going to obliterate this fake.'"
Hessert saw an official team account interacting with the fake Shaq tweets. The team's corporate sponsorship department didn't know the account was real. The fake was so spot-on, the team assumed it was legit, Hessert said.
"That's a prime example of how one department doesn't know what the other is doing because they can't even talk to each other…they're moving so fast…and they don't understand the implications," Hessert says.
Remote Crisis Comms
And it's not just office workers who lack time to check email regularly. There are plenty of industries where staff lack the luxury of sitting to check in or use Slack. Medical professionals, manufacturing workers, flight attendants and retail associates are on their feet for the majority of the day, leaving little time to get regular updates.
It's important to find a way to connect with such staff, especially when they are remote or in the field. And not just during a crisis. Waiting until a crisis occurs often may be too late. It's important for staff to know systems are in place in case a crisis arises when they are on the job.
A prime example came after a deadly tornado struck an Amazon warehouse facility in Illinois earlier this month.  Six workers perished in the natural disaster, which raised questions about emergency response and mobile phone policies.
Bloomberg reported that for years, Amazon banned workers from having cellphones in warehouse facilities. And while it relaxed the policy during COVID, it was reinstated at several of its facilities across the country.
For employees without a desk, a phone can become a lifeline during an emergency.
Chicago's Navy Pier launched a crisis communication app shortly after an active shooter event, in July 2019. Payal Patel, communications director for Navy Pier, says the app allowed a set of stakeholders to send messages of high importance to individuals via text or email in the event of an emergency or crisis, so everyone in the area would know what was going on.
"Partners appreciated being able to receive updates in real time," Patel says. "During a crisis, we are moving so fast, and getting a prepared email statement out to our stakeholder groups can take some time—and they may not even be checking their email in those moments. Being able to send important communications instantly and directly to their phones has proven to be very helpful."
Examples of apps in this sector include Staffbase, Blackboard and Alert Media, which get information to subscribers promptly. Budget-friendly apps also are available for those seeking to utilize a tool without draining their resources.