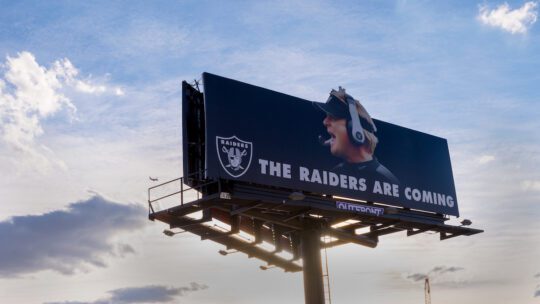 When The New York Times released a report Friday (Oct. 8) about a racist email that Jon Gruden, the now former Las Vegas Raiders coach, wrote, the clock began to tick.  
Fast forward to "Monday Night Football" (Oct. 11). ESPN's senior NFL insider Adam Schefter broke into the broadcast announcing Gruden's resignation and departure. 
And so after the New York Times uncovered numerous emails that spanned a seven-year period ending in 2018, Jon Gruden is out as the Raiders' HC. His time ends during Monday Night Football. pic.twitter.com/vrW02dGJst

— Adam Schefter (@AdamSchefter) October 12, 2021
Gruden released a statement through the Raiders soon after, claiming he didn't want to be "a distraction" to the team. 
"I have resigned as Head Coach of the Las Vegas Raiders. I love the Raiders and do not want to be a distraction. Thank you to all the players, coaches, staff, and fans of Raider Nation. I'm sorry, I never meant to hurt anyone." 
The NFL Brand Impact
The action taken by the Raiders regarding their now ex-coach demonstrates a commitment to diversity, equity and inclusion (DEI)—something the NFL has tried to improve. In Aug. 2020, league commissioner Roger Goodell admitted the NFL should have paid more attention to former quarterback Colin Kaepernick, who, in 2016, kneeled during the National Anthem to highlight racial inequality.
And while the Kaepernick controversy remains a stain on the league (he's remained a free agent since then), the NFL has taken steps to acknowledge concerns of players and fans, particularly after the social justice uprising in summer 2020. 
"Jon Gruden's comments are not representative of the NFL. So, I don't think this is going to affect the league," says Gene Grabowski, partner, kglobal. "It's going to create some commentary, but it's not going to have any lasting effect on the league's activities or responses."
Grabowski notes the league has moved forward on its commitment to DEI, potentially separating the NFL from Gruden. 
"I think the NFL is doing pretty much everything it can, publicly, to address the situation regarding race in the league and in the country, and it will continue to do more for certain," Grabowski says. "I think this episode will be considered in some ways isolated, I don't think it will be considered for any long period of time as indicative of the NFL's approach. The league has become far more sensitive and realistic about these things." 
Another Viewpoint
Eric Yaverbaum, CEO of Ericho Communications, disagrees. The NFL needs to address the situation, particularly for fans who may see its recent DEI initiatives as empty promises, he says. 
"The NFL should issue a statement apologizing for fostering an environment where it allowed someone with these bigoted views to have such a pervasive and high-profile role in the NFL and its surrounding culture," Yaverbaum says. "They should then highlight what they've done to promote inclusion, including highlighting POC and women in positions of power, supporting players who have come out as gay, and what more it plans on doing going forward." 
In addition, the NFL continues to face some heat. At least two groups are pressuring it to release a trove of emails unearthed during its investigation of Daniel Snyder, owner of the Washington Football Team. Gruden's offending emails were found during that investigation. Reportedly he sent the emails to Bruce Allen, the then-president of the Washington Football Team. The league has said little about that investigation into sexual harassment.
Happiest person in the world is Dan Snyder because the focus of this NFL investigation was on him and his team culture, not Gruden. As big as the Gruden news is, let's not lose sight of the fact that Snyder is still in an ownership position and the NFL is protecting him.

— Jemele Hill (@jemelehill) October 12, 2021
The Raiders' Response
Things also are complex for the reputation of the Raiders and Gruden. For example, Yaverbaum feels the Raiders need to redeem the organization. 
"The Raiders need to issue a [detailed] statement," Yaverbaum says. "Gruden resigning and giving a non-apology isn't enough. Raider and NFL fans need to know that this isn't something the team or the league stands for." 
Yaverbaum notes the importance of clarity and the need for the Raiders to fully explain why the team employed Gruden, particularly as some of the tawdry email proof goes years back. 
"They need to be clear with how much of this situation they knew about before they hired Gruden. And if they did [know about it], they need to provide some explanation of why they hired him" in 2018. To exonerate itself, the Raiders must show evidence that they believed Gruden changed, he says. 
Gruden's Extinguished Reputation
As for Gruden, don't look for him to be suiting up for a sports network job any time soon. It's going to take a long time to clean up his reputation. 
"I think Gruden's career in the NFL and as a sports analyst on network television are over as a result of these discoveries," Grabowski says. "It's highly unlikely he will be able to overcome them."
Yaverbaum believes that the statement Gruden delivered did nothing to brace him from extensive damage, and instead did quite the opposite.
"Gruden's statement was short and weak and does not address all the wrong he has done," Yaverbaum says. "If he is a changed man he has to show he is a changed man, and that starts with a specific and genuine apology. Resigning in the way he did does not inspire confidence that he does not hold these bigoted views anymore, it instead looks like he's running from his problems."
Yaverbaum also believes Gruden has years of work ahead of him. 
"If he wants to go back to being a public figure he has to put in the leg work to show that he does not hold these views anymore," he says. "This may include having public sit-down interviews with those communities he's hurt (LGBT community, women in the NFL, African Americans), and donating to foundations that support these communities."
Nicole Schuman is senior editor for PRNEWS. Follow her @buffalogal