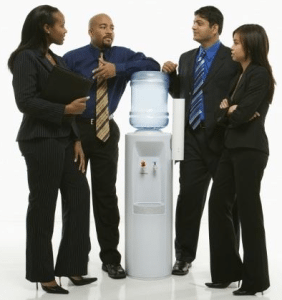 This PR News department is called Water Cooler, so it's appropriate that the first Cooler of the week examine what people are discussing around the office water cooler. Today that's probably something about rapper/media mogul/Kim Kardashian husband Kanye West's alleged debt of $53 million.
Or perhaps it's Grammy-winning singer Taylor Swift's acceptance speech Monday night during the Grammys, where the 26-year-old singer/songwriter blasted  38-year-old West—yes, him again—for claiming to have made her famous. "I want to say to all the young women out there: There are going to be people along the way who will try to undercut your success or take credit for your accomplishments or your fame," Swift noted during an acceptance speech for her Album of the Year Grammy. "But if you just focus on the work and you don't let those people sidetrack you, someday when you get where you're going, you'll look around and you will know that it was you and the people who love you who put you there. And that will be the greatest feeling in the world."
There's more bad blood between West and Swift. In lyrics to one of his songs, West says he's slept with Swift. And some history: During 2009's Grammys, West interrupted Swift's acceptance speech for best video by saying her vid didn't deserve to win.
As a PR pro, you understand that while West and Swift took their arguments to traditional media, the televised Grammys (Swift on Monday evening, West in 2009), both are able to sidestep TV and newspapers/magazines by speaking directly to fans on their enormous Facebook, Twitter and Instagram feeds. They are master salespeople and brand makers. Also of note, all this attention being paid to West comes as he released an album last Thursday. Market mover that he is, West released "The Life of Pablo" exclusively on streaming service Tidal over the weekend. He tweeted that "Pablo" would be available only on Tidal and never be for sale. As Felix Richter of Statista wrote, the move was "a godsend for the struggling music service. Global interest in Tidal quickly exploded and the company's app shot up the app store charts as fans eager to hear the record signed up in droves."
Yes, there were other stories last weekend, beginning with the fact that the longest-serving justice on the U.S. Supreme Court died Saturday, setting off a debate almost instantly over whether President Obama will nominate a replacement or allow the new president to do so. Of course, you can argue about how proper it was that those arguments began before funeral arrangements were made.
Other stories included the refugee crisis in Europe, Russia bombing hospitals in Syria, or another bad week for global markets, which, so far in 2016, have been a disaster. Yet all these stories seem far less important than spats between a pair of megastars pop singers. Admit it, West and Swift are likely to be talked about, tweeted and Facebooked far more than these other stories. I know it's what we talked about during our morning meeting.
And then there's you and your brand. How do you get your message heard in this crowded cultural morass? One way, of course, is to do what Tidal did and co-opt West. Plenty of brands used Star Wars themes to attract attention for their products and services a few months ago. Lack the resources to make deals with megastars? There are ways. How about banks alluding to the example of West's debt to urge people to save or women's groups endorsing thoughts from Swift's Grammys speech?
There are other ways to break through. Send us your thoughts and we'll post the best ones. We'll also be exploring this topic in next week's PR News and it's likely to arise at our Social Media Summit in Huntington Beach.
Follow Seth Arenstein: @skarenstein