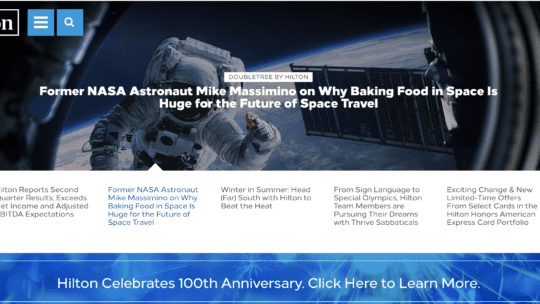 The term "brand newsroom" is often used amongst brand marketing professionals, but few can agree on a static definition. Some organizations name them media or press centers, and others still just designate by a website tab labeled "News." 
Lou Dubois, director of content at Hilton, arrived at the hotel chain after building his first brand newsroom at NBCUniversal. With a journalism background, Dubois came to understand the need for a global brand like Hilton to wrangle the stories being made at over 5,700 properties into one central chronicle. Hilton is currently comprised of 17 brands in 113 countries, and its 14 separate online media centers could not efficiently deliver to its intended audiences—members of the media, employees and consumers. 
Dubois will present their journeys to creating successful a content hub at our PRNEWS webinar, Boost Coverage With Your Own Brand Newsroom on Aug. 22. 
We asked Dubois about his experience with Hilton, and what his best practices are for creating a central location for brand stories for all audiences to enjoy. 
PRNEWS: What does your brand newsroom offer? What features make it useful for reporters and how often is it updated? 
Lou Dubois: The Hilton Online Newsroom publishes social-ready and shareable content including breaking news, feature stories, photo slideshows and videos that tell the stories of Hilton that matter most. The Newsroom has also created a platform for big-picture storytelling around moments like our 100th anniversary and The Hilton Effect.
We offer seamless media download and sharing capabilities, and the ability to subscribe to regular email news alerts from various topics, trends, corporate news, episodic content features and regions around the world. The Hilton Online Newsroom is updated multiple times each day.
PRN: That sounds like a lot of content! How big is your staff?
Dubois: In-house, we have a team of two managing the newsroom, in addition to multiple brand, corporate and regional partners with subsection oversight. We also work with agency partners and freelance writers on a variety of initiatives that populate the content on the site.
PRN: What's the advantage to the brand of having a newsroom? What are the goals? 
Dubois: One advantage is reaching media in an efficient way that complements our other outreach to them. Consumers are increasingly seeing the content too as they search for travel topics on the Internet. As news cycles move faster than ever and media and consumers rely on a wider variety of resources for news and information, we recognize the need for having a streamlined, easy-to-use site that delivers assets, background and inspiration for authentic and compelling stories.
Our goal is to provide a range of information that media can access at their leisure based on their needs. This ranges from basic stats about our business and new hotel openings to story inspiration delivered through features, serialized content like our Rooms With A View series, Q&A's with Hilton subject matter experts, and creative graphics.
When you run a brand newsroom, you have access to content, assets and people that the public (and journalists) often do not. So using that access to tell truly great stories accompanied by great visuals can provide amazing perspective that people outside of your company would never be able to offer.
PRNEWS: How much research did the brand do on reporters' needs before it unveiled its newsroom?
Dubois: A considerable amount of work and research went into the buildout. We consolidated what had been 14 different brand-level media centers into one enterprise-managed and governed, mobile-friendly and strategically organized site. We talked to reporters, partners, hotels and brand partners about what they needed most. And the content for the site is cultivated and curated by a team of reporters with previous experience at national print, television and digital news outlets.
PRNEWS: How should brands publicize their addition of a brand newsroom?
Dubois: In addition to email alerts and direct media engagement, we drive people to the site from many different places, including all boilerplates in press releases, from our consumer booking site at Hilton.com, and much more. We also conduct various media familiarization trips to help in continuing to develop direct media relationships.
PRNEWS: How does a brand newsroom maintain the human touch, rather than sending out press releases of old, does it reach out to reporters still?
Dubois: We look for opportunities to be the first to market as the consumers' hero with information and suggestions to make travel a better experience for them. At our core, Hilton is a business of people serving people, and we do that with all of our work on the newsroom as well.
We pitch stories to reporters early and often before they're even published, and use the newsroom as a conduit to drive further interest and detail. After a story is published, we utilize news alerts to share work with reporters as it breaks, to break through in the stream of sameness and email clutter.
For more on creating brand newsrooms, register for our webinar on Aug. 22.