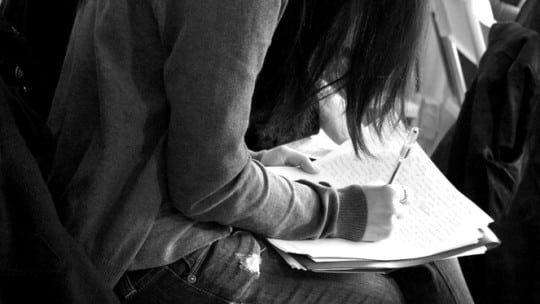 We often talk about the power of the written word to change minds and inspire hearts. Maya Nussbaum uses the power of the written word to change lives.
While she was a student at Columbia University in 1998, Nussbaum founded Girls Write Now, a mentoring organization in New York for underserved young women that helps them find their voices through the power of writing and community. A writer herself, Nussbaum understood that strong writing skills are a gateway to jobs and careers, empowerment, self-knowledge and community. She paired professional women writers and professionals from a variety of disciplines with girls from New York City public high schools, with an emphasis on one-on-one mentor/mentee relationships, and over the next 20 years the organization became her life's work.
Part of that work is building the public profile of Girls Write Now, and on that level alone she and her team have found great success. The nonprofit after-school program was named by the President's Committee on the Arts and the Humanities as one of the top 15 in the nation, by the Nonprofit Excellence Awards as one of New York's top 10 nonprofits, by Time Out New York as one of the best places to volunteer and by Youth INC with the Innovators Award for improving the lives of New York youth. Nussbaum herself was named a 2016 White House Champion of Change, and was among the honorees celebrated at the White House this past September.
In her keynote presentation on Jan. 24 at PR News' Top Women in PR luncheon in New York, Nussbaum will share with honorees and attendees her thoughts on how to make a real difference as a mentor for the next generation of women. She offers a preview of her presentation in the following Q&A.
PR News: What should mentors bear in mind about the next generation of women as they relate to them as mentees?
Maya Nussbaum: I hate to make assumptions about the current generation of women—at Girls Write Now, we try to get to know each girl, and to uncover how she can contribute her unique talents. But I do find that they share the same concerns as older generations—having a career, creating success, balancing work and home life and wanting to be part of a community. Girls Write Now mentee alumnus Natalia Vargas-Caba, who'll be joining me on the podium at the Top Women in PR Awards luncheon, says that there is a universal need to keep fighting and moving women forward, like our mothers and grandmothers did. She also talks about the unique challenges that the next generations of girls face in urban settings, and oftentimes as immigrants or first generation. So these girls also need to balance their cultures—in their own communities and beyond.
PR News: Why have you focused your mentoring efforts specifically on writing skills?
Nussbaum: Writing has always been an important form of expression for me. At an early age, I sensed its power, and it also scared me. Girls Write Now breaks down the myth of the isolated writer, and is based on the principle of writing as a communal enterprise. We not only have a rich curriculum to buoy the girls' writing skills, we have a profoundly supportive intergenerational community made up of personal mentors championing girls every step of the way. This matters, especially during the critical teen years when girls' voices are often silenced. The results are tremendous with 100% of our seniors going on to college, equipped with a diverse portfolio of work, and confidence that changes the trajectory of their lives and careers.
PR News: How can mentors make their efforts more of a two-way street so that the experience is valuable for them as well?
Nussbaum: The mentor-mentee relationship is rooted in genuine, mutual respect and support. Our mentees benefit tremendously from having mentors in their lives—on an academic and creative level and social-emotionally. An added bonus is that we see time and time again that mentors also feel this benefit, reporting that their mentees give as much as they get. Pairs listen and learn from each other—often surprising and delighting each other along the way.
PR News: You and your team have succeeded at giving Girls Write Now a high profile in the media. What tips can you share with communications professionals who are charged with raising awareness of their own nonprofit organizations?
Nussbaum: People respond to authenticity. Nonprofit communicators know that they must tell the stories embedded in their mission to connect emotionally with their audiences. Of course, a story can surface in different ways depending on the cause, and sometimes you have to mine for it. Once you have it, employ the tools of the trade, from social media to word of mouth. And take advantage of the expertise that naturally exists at your nonprofit. At Girls Write Now, we have the benefit of working with writing professionals, and they support from editing to networking. Our girls' backgrounds span all five boroughs and countries around the globe. By taking the risk to share their stories, they become ambassadors of the organization. Each voice has the power to change minds, to heal communities, to impact the world.
Follow Girls Write Now: @girlswritenow
Follow Steve Goldstein: @SGoldsteinAI