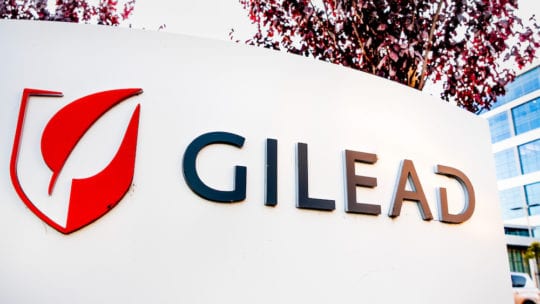 Today Gilead Sciences announced its remdesivir treatment plan for those battling COVID-19. The announcement included a steep pricing structure and a statement from CEO Daniel O'Day on Gilead's website and in social media posts. 
We announced the price today for our investigational antiviral for the treatment of COVID-19. We believe our unique approach will provide broad and equitable access. Read more from our Chairman & CEO: https://t.co/rrEbrDxrLk. pic.twitter.com/9ElSExqSU3

— Gilead Sciences (@GileadSciences) June 29, 2020
According to CNBC, Gilead has been providing the U.S. government with donations of the treatment since May for emergency use. When it hits the market on July 1, a single vial will sell for $390 to governments in developed countries worldwide, while Gilead's unit price will be $520 for private insurance companies in the U.S. The U.S. Department of Health and Human Services said uninsured individuals will be covered by the CARES Act.
According to Gilead, a majority of patients will need a five-day course of the drug, which comes to $3,120 for patients with insurance. The Department of Health and Human services also said the out-of-pocket cost for those insured (co-pay) will be determined by insurance companies. 
Gilead CEO O'Day appeared on CNBC earlier today after the announcement to confirm availability of the treatment drug. 
"Whether you're covered by a private insurer, whether you're covered by a government insurer, whether you're uninsured with Covid-19, there will not be an issue for access with remdesivir," said O'Day.
While the announcement of an effective drug treatment available worldwide for those suffering from the cryptic virus should be something to celebrate, delving into an explanation about pricing for a possible life-saving drug may cause some readers' stomachs to churn. O'Day's statement attempts to strike a delicate balance by emphasizing the importance of the treatment while justifying its value. 
"Remdesivir, our investigational treatment, is the first antiviral to have demonstrated patient improvement in clinical trials for COVID-19 and there is no playbook for how to price a new medicine in a pandemic. We are aware of the significant responsibility that comes with pricing remdesivir, and the need to be transparent on our decision."
O'Day goes into detail regarding market value and how that impacts pricing during normal circumstances. In this instance O'Day explains the monetary impact of a U.S. hospital releasing a patient early, four days earlier in fact, according to research from the National Institute of Allergy and Infectious Diseases. O'Day claims this comes to hospital savings of $12,000 per patient. 
"We have decided to price remdesivir well below this value. To ensure broad and equitable access at a time of urgent global need, we have set a price for governments of developed countries of $390 per vial. Based on current treatment patterns, the vast majority of patients are expected to receive a 5-day treatment course using 6 vials of remdesivir, which equates to $2,340 per patient."
For Gilead this seems to be a reasonable market value. 
Gilead said it could have charged $12K — a calculated value of shortened hospital stays — but said it wanted to make the drug affordable for all countries.

— Steven Dennis (@StevenTDennis) June 29, 2020

For those on unemployment or who are underemployed with high out-of-pocket medical costs, numbers like these will always seem unbearable. On one hand is the transparency offered by the company, but on the other it's a tough look during a pandemic economy. It's an even worse look for government officials who wish to do away with the Affordable Care Act. 
This is just the first in what will hopefully be a swarm of treatments from pharmaceutical companies, leveling market prices. Treatments are undeniably crucial. However, treatments are not vaccines, and while they may help to reduce the deadliness of the virus, they cannot stop it altogether. Still, being the first to market holds immeasurable value for those suffering from the illness and their families. 
Regardless of the pharmaceutical industry's overarching communications issues surrounding patient costs, Gilead does provide an accessible guide illustrating how market rates work—particularly in a pandemic—as well as the exact process used in calculating unit price. The public might take solace in the fact that Gilead is being so forward with its information.
The waters will certainly muddy in the coming weeks as hospitals utilize remdesivir for patients, and medical bills begin to roll in. Hopefully billing statements to patients will be just as thorough and understandable.
Nicole Schuman is a reporter for PRNEWS. Follow her @buffalogal
This story is part of PRNEWS' ongoing coverage of the pandemic.