In the race to create content that will break through the noise, the tide might be turning. Andrew Bowins, who's now SVP at the Entertainment Software Association, has sounded warnings about content pollution for years. Few have time or make time to read the vast social output. During the recent Social Shakeup in Atlanta, Ann Handley, Marketing Profs chief content officer, contributed an idea that tracks with Bowins's concept. Her thrust was that communicators should create fewer pieces of content, but obsess over their quality.
John Shehata, Condé Nast's vice president, audience development strategy, discussed a related concept during this week's PRNEWS Digital Boot Camp in New York City. Is constantly creating content the path to SEO success?
Shehata brought the proceedings at NY's Yale Club to a near halt with one statistic. Ninety percent of the world's online marketing content was produced in the last two years, per Botify. SEO data, he said, shows "most of the content gets no traffic...nobody's reading your content."
From there it was relatively easy to introduce his presentation on Condé Nast's Project, Pinetree. A play on the word "evergreen," the Pinetree SEO effort tested the efficacy of refreshing and re-publishing content. It also consolidated underperforming evergreen content. Shehata's argument is that updating content can be a better path to gain SEO traffic than constantly creating fresh articles.
Content Categories
This is not a silver bullet. Refreshing content is much more than changing dates, updating peoples' titles, giving an article a new headline and replacing "says" with "said." In fact, Google penalizes content providers who try to pass off old articles as new content this way. The Pinetree update process included expanding the scope of an evergreen article, adding in-depth content to it and merging similar content into one in-depth article. All of it was based on optimizing SEO.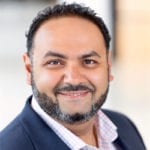 Shehata said that a benefit of evergreen content is that readers spend more time on the site., "It's not just one and done." Such articles typically contain more "quality, in-depth material," he said. They also drive prospects to the sales funnel.
Yet merely populating a site with evergreen material does not guarantee success. Evergreen material decays too. Causes include: increased competition from other articles, new information/data about the topic is discovered, backlinks decay, and search algorithm and search engine results page (SERP) changes occur. Pinetree aimed to refresh evergreen stories every 9 to 12 months, Shehata said, "or when evergreen traffic started declining." In addition, Shehata recommends refreshing and re-publishing seasonal content two to three months before the season begins.
Keywords
To begin Pinetree in 2016, Shehata had to decide which articles among the six Condé Nast brands to repurpose and refresh. To Shehata, content is either newsy or evergreen. Evergreen content typically answers questions, offers checklists, how-to's and best/worst tips. They also are articles that tell readers "Everything You Need to Know About" a topic. "It's an evergreen article if you can re-post it on Facebook three to six months from now," he said.
Newsy articles are the opposite. Besides news, they cover the latest fashions and trends, for example.
SEO and Goals
To begin Pinetree, Shehata chose evergreen stories to enhance. He used keywords and pages based on business goals. In some cases a brand's goal was traffic, others were seeking subscription revenue or other product sales. When the goal is subscriptions, he said, "you look for words that get people to subscribe."
For Pinetree he selected "striking distance" URLs, which are mid-performing stories that rank in position 5 to 20 with high search volume keywords. He then generated an automated report of evergreen content published a year ago that dropped in traffic. From there he looked for pages that ranked for the selected keyword. The 400-plus stories selected have the highest chance of ranking, he said.
Keyword Search
He then selected main pages based on SEO metrics, analyzing page traffic and top keywords. His analysis asked what keywords are readers using to find this page? What related keywords should drive traffic to this page? He also examined whether or not the content addressed the intent of the keyword search.
If there are multiple stories on the same topic, it is important to analyze these pages. Later, when editorial is refreshing an article, writers can merge similar underperforming stories into one authoritative article.
Editorial/Brand Buy-in
It is important at this point to confirm with the brand that the chosen stories are approved to refresh. After a SERP analysis to find out what Google is promoting for search queries, it is important to attempt to address three to four questions listed in Featured Snippets. SEMrush is a good tool to use here.
Aafter several other SEO-related tests, content is ready for updating. Pinetree's goal was to have 30 percent of an article's material refreshed. Beyond dates, this includes revised text, perhaps a video gallery and/or a new introduction, updated layout and additional subheads. In addition, editorial should endeavor to find other articles on the site to link to your refreshed article. While adding material to an article can increase word count, Shehata noted this didn't hurt results. The team chose articles "with depth," so readers expected to spend a sizable amount of time reading, he said.
In the end, Pinetree's 400-plus refreshed stories had 210 percent year-over-year growth in search, and 914 percent YOY growth in ranked keywords.
Seth Arenstein is editor of PRNEWS. Follow him: @skarenstein
Contact John with questions at [email protected].