Frank Eliason is a man of action. Widely known for transforming the Comcast customer service department into a social media juggernaut (particularly through the use of Twitter), in November of last year as he was preparing to launch a similar transformation at Citigroup, as SVP of social media, when he read some research that surprised him. "It basically said that corporations are using social media for a lot of monitoring, but they aren't doing much after that," he says.
Eliason had read the Harvard Business Review study that found that 40% of corporate executive respondents were challenged by understanding the potential of social media to make a difference in their business. In addition, only about a quarter of them could identify where their most valuable customers are "talking" about them (see the chart for detailed findings).
This was news to Eliason, who contends that social media ROI can be realized through the intersection of PR and customer service. "Twitter gives you real-time feedback from customers on your products," he says. "Take that feedback and improve the product—that's ROI."
All you need to do, continues Eliason, is to connect the dots internally, which he believes is happening in some organizations.
Ultimately, Eliason says not only PR and customer care will be fully integrated, but other business functions will be, too—including IT and product development. And all because of social media.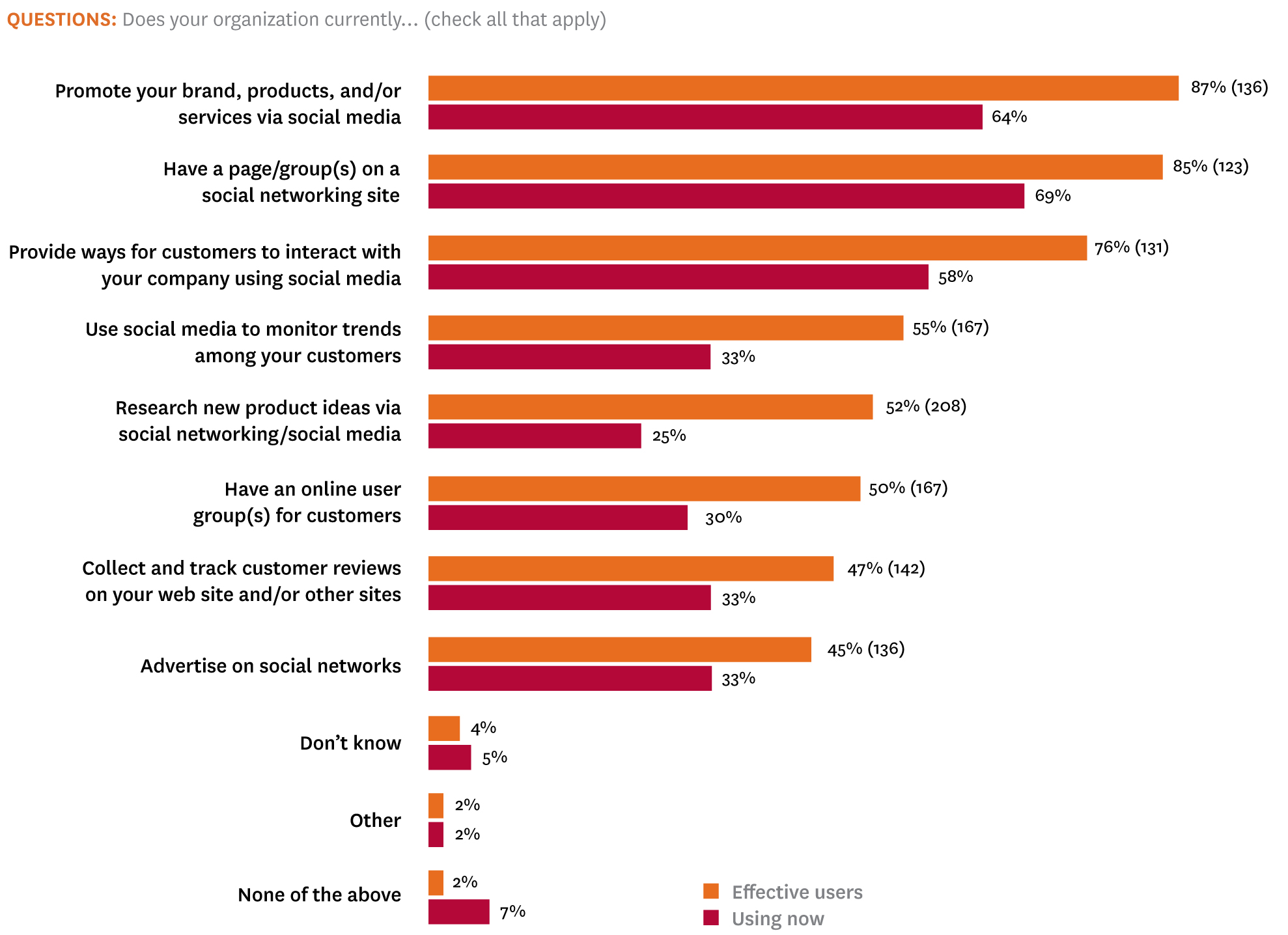 While companies are promoting brands, products and services with social media outreach, having online user group(s) for customers and collecting and tracking customer reviews on a Web site aren't even being implemented much by the most effective social media users, according to a Harvard Business Review study released in Nov. 2010. The study also found that a third of the respondents do not measure social media's effectiveness, and just 7% are able to integrate social media into marketing activities.
BE RESPONSIVE
While organizations understand that they should pay attention to noise about their brands, what they aren't doing is moving to the next step: taking action. "It's scary to put yourself out there, because once you do it, you can't take it back," says John Carter, VP of consumer lifestyle at Shift Communications.
Amplifying the angst is the fact that just being responsive isn't enough anymore. "People expect a fast response if they tweet a complaint," says Carter. "But if all you get back is a form letter from the call center, they aren't satisfied."
Then, you go to the next step—perhaps offering a coupon to the mix. "Tactically you're adding another layer to the process, and organizations aren't ready to deal with that," says Carter.
One hundred Citi employees are trained to use @askCiti, the company's Twitter page, and they'll respond to complaints using individual Twitter IDs. Eliason says that personal touch is a big key.
THINK THE STRATEGY
OK, I know what you're thinking: "A hundred people. Let's get real." So here are some action items from Carter that any communicator can use to create social media/customer care strategies:
1. Don't design a program in a vacuum. Bring PR, HR and IT into the process.
2. Look at your current customer service structure, and determine the easiest way to make a change without too much disruption to the process.
3. Have a trained person—or persons—do the flagging and routing of customer comments. Empower them to make tough calls. "It shouldn't be left up to an intern," says Carter.
4. You don't have to replicate what others have done. "Do what is right for you," says Carter.
Even small businesses can engineer successful customer service/social media programs. Shashi Bellamkonda, social media director at Network Solutions, advises small business owners to stay within themselves. "I tell them to spend 15-20 minutes a day on social media," says Bellamkonda. He believes blogs are a good way for small businesses to communicate with stakeholders.
According to Paula Berg, digital media leader at Linhart PR and formerly with Southwest Airlines, what's important for any organization is to do something. "Social media efforts often get stuck in the task force mode," says Berg.
If Citi's Eliason is right about PR and customer care integration, moving beyond the task force and into action could turn out to be very rewarding for PR professionals. PRN
[Editor's Note: To learn about leveraging Facebook tools for PR success, attend the PR News Facebook Essentials Webinar on Thursday, Jan. 27.]
CONTACT:
Frank Eliason, frank.eliason@citi.com; John Carter, jcarter@shiftcomm.com; Shashi Bellamkonda, sbellamkonda@networksolutions.com; Paula Berg, pberg@linhartpr.com.