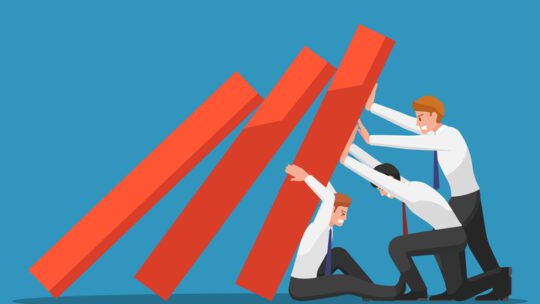 In gest, but only partly, measurement guru Katie Paine suggested the last weeks of 2021 and first days of 2022 offer enough botched PR and PR crises to assemble a March Madness-style ranking. She's right.
There were crises where CEOs were able to escape consequences:
Troubled Activision chief Bobby Kotick is set for a huge payday after Microsoft's record-setting purchase closes.
Chris Kempczinski, CEO of McDonald's, barely took a reputation hit for his response to shootings of two young children, including one at a McDonald's, texting Chicago's mayor: "the parents failed those kids which I know is something you can't say. Even harder to fix."
And a few where leaders were ousted, including Barclays Bank CEO Jes Staley, who 'forgot' two trips to Jeffrey Epstein's island and Apollo's Leon Black, who also downplayed his relationship with Epstein. Hired to reform a scandalous cultue, Credit Suisse chair Antonio Horta-Osorio flouted Swiss quarantine rules after traveling abroad twice, including a trip to watch Wimbledon in 2021, whose men's champ, Novak Djokovic, created a COVID-related mess earlier this year in Australia, which endured a PR incident of its own.
And don't forget U of Michigan's departed president Mark Schlissel, who documented an affair using his university email account. Ousted in a messy manner, ostensibly for failing to report a relationship with a co-worker, was WarnerMedia news and sports chairman/CNN president Jeff Zucker.
Yes, Paine could create an ignominious Elite 8 and a bittersweet Sweet 16.
While crafting her tournament sheet, Paine doubtless could deploy several smoldering situations, such as the NFL, simultaneously staging Super Bowl LVI and battling racism allegations (a continuing issue) as well as a new claim, bounties for intentionally losing games. Add the mounting issues of largely covered-up sexual harassment claims against Washington's football team co-owner and management and new allegations made in public, during a recent congressional hearing.
In addition, the PR crises featured in this month's Crisis Averted certainly deserve consideration for Paine's proposed dance card. First is the Spotify-Joe Rogan imbroglio, which revealed the company's confusion about itself. Next are examples of companies apparently failing to read the room: the saga of Better.com's board retaining CEO Vishal 'I fired 900 employees on Zoom and I'm still CEO' Garg and Raith Rovers, a Scottish rugby club, not anticipating pushback for signing a convicted rapist.
Spotify-Joe Rogan
This multi-part situation, which now borders on a full-blown PR crisis, began relatively quietly.
A New Year's Eve episode (#1757) of Rogan's podcast, "The Joe Rogan Experience," streaming on Spotify, included Dr. Robert Malone, a virologist whose anti-vax content resulted in a suspension from Twitter just prior to the show's airing.
The episode with Malone prompted a Jan. 12 letter from 270 science professionals. It blasts Spotify for spreading Covid untruths to Rogan's 11 million listeners. The podcast episode, it says, was a "mass-misinformation event."
Beyond having Malone on the show, Rogan, the letter alleges, "discouraged" vaccination for children and young people. Rogan also spread "unsubstantiated conspiracy theories."
The letter did not urge Spotify to cancel Rogan and his reported $100 million deal. Instead, it argued the company has "a responsibility to mitigate the spread of misinformation on its platform…[by implementing a]… misinformation policy."
It concluded, "We, the undersigned doctors, nurses, scientists, and educators thus call on Spotify to immediately establish a clear and public policy to moderate misinformation on its platform."
Initially, Spotify took a wait-and-see approach to the call for content policies. It said little publicly until Jan. 24, when musician Neil Young penned an open letter. Similar to the Jan. 12 letter, Young bemoans Spotify's role in spreading misinformation. Young's ultimatum: "They can have Rogan or Young. Not both."
Behind the scenes, Spotify's board conducted a risk assessment, says Lori Rosen, president/founder, Rosen Group. Among other factors, it calculated Rogan's revenue potential versus the cost of fallout from Young pulling his music. It was not a contest. Rogan is Spotify's top draw.
Two days later, Spotify pulled Young's music. The company "regretted" Young's decision, yet Rogan, arguably the world's most popular podcaster by listeners, was going nowhere.
Joni Mitchell joined Young in removing music, as did a few other artists. Externally, Spotify remained quiet.
Internally was a different story. It's likely Spotify CEO Daniel Ek heard from disgruntled employees, says James Wright, global CEO, Red Havas. It's likely that some employees were upset about working at a company that touted Covid misinformation, Wright says. "Spotify used to be seen as a great company to work for," he adds.
So, on Sunday, Jan. 30, Ek spoke, saying many things crisis pros counsel. "We take this seriously…we are committed to learning, growing and evolving."
In addition, Ek acted. He promised to publish content rules and guidelines. Spotify has rules, he said, but they were unpublished. In addition, Ek said the streamer will affix an advisory label to podcasts discussing COVID.
Confused or Slow?
Still, for Wright, Spotify seemed more confused about itself than slow. One of its values, he notes, is: We are sincere. The best relationships are based on mutual trust and respect. We want to be fair and transparent in everything we do.
"But it was only in response [to the Rogan incident] that they released" its guidelines. "I find it ironic that they say they're fair and transparent, yet the rules they use to police their platform were anything but until recently," says Wright.
Indeed, critics blasted the guidelines as hasty and incomplete. (The rules were targeted a few days later too.)
That next day, Rogan posted a 10-minute apology video. It wasn't as polished as Ek's statement, but it was unexpected and bought time. On the other hand, Rogan defended his decision to interview Malone and others with contrary opinions. "It seemed disingenuous," Wright says. "He didn't seem to care, because he was in no danger of losing listeners, but Spotfiy was losing artists."
During a Feb. 3 earnings call, Ek admitted that publishing the guidelines should have come earlier "and that's on me." Still, Ek said, no other streamer has published guidelines.
While that might be true, the claim hinges on Spotify insisting it's a streaming platform only, ie, it carries content others provide it. As such, it's not endorsing or producing content, merely streaming it. "It's a cop-out to say, 'We're a platform only,'" Rosen says.
Spotify signed Rogan to appear exclusively, allegedly for $100 million. In addition, it has exclusives with Prince Harry and Meghan Markle, among others.  As such, it seems Spotify is a publisher.
Chapter Two, Racism 
The incident's second wave occurred the next day, Feb. 4. India.Arie posted a video showing Rogan using the N-word multiple times during podcasts. On Saturday, Feb. 5, Rogan posted another apology video, admitting he was wrong to use the slur and that he's not a racist.
Perhaps Rogan isn't a racist, but he certainly says things that anger Black people, NPR's Eric Deggans wrote. Or perhaps Rogan uses racist tropes to entertain, as Trevor Noah alleges.
Regardless, here's where Spotify's content rules return. They don't cover Rogan's use of the N-word, some claim.
  The day after Rogan's N-word apology, Sunday, Feb. 5, Ek sent an employee memo that leaked to media. He apologized for the stress of the Rogan incident and said the company will invest $100 million to license, develop and market musicians and audio content "from historically marginalized groups."
Again, though details of the investment remain spotty, it seems to signal Spotify is a publisher.
Still, Ek was unmoved on Rogan. "I want to make one point very clear–I do not believe that silencing Joe is the answer," the memo said.
Is the Rogan Crisis Done?
Each month we ask, Was a crisis averted? It's a softball for Rosen and Wright. This is far from over, they agree.
Says Wright, "You have the Covid issue and now racial comments…and though Rogan has taken steps [and removed offending podcasts], it's almost as though [Spotify hasn't] taken steps proactively…they're continually responding as the news agenda moves."
For Rosen, Spotify is not quite yet a crisis, though it will be should market-moving artists like Taylor Swift or Beyoncé  consider joining Young and Mitchell. "I guarantee Spotify has people reaching out" to popular musicians to make sure "they don't leave," Rosen says.
The $100 million investment in artists from underserved communities might not be enough, Wright and Rosen argue. Wright says the investment "is wonderful…but the timing makes it feel like it's what they had to do" to steady their fluctuating share price.
Apologizing and suspending Rogan for a period "while they assessed internally what they wanted to do" would have been a better first step, he says. They should have bought themselves time to think about "what kind of company they want to be. Do we live our values? Are the old values the ones we hold dear? They have to reflect on this internally."
He adds, "At the end of the day, it's their platform. They have the right to put anything they want on it. And they're also in the business of making money. But they have to recognize the impact they have…and they need to better police what they have on there."
Rosen urges Ek to "exhaust the media with interviews" telling Spotify's narrative.
Better.com's Board and Its CEO
There are few better (pun not intended) examples of poor communication than firing 900 employees via Zoom, doing it coldly and then piling on, disparaging them in online posts. The furor over Garg's behavior led to his board-imposed weeks-long 'break' from CEO duties.
Yet after just a few weeks away from work, Garg was again behind the CEO's desk. Better's board deems him a changed person after weeks with an executive coach.
In addition, it's added executive training programs as well as more executives and board members to keep tabs on Garg. Presumably the previous job-holders were unable to do so. The board has said nothing externally about the 900 who were fired.
Moreover it's kept quiet about the exodus of senior executives who left in the immediate aftermath of Garg's 900-person call and more recent departures, after he was 'welcomed' back.
Since Garg's return in early January, there've been few related stories. Several single-source stories claim employees are required to de-activate phones and recording devices when they're around Garg. The stories also say employees are required to sign NDAs.
Again, the crisis averted question is easy. Both Rosen and Wright point to stories about Better.com hemorrhaging employees and executives as evidence the crisis lingers. "They have all those people to hire," Rosen says. Says Wright, "Clearly there have been a few missteps since you have numerous members of leadership walking out."
Similarly, both wonder about how Garg was able to run amok. "Who was overseeing him?" Rosen asks. Adds Wright, "Did he take [the decision to fire 900 people] in isolation? If so, that's a big concern. It's an even bigger concern if there were multiple people involved in the decision with communication backgrounds." He admits, though, Garg might have received counsel about the firing "and not have taken it."
They disagree, though, about the board's decision. "If I were the board, yes, he'd have to go," Rosen says. "They had everything to lose and so little to gain" by keeping him, she adds.
Wright, though, says, "I don't know him well enough" to render a decision. On the other hand, Wright says he'd insist on Garg taking media training, empathy training and leadership-skills training.
 Perhaps another incident will determine Garg's fate. A Feb. 7 media story says an investor group battling Garg in a June 2020 suit has proof he mishandled their funds. The group says Garg invested $1.6 million of their funds in startups, including Better.com. Instead, they argue in a Jan. 31, 2022, filing in NY, Garg should have distributed those funds to them.
Raith Rovers
On the face of it, our last crisis averted example, like Better.com, shouts tone deaf. Here, an obscure professional rugby team blundered badly on several levels.
Aiming to bolster a lagging offense, Raith Rovers signed striker David Goodwillie. In a release, the club touted Goodwillie's rugby skills, yet failed to mention he'd been convicted of rape in a 2017 civil case.
A portion of the club's fanbase whacked the decision. Similar to Spotify's Ek, who doubled down in his support for Rogan, the club initially justified the signing. Goodwillie was "a proven goal scorer" and "his footballing ability" was its top "consideration." Later it mentioned people deserve a second chance, though it said nothing about Goodwillie's victim. Moreover, the team had time to prepare its retort. A Goodwillie signing was rumored for months.
Indeed, the onslaught inside and out the team arrived in full force. A pair of Raith's directors, the employability officer, the 10-year captain of Raith's women's team and novelist Val McDermid (who sponsors the team's shirts) withdrew from the club. And the women's team also had its jerseys reprinted without the Raith crest on them. In addition, it applied to end its affiliation with Raith.
The protest also drew rebuke from first minister Nicola Sturgeon, Scotland's government leader, and former UK prime minister Gordon Brown.
Eventually, the club's management reversed its decision and apologized fairly well Feb. 3. Its chairman, John Sim, admitted, "We got it wrong…we focused far too much on football matters and not enough on what this decision would mean for our club and the community as a whole."
Neither Rosen nor Wright consider the unfortunate incident a crisis. "The club won't fold," Rosen said. Wright agreed, "The club is larger than one player…though it created massive problems with the community...in a part of the world where sport is life…it will always be part of [Raith] history."
Both also see similarities with Better.com. "In this day and age," Rosen says, "how could Better or Raith management not expect a large opposition [to reinstating Garg and signing Goodwillie?]" For Wright, the parallel is that, ostensibly, Better and Raith had communicators on staff when these abhorrent actions occurred. "What sort of message [could the signing] send to fans, particularly young men? This was all very unnecessary. The player's value was nowhere near" enough to justify this sort of reputation damage. The club, Wright says, needs to start an education program for the team and staff and go into the community with it.