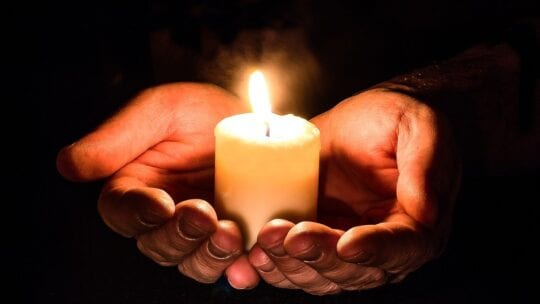 On the first anniversary of the COVID-19 pandemic, President Joe Biden took to his podium to deliver a message to the American people: empathy and action will set the country on a path to recovery. 
For Biden, the delivery, content and tone of his first prime-time address as president set an important precedent for public figures and organizations seeking words to make sense of the past year.  One in three Americans knows someone who died from coronavirus, according to a recent Axios-Ipsos poll. The sense of loss—emotionally, economically, physically—has left many empty. 
The president's speech included a nod to the American novelist Ernest Hemingway's "A Farewell to Arms," about "being strong in all the broken places." Biden called for unity during a time of immense suffering, showing that we are not all so different. 
Assessing Need
It's a delicate balance to appropriately honor an anniversary, particularly one that unleashed so much pain and tragedy. March 11, 2020, will forever be remembered as the day the World Health Organization declared COVID-19 a global pandemic. It also was the day many began adhering to stay-at-home orders. 
What, if anything, can organizations add to this conversation? Is it appropriate for brands to deliver a  message to audiences? Will they follow the empathetic lead of the president or misuse the moment with empty statements? It's a tough call for any communicator.  
"From a behavioral science standpoint, anniversaries are 'temporal markers'—noticeable moments in time at which we're psychologically more open to reflection and change," said Lindsay Kohler, lead behavioral scientist at employee engagement consultancy scarlettabbott. 
"Think about how the new year ushers in a new attitude toward healthy eating and exercise. We do have an opportunity to harness this 'fresh start' effect through internal communication around the anniversary."
The Right Message
While an anniversary allows organizations to reconnect with employees and external stakeholders, it's essential to send the right message. Some may recall brands taking advantage of 9/11 on social media, where almost everyone seems to need to make a statement. But honestly, does an audience care what a local car dealer has to say about an event that took the lives of thousands of Americans? Brands and organizations need to assess their audience's needs and know when to stay in their lane. 
Kohler said scarlettabbott sees the pandemic anniversary as an opportunity to "be connected, give back, and encourage wider reflection" amongst clients and employees. Its messaging will be released, on social media platforms, March 23, the first anniversary of COVID-19 lockdowns in the U.K., where the company is headquartered. 
"We focused on reflection," Kohler said. "This is not a rah-rah celebration moment, but an important moment to mark. However, it shouldn't be doom and gloom either. Let's focus on what we learned, what we achieved, give ourselves a pat on the back, and set our sights on new goals and things we want to do when lockdown ends."
Providing Value
For some brands, such as B2B content and social media hub Sprout Social, the anniversary provides a chance to reevaluate how customers operate, and provide them with an evolved experience. 
"While we don't have anything specific planned for the anniversary, we're continuing to prioritize content that supports social marketers and the eventual shift that will take place as our world and businesses begin to reopen," said Jamie Gilpin, Sprout's CMO. 
At the beginning of the pandemic, Sprout provided clients with resources for communicating during the crisis and shared insights such as best times for brands to post. Gilpin said the company is committed to meet the needs of its community as it still sees the effects of COVID-19 have a lasting impact on the way businesses operate. 
"We'll continue to explore the challenges our customers are facing to ensure we're providing the tools and resources needed to flourish in this next phase."
Giving Thanks
Many brands have leaned into a simple gesture to acknowledge their followers' support over the past 12 months—saying thanks. As so many businesses had to close or lay off employees, many more continued to withstand the economic challenges, thanks to loyal fans. 
Organizations like The Monterey Bay Aquarium and the Dallas-Fort Worth International Airport shared messages of gratitude for support. The Philadelphia Orchestra invited followers to a complimentary anniversary broadcast.
March 13 marks the one-year anniversary of the COVID-19 pandemic closing our doors. We miss you all, so much—and we can't wait to sea you again in person. We wouldn't still be here to tweet without your continued support—thank you so much for the kelp: https://t.co/eXD0cPrIRm pic.twitter.com/tQMoLX3cr6

— Monterey Bay Aquarium (@MontereyAq) March 9, 2021

"We're seeing many brands express their gratitude for customers who've stood by their side and continued to support their business through these difficult times," Gilpin said. "The messaging is generally optimistic, full of hope and with an eye to the future." 
Gilpin believes this will endure even after the anniversary of the pandemic, as there is much rebuilding ahead. And being a social media and analytics platform, she believes continually assessing the audience will play a large role. 
"As brands seek to understand their place in the larger conversation, leaning into social data can help them gain a clearer picture of what their audience expects from them so they can contribute in an authentic and relevant way."
Nicole Schuman is senior editor for PRNEWS. Follow her @buffalogal