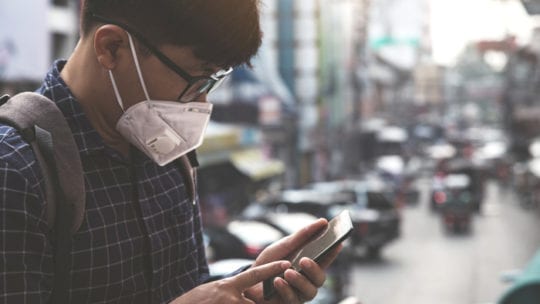 It's a cliché, but how quickly things change. Just two days ago, Starbucks sent an email to stakeholders touting the 2.5 million-plus prizes it was "giving away" in its Rewards Starland game.
This morning's email was a note to customers from Starbucks CEO Kevin Johnson explaining how it's applying experience gained in China to deal with COVID-19 in the US. Following the Beijing example, the coffeemaker will transition its stores here to more of an online/pick-up service as the US ushers in a new normal.
Johnson's letter included important PR tactics. First, it had a compassionate tone. "Our hearts go out to all who have been affected by the outbreak of coronavirus (COVID-19)," he wrote.
Quickly, he got down to business. Using clear prose, he wrote that Starbucks will be "limiting seating to improve social distancing, enable mobile order-only scenarios for pickup," or in some cases drive-thru. As a last resort, Starbucks will close a store "if we feel it is in the best interest of our customers and partners, or if we are directed to do so by government authorities."
Johnson's missive also communicated hope. He noted 90 percent of its Chinese stores have reopened.
Lots of Activity
Throughout the PR industry, communicators scrambled yesterday to craft messages reacting to the changed reality that resulted from COVID-19's biggest news night. In addition to an Oval Office speech, the public learned of celebrities who have the virus and postponed or delayed major sporting events.
As such, a slew of brands, including Amtrak and Walmart, sent messages to customers. Some advised about procedures to continue operating in the COVID-19 period, others discussed cancellations.
Princess Cruises' president Jan Swartz took to Twitter to deliver an empathetic, seven-minute, 39-second statement. Swartz acknowledged the history of the fleet and the problems it's experiencing, as well as the commitment the brand has to its guests and staff.
"In the interest of doing what's right and upholding our core values, I am regretfully announcing a 60- day pause of our global ship operations," she said.
We have always been dedicated to one truth: the health, safety, & well-being of our guests, teammates, & communities we visit. #PrincessCruises President Jan Swartz shares an update on how our company is upholding this core value during this unprecedented time. pic.twitter.com/5u6pSR62Cb

— Princess Cruises (@PrincessCruises) March 12, 2020
Some brand communicators dealt with different issues. Those at Clorox addressed price gouging on disinfecting products. "It's very disappointing to see third-party sellers doing this at a time when people need access to disinfecting products," Clorox wrote in a email to Ad Age. The brand also shut all ad-display activity on most of its disinfectants on Amazon.
Please Don't Use Our Product
Tito's Handmade Vodka communicators had a unique mission.  Several days ago an erroneous viral message emerged. So Tito's had to urge customers not to use its product. Owing to availability and price gouging, hand sanitizer has become a prized commodity. That's forced many to brew their own. Sanitizer should have an alcoholic content of 60 percent, per the CDC. "Tito's Handmade Vodka is 40 percent alcohol and therefore does not meet the current recommendations of the CDC," Tito's informed customers. The Rhode Island Dept. of Health (@RIHEALTH) also addressed the issue with a sobering tweet.
Quick Reaction
Several communicators dealt with quick changes in creative. Coors Light communicators headed off a potential disaster using a tenet of crisis communications: monitoring the news and social media. The brand scrapped an ad planned for March Madness, "Beer Business Daily" reported. Noting the number of fans who call in sick during the basketball tournament, Coors planned to tout itself as the "Official Beer of 'Working' Remotely."
In addition, Coors execs were busy alerting distributors and restaurants to remove from display any "Working Remotely" creative, including cups, banners and coasters.
Good Move
Another brand making a smart move under the circumstances was Hershey. It replaced ads that featured two men handing out Hershey bars. The creative also included lots of human interaction, such as hugging and handshakes, Ad Age reported.
Also reacting quickly was the US Travel Association. Earlier in the week, several companies in the 1100-member group issued a statement urging Americans to consider making decisions about travel based on "facts."
Today, the group's president/CEO Roger Dow danced delicately. "The public's health is the top concern," he wrote, "but now the policy conversation must address the health of the economy."
He added, "Temporarily shutting off travel from Europe is going to exacerbate the already-heavy impact of coronavirus on the travel industry and the 15.7 million Americans whose jobs depend on travel. We have and will continue to engage Congress and the administration on policy steps that are necessary to ensure that travel employers—83% of which are small businesses—can keep the lights on for their employees."
Takeaways
Depending on geography, many PR pros have been running 24/7 for days. Hinda Mitchell of Inspire PR Group is based in Ohio, where an estimated 100,000 people have the virus. Mitchell's been advising school districts, mid-size companies and her other clients to:
Have a variety of materials prepared for everything from event cancellations to school closures to government orders.
Recognize that audiences are concerned and unsettled; communications should reflect an understanding of how audiences are feeling by focusing on corporate values.
Share accurate data from public health experts – and avoid drawing your own conclusions about what is safest, healthiest, etc.
Avoid chapter and verse restating public health recommendations – it's better to share links to expert opinions.
Consider your employees. For example, what is your illness reporting and sick time protocol? How will you change your remote working policies? Will you support employees in the event that school districts close and they have to care for children at home?
Think about how you can assure employees that the disruption in your business will not negatively impact their jobs or the future of your business.
Seth Arenstein is editor of PRNEWS. Follow him: @skarenstein