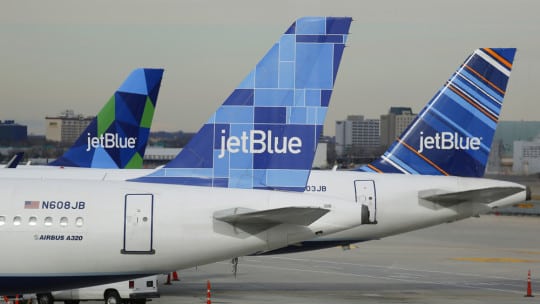 Corporate social responsibility has been evolving for quite some time, moving from pure philanthropic efforts to a fully ingrained way of doing business. Today, companies most respected for CSR listen to the needs of their customers and employees, making responsible practices a core part of their brands, products and customer experience.
In JetBlue's early years, its CSR programs sometimes resonated with customers and within communities. With so many causes worthy of attention and support, JetBlue tried to support everything that was brought to its attention, and in turn its CSR effort was stretched thin. It failed to make the impact it was seeking. Why? Part of the answer is that it was not listening to stakeholders.
Singing The CSR Blues
As the airline began to grow rapidly, and its route network included an even broader range of communities, JetBlue decided it was time to reevaluate and reassess its CSR programs. It needed to do CSR ina "blue" way.
So JetBlue's CSR and Communications teams regrouped to revamp its CSR platform into one that resonated with the community, which in turn created customer loyalty and engaged employees.
JetBlue reached out directly to customers, crewmembers and the more than 70 communities it served at the time to hear what was most important to them. With what it termedits CSR 2.0 strategy, the brand shifted its philosophy to determine and meet specific needs within the communities it served. As it fine-tuned its CSR approach, key stakeholders helped guide the new direction. The results were more meaningful CSR programs.
While many companies may be hesitant to take a public stance on hot-topic issues, those that stand for something tend to create stronger bonds and loyalty with customers.
Positive public perception and recognition for JetBlue's CSR platform have been anything but easy, and there were some key insights along the way.
Here are five tips that may be helpful as you create or reevaluate your CSR communications strategy.
Stand for Something
While many companies may be hesitant to take a public stance on hot-topic issues, those that stand for something tend to create stronger bonds and loyalty with customers. Think Patagonia, Chipotle, TOMS and Target. Chances are you know of these brands and may even model your CSR and communications efforts around their innovative and successful framework.
Customers want to feel the love. Edelman's second annual Brandshare Report says nine of 10 consumers want meaningful relationships with brands, while only 17% believe companies are delivering. As part of JetBlue's CSR 2.0 revamp, it scaled its responsibility platform to focus on youth and education, community and environment. The impetus was research: The brand surveyeda cross section of customers and found that 74% saw youth and education as priorities for their favorite brands to support.
Although JetBlue was founded with social responsibility and service as part of its mission, the airline continues to have an internal debate on CSR communications—providing service for a greater good (and no attention) because it's simply the right thing to do versus sharing CSR stories.
Have an Opinion
While customers may not always agree with your stance, most will appreciate a company that acknowledges current issues.In 2013, JetBlue took a public stand against The Defense of Marriage Act (DOMA), which discriminated against same-sex couples. In 2014, it extended its support for transgender individuals by including gender reassignment surgery in its U.S. medical plans.
As a result, its commitment to creating a great place to work for LGBT crewmembers was recognized in the Human Rights Campaign's 2015 Corporate Equality Index, where the company achieved a perfect score of 100. In this case, taking a stand was important to crewmembers, who in turn shared their appreciation of their employer with others.
Take Risks
While risks are, well, a gamble, the outcome often outweighs the wager. Flying people to destinations is JetBlue's core business. When it decided to introduce the first uniform changes in its 14-year history, however, it took a risk and ventured into new territory: sustainable fashion.
When looking at the possibility of getting rid of more than 10,000 uniforms, simply throwing away 18.5 tons of fabric was not in line with JetBlue's mission of inspiring humanity. As the company brainstormed what to do with this fabric, the main goal was to minimize the use of landfills.
JetBlue took a risk with a partnership to put the material to good use. It connected with local bag maker Manhattan Portage and came up with a way to combine fashion and travel with responsibility. On Earth Day, JetBlue launched a fashion-forward, recycled bag collection made from these uniforms, aimed at aviation enthusiasts who wanted to carry a piece of the airline's history. The bags flew off the shelves and sold out in less than one week.
Although it has had much CSR success, JetBlue would be remiss not to admit its failures. A success: In 2015, as part of its annual Soar with Reading program reading initiative, it implementedan innovative pilot program to distribute children's books free via vending machines in Southeast Washington, D.C., one of the largest book deserts in the country. The airline admitted, though, its 2013 program wasn't quite as successful.
Brands that have a firm place in customers' minds do more than state their brand promise; they live it.
After assessing that year's results, the brand found it fell short of the original goal to engage 100,000 online votes from customers over three months via an online call to action. Forced to reevaluate, it realized the call to action was too complicated. In 2013, it asked customers to help donate $500,000 worth of books to kids in need by telling JetBlue where they would like to travel with the storybook characters and to share information for a chance to win a scholarship.
Customer feedback showed that consumers weren't as interested in receiving something for themselves as they were in improving their communities. Therefore, they failed to participate, and JetBlue fell short of its goal. The airline learned a key lesson: When engaging customers to act, keep it simple, quick, fun and local.
---
JetBlue CSR 2.0
Brands that have a firm place in customers' minds do more than state their brand promise; they live it. JetBlue is on a mission to inspire humanity. Although as of this writing, the brand has 21,000+ crewmembers servicing 38 million customers annually on 1,000 flights daily to 101 destinations, it remains relatively small in terms of U.S. airlines. Yet people (and media) in cities JetBlue does not yet service follow the brand and have an affinity for it. The biggest factors that contribute to JetBlue's brand loyalty are corporate social responsibility and brand engagement.
Be social: JetBlue is the fifth largest airline in the United States, yet it continues to be a leader in the social media space.
Innovate: Despite claiming just 5% of the U.S. domestic market, Jet Blue outpaces other brands its size in terms of social media presence. This has helped it gain respect within the industry and put a spotlight on the airline's customer service.
Originate: JetBlue has more Twitter followers than most U.S. airlines—2.12 million and growing. Then again, JetBlue always has been adventurous. It was the first airline in the U.S. to utilize Twitter.
---
Utilize Your Best Asset: Your People
While most external communications strategies focus on media attention and social engagement, we all know getting ink for positive corporate initiatives is very difficult. At JetBlue, many of its most recognized efforts began with crewmembers. In fact, crewmembers began several key initiatives at a grassroots level that later bubbled up to corporate.
Crewmember stories that highlight a direct impact on customers or other crewmembers are the stories that resonate with media and appeal to and engage followers on social.
One example is the Blue Horizons for Autism program. These unique air travel practice events for families touched by autism provide a relaxed setting. This allows them to be better prepared for future travel. The program started with crewmembers as a volunteer initiative.
Crewmembers wanted to better understand and serve the needs of this growing community. They saw more and more children struggling in airports and families that were unable to board planes because of their child's reactions.
One practice session for local families turned into an annual event. It then went regional and ultimately became a full program.
Crewmembers with children on the autism spectrum were very vocal as well. They wanted the company to do something for a cause that was personally important to them. JetBlue's benefits package didn't line up with its external actions, as it didn't cover autism treatments and therapies. Acknowledging that disconnect and listening to employees, the airline began covering autism treatments in June 2015.
Seek CSR in Recruiting
Now, social responsibility and service are key assets that JetBlue's talent team seeks in recruiting. It knows that engaged and happy employees lead to higher retention rates. It lowered turnover for 18-to-25-year-olds in 2015 by 8% year-over-year and 4% among those 56 years and older. CSR is becoming increasingly more important to millennials, as more than 88% seek employers with strong CSR programs, according to a PwC report.
Simply providing a service or product is no longer enough. External audiences expect, demand and deserve more from the companies they support. CSR is often the deciding factor when customers are making purchasing decisions. Therefore, companies must stand for something and listen to what's important to customers. The coveted media attention and social engagement will follow.
CONTACT: [email protected]
---
Takeaways
1. When engagement is flagging, ask audience members simply and directly what's important to them.
2. While it's a gamble to take a stand, brands that fail to do so can be perceived as representing nothing. Brands that take a stand can create stronger bonds with customers.
3. When engaging customers to act, keep your call to action simple, quick, fun and local.
Save
Save