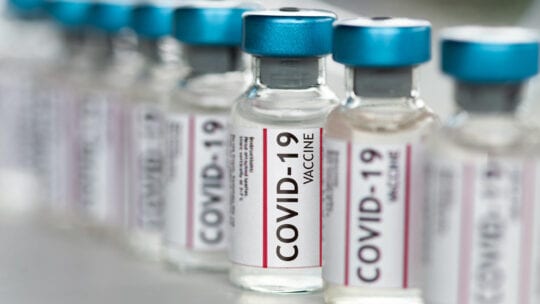 We're coming to the one-year mark of America's coronavirus journey and there are several vaccines. New cases, death rates and hospitalizations are down. In addition, hospital doctors are more experienced at treating COVID-19 patients. We've turned the corner, right? Maybe.
If anything, the pandemic remains a moving target. Depending on the day, news about the virus, and how Americans are attempting to endure it, is upbeat or depressing and ominous.
There also are a lot of unanswered questions. That's partly due to the fact that it's a novel virus, so medical science is learning about it in real-time.
Still, some news is hopeful: new cases in the US are on a steep decline and some 40 million people have received a first dose of vaccine. Some news is depressing.
Something else that contributes to the up-and-down nature of the virus narrative is the country's multifaceted health system. Since health officials and politicians in localities, cities, regions, states and the federal government are involved, results are mixed. So are the messages.
The Role of Politics
And, of course, politics has helped create an experiential hodgepodge.
"We actually had political leaders saying there isn't such thing as COVID and you should be wary of vaccines," says Dr. Destry Sulkes, a physician who also is an EVP at Klick Health and an adjunct instructor at the NYU School of Professional Studies, which trains healthcare communicators.
This led to a "perfect storm, not unlike The Social Dilemma, making the truth hard to find and the political landscape reinforcing that the truth might be the opposite of the truth," Sulkes says.
Confused? You're not alone. Even though 10+ percent of the US population has received at least one dose of vaccine, many are unclear about what's next, argues Dr. Leana Wen, an emergency physician and visiting professor at George Washington University and a former Baltimore health commissioner.
For example, can the vaccinated travel, go to bars and restaurants? Meet with other vaccinated people indoors? Do they need to wear masks?
Unfortunately, medical science lacks enough data to offer definitive answers on this, Wen writes.  As we said above, the virus is happening in real time, which makes for a lot of unknowns and confusion. Yet the message is garbled: People who've been vaccinated want to know what they can do.
"If there is anything we've learned during the pandemic," Wen writes, "it's that people need clear, practical guidance for how to navigate their lives, and they need it now."
Where You Live
Back to politics, which is local, as Tip O'Neill said. So, where you live is crucial to your coronavirus story. Florida students, for instance, have attended schools for months. Elsewhere, virtual classes dominate and the reopening of schools for in-person classes has become a headache for President Biden and his press secretary.
In Washington, D.C., and Maryland, indoor activities, such as restaurant dining, are prohibited. Yet a hop over the Potomac and eating and drinking inside Virginia's restaurants and bars is the norm. Afterward, see a film inside a movie theater.
"COVID-19 became a political weapon, polarizing opinion on how to tackle it," says James Wright, global CEO, Red Havas & global chair, Havas PR Global Collective. "Without a clear federal narrative…we were…hit with a variety of advice and direction from local and state governments, as well as the media."
Honesty is Such a Lonely Word
Media, of course, also includes social media. "Clicks drive everything. And algorithms drive to the most outrageous clicks," Sulkes adds. "So, the truth [about coronavirus] heads to the sidelines and outrage has taken center stage."
Advice to the public, Wright adds, "was almost entirely dependent on which side of the political spectrum the advice-giver sat." One of the results was and is a confused public.
Normally, communicators welcome confusion. They're specialists at correcting misinformation and presenting clear narratives. The current situation is different.
"Waves of confusion are crashing our ability to parse information about vaccinations, personal protective gear and the risks of exposure to COVID-19," says Ethan McCarty, CEO, Integral Communications.
Another difference from the norm is that this is a life-and-death moment. Confusion is responsible for some of the US death toll, now nearing 500,000.
Another factor in how Americans are living the pandemic is race. For example, people of color are suffering higher rates of severe disease and death, but are getting vaccinated at a far lower rate than whites.
Hope via Vaccine and Data
A different side of the vaccine picture, a far more positive one than some BIPOCs are experiencing, is that the vaccines are highly effective. Their efficacy is among the best ever, Dr. Sulkes says. As a result, coronavirus cases, deaths and hospitalizations are falling countrywide:
On Jan. 15, there were 258,177 new cases; 59, 313 cases were reported on Feb. 15, according to CDC and NBC News data.
Deaths on Jan. 15 totaled 3,698, but were down to 1,560 on Feb. 15.
Likewise, Jan. 15 hospitalizations were 127,235; on Feb. 15 they were 65, 455.
So, some Americans have turned the corner.
Variants and the Next 6-14 Weeks
Still, looking at the pandemic holistically, the road ahead can seem depressing. In addition to issues with vaccine supply, variants of the virus seem the main culprits.
That's the case for Dr. Michael Osterholm, one of the country's authorities on infectious diseases. On Jan. 29 he predicted that "the next six to 14 weeks" could be "the darkest days of this pandemic…."
Osterholm's assessment centers on new coronavirus variants, or mutated viruses. They seem "much more infectious and…produce much more serious illness," he says.
One of the variants, known officially as the B1.1.7 variant, originated in the U.K. and is present in the US. It is considered highly transmissible, 30-50 percent more so than COVID-19.
Fortunately, the UK variant is "not in any way impacting on the vaccines," Osterholm says.
More Deadly
Yet new research released in the U.K. late last week and not yet peer-reviewed suggests the variant also is more deadly than COVID-19. This means the positive trend in US death rates and hospitalizations mentioned above, could get reversed.
Indeed, Dr. Peter Hotez, founding dean of Baylor College of Medicine's National School of Tropical Medicine, said Feb. 16 on MSBNC with the UK variant "gaining dominance across the" US, likely middle to late next month, "we have to be prepared for the fact that [declining death rates, hospitalizations and new cases] are going to go up."
A small silver lining is that most COVID-19 cases do not result in death, even those where B1.1.7 is the cause of infection. More possible good news, Hotez says, is the variant may not be as aggressive here as it was in the UK. Still, he says, "We have to prepare for the worst and this creates an urgency to vaccinate ahead of it as fast as we can."
Britain employed a lockdown last month to fight the variant's spread. It's worked. Deaths and cases have slowed since the variant's discovery in September. Still, the devastation is clear. The variant led to the overwhelming of British hospitals. Moreover, roughly half of the 119,000 Britons who've died of COVID-19 perished since the end of November.
It's likely you've heard of the Brazilian and South African variants. Like the UK strain, these variants are considered more transmissible and able to evoke worse illness. The bad news is the Brazilian and South African strains seem to evade vaccines.
All three variants now are in the US. The B1.1.7 is in at least 82 countries.
CDC Concurs on Variant
Yesterday (Feb. 17), the CDC joined the chorus on variants, issuing two reports. Both were sobering reminders of what could befall the US, though one of the reports includes material that seems to agree with Hotez's conjecture that perhaps the variants will be less aggressive in the US.
Still, the new CDC chief, Dr. Rochelle Walensky, voiced her concern. "The continued spread of variants that are more transmissible could jeopardize the progress we have made in the last month if we let our guard down," she said during a White House briefing.
Letting down our guard leads to another issue. As we know, Americans are weary of coronavirus. They've spent nearly one year washing their hands obsessively, distancing and donning masks. They're upset with now year-old routines and are less enthusiastic about observing government guidelines designed to mitigate the spread. One psychologist, Dr. Jacqueline Gollan, dubs this condition caution fatigue. The Biden administration is trying to reset things with firm and consistent messaging. "But, as it relates to slowing the spread," Wright of Havas says, "it's a battle now to change behavior that is well set."
Another Lockdown?
What if the US needs to impose a lockdown to control variants' spread? Can you imagine the pressure on communicators to sell that?
An area where communicators already are active is vaccination. Similar to so many aspects of the virus, the news about vaccines is good and bad. Johnson & Johnson's recent saga encapsulates this well.
As we write, Dr. Anthony Fauci, the White house's chief medical adviser on coronavirus, revised his guess about when most Americans will have access to a vaccine.
Previously he'd said this positive milestone–signaling the ramp up to a return to semi-normal activities, such as indoor dining at restaurants–was likely to arrive in late March or early April.
Vaccine Supply and a Return to Normal
Fauci's guess was based on reaching herd immunity, estimated at having 70-80 percent of the population vaccinated. In addition to two vaccines, from Pfizer and Moderna, Fauci figured a third company, Johnson & Johnson, was nearing emergency approval on its vaccine. Importantly, it's a single-dose product.
Yet Tuesday (Feb. 16), after having to factor in Johnson & Johnson's just-announced slower supply estimates, Fauci pushed the date back for most Americans to have access to vaccines. The target now is late May or early June.
Even the Johnson & Johnson delay announcement got muddled. Many fixated on the delay. The truth Fauci said Feb. 17 on CNN, is nuanced. Johnson & Johnson will deliver its full allotment (100 million doses) of vaccine promised to Washington, DC. The issue, Fauci said, is the initial flow of vaccine will not be ready as soon as originally thought. Fauci's later date means the start to a return to normalcy could begin in the fall.
The spread of variants puts a premium on the speed of vaccinating Americans. Roughly 1.7 million Americans are receiving doses daily. "If we want to get ahead of the [UK] variant we have to" double that, Hotez said. He thinks that's possible, though he worries about immediate supply. "The large tranche…of vaccines is not scheduled to be ready until June-July," he said. So, "The tricky part is going to be navigating from now until the end of May in terms of having adequate supply."
What Can Communicators Do?
How can communicators help? Do they have an obligation to do so?
Companies and their brand communicators are well-placed to help staff navigate the vagaries of what's ahead, says CommCore Consulting Group president/CEO Andrew Gilman. "People get their health coverage from their employer. That's where they'll turn" for vaccine information, says Gilman, who's advising companies on how to communicate about vaccination and return-to-work protocols.
Adds Integral's McCarty, "Organizations must not squander this opportunity to serve their most essential stakeholders: employees." Companies that put "significant effort into creating information hubs for employees about the availability of resources, policies, and wellness practices," he says, "will reap outsized benefits." These include better policy adherence and increased employee loyalty.
In addition, offering reliable vaccine information is a trust issue. A company that demonstrates it cares enough about employees to offer extensive health information and do so in an unthreatening way, Gilman says, can build and increase trust with staff.
Focus on the Vaccine
The key, says Wright of Havas, is communication about vaccines and "ensuring everyone has confidence that it is safe, easy and that it will work."
In terms of tactics, he points to Britain, which has vaccinated nearly 90 percent of its most at-risk groups. Get "those we trust and respect to advocate" for vaccination, he says. Whitehall has tapped celebs like Elton John and Michael Caine, "all the way through to local community leaders." The goal of using local leaders is reaching hard-to-reach audiences. 
Some companies are using incentives, like bonus pay, Lyft rides and time off for vaccination to entice employees.
Learn from Brands
Dr. Sulkes urges communicators to look at behavioral sciences and learn from great brands, which tap into peoples' underlying motivations. So, instead of saying, 'You should wear a mask,' try something like, 'The best way to protect your child is to show them how to wear a mask.' "There are ways to appeal to what people love and hold dear rather than shaking our fingers at them." Brand communicators, he says, should emphasize that "masking and taking the vaccine are the two best ways to reduce COVID and get our society back."
McCarty advises keeping bureaucratic choke points to a minimum. As such, he urges companies "equip first-line managers with both common-sense policies and the ability to make exceptions where needed without unnecessary layers of approval."
Be a Friend
He also urges companies make their web sites user-friendly. That's important as some government sites "often leave a lot to be desired." He adds, "Your company's intranet and first-line managers are critical to the effort" to keep employees safe.
Above all, Gilman says, companies should think of vaccine messaging to employees as an opportunity to build trust. As such, messages should avoid legalese and threatening-sounding statements. It's a question of attracting more bees with honey than vinegar.
Let's leave on a hopeful note. Sulkes says with some 60 million Americans vaccinated and 28 million testing positive–new models lead him to believe that means 3 times as many actually had COVID-19 but didn't get tested–we may well have somewhere over 130 million people with some degree of resistance to the virus.
"Herd immunity is already starting," he says. While it's not complete, not even close, "I think we've turned the corner."
Seth Arenstein is editor of PRNEWS and Crisis Insider. Follow him: @skarenstein