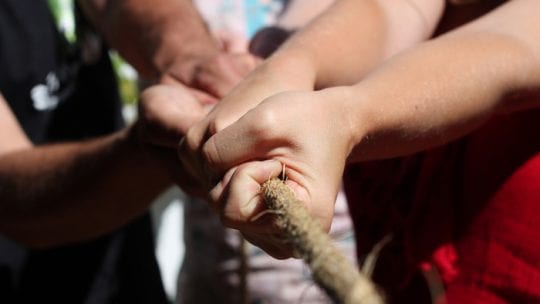 [Editor's Note: We always relish the opportunity to speak with John Saunders, president and CEO of FleishmanHillard. The occasion this time was Collision 2021, where we asked Saunders about his priorities and what's on the minds of CEOs he speaks with daily.
While he concedes the pandemic's devastation, Saunders believes organizations are stronger now than before COVID-19. He attributes this to: the ascension of corporate values; the visible action taken on critical issues; and an unprecedented perception of the importance of communication. This dialogue was edited for space and clarity.]
PRNEWS: It seems common knowledge that consumers, at least Gen X-ers and Millennials, insist companies take stands on political and social issues. What if a company wants to avoid issues? What's your advice?
John Saunders: Political polarization is affecting all of us. Companies have to balance not only what consumers might want, but also what their employees and other key stakeholders might prioritize.
Companies can't directly avoid political and social issues. They are like the air we breathe and the water we drink, but they can choose what to take an overt stand on.
When considering their position, companies need to weigh the risks, opportunities and trade-offs, and consider them from multiple dimensions. This is particularly critical for global companies that need to navigate complex geopolitics and increasingly different value systems.
What is clear is that the ability to remain neutral is becoming more challenging for global companies. So, even if they decide to remain silent on a particular issue, they need to consider where the line in the sand is for them–and the implications of this bottom line on all their stakeholders, including employees–before they are forced into a position or corner by governments, activists or angry netizens.
PRNEWS: We imagine you speak with C-Suite executives regularly. What two issues are on their minds? Disinformation is a major concern for PR. Is that shared elsewhere?
Saunders: Disinformation and fake content may be a concern, and data security is certainly a high-level problem for everyone. But while CEOs can make that…a priority for their organization, most CEOs are, themselves, less able to resolve those problems directly.
PRNEWS: What issues are CEOs discussing that they can influence?
Saunders: It's a wide range of issues…they can take personal action on, or that they feel personal pressure to address. Some depend on their location or industry.
For example, will new taxation or regulation, or global conflicts, reshape their businesses? Some are worried about supply chain issues that will take months to resolve; for example, the chip shortage is keeping CEOs in a lot of tech and manufacturing businesses up at night, and demand for components and supplies has made completing contracts on time difficult.
And, of course, the speed and impact of the end of the pandemic and economic recovery are on every leader's mind.
The other universal issue is the evolution of business in society. Finding the right role for a business on social, political and cultural issues affects all of a company's relationships. [Doing this correctly] takes a lot of time and a clear view of a company's issues and choices not just for words, but for actions.
Social justice, economic fairness, climate justice and cultural polarization are new territory for most CEOs. It's often the intersections that create immediate concern.
PRNEWS: How can communicators allay CEOs' anxiety?
Saunders: Communicators can help CEOs navigate these issues. For example, they can make sure the data and analytics used for decision-making represent current and potential perceptions among key audiences as accurately as possible, so decisions are grounded in good information.
In addition, they can help articulate the values that the company uses to guide its business and its interactions with others, continually focusing on the value the company creates through its products, services and jobs; and the valuation of the enterprise or organization as a whole—in context—so its responses to issues are understood as part of the organization's purpose.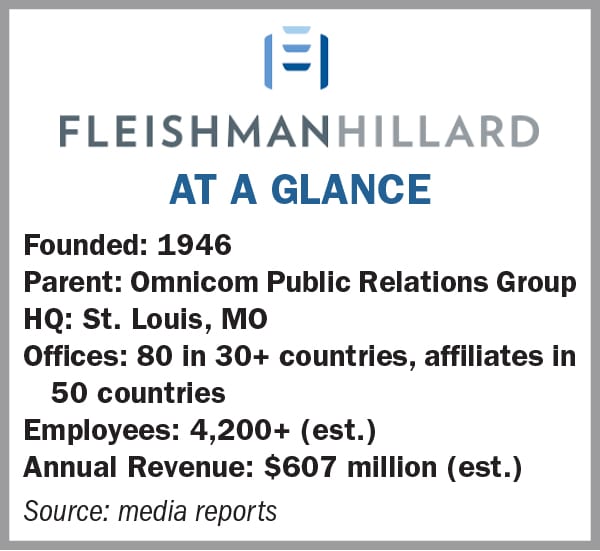 PRNEWS: What are your top priorities at FleishmanHillard?
Saunders: Our first focus is on our people and putting talent at the center. This past year had many challenges for our colleagues on a personal level and we want to ensure they are supported. As a part of our focus we're continuing to roll out robust learning and development opportunities that equip our people to better support our clients while also advancing their careers.
We also continue our pursuit to be the most inclusive communications agency in the world and have set bold, action-oriented goals with a plan that embeds DE&I into the nervous system of our agency.
Our other priority, of course, is our clients and continuing to bring them innovative, new solutions. Despite the pandemic, 2020 was one of our best years, thanks to our people's tremendous commitment to supporting our clients as they navigated the unknown. We've invested in the areas of intelligence, creativity, DE&I and digitally-led media and social media experiences. We will continue to evolve our offerings to ensure we're helping clients stay ahead of the trends and their competitors.
PRNEWS: The last time we spoke, you told me about your dinner with Sir Simon Rattle and how he said the Berlin Philharmonic was the world's greatest orchestra, but only when they play together. With so many employees working from home now, is creating and maintaining a corporate culture more difficult or have companies adjusted?
Saunders: Yes, you've gotten great mileage out of that story since. I'm just hoping that Sir Simon doesn't come looking for royalties from either of us!
Creating and maintaining the best, most supportive and effective company culture is never easy. Like a lot of things, it seems effortless when it works, but underneath great cultures have clarity on values and standards of interaction, and strong leaders who take responsibility for results as they share credit with the teams that generate them.
Especially under the pressure of the series of public emergencies we've faced in the past year, leaders have had the opportunity to demonstrate how they live up to the organization's values with actions, flexibility and accountability. Even those who never got very comfortable with empathetic engagement found more ways to show up in a personal and supportive way for their people.
Some people think a lot of damage has been done to business cultures due to the pressures and economic impact of the pandemic. And it is undoubtedly true that many employees have been hit hard personally.
But, I think more organizations have gotten stronger than weaker, because whether it is COVID-19, the confrontation with social justice issues or other challenges in different markets, values have been on display, actions have been visible and the level of attention on who we are and what we do in any organization has never been higher.
PRNEWS: How is FleishmanHillard advising companies on WFH?
Saunders: Going forward, we're advising organizations to put a concerted effort into analyzing and resetting the employee experience. Virtual technology tools will still be important for communication, but new requirements should be made as the needs shift from productivity to cultural cohesion and collaboration.
One emerging issue I think all businesses need to be considering right now is the strength of their employer brand. At this moment, the job market is as lively and competitive as it has been in generations. More and more companies embracing flexibility means more and more opportunities for workers, who may now be able to work virtually for a company based in another market on the other side of the country.
This is likely to be an attractive proposition for workers who have embraced working remotely during the past year and don't want to continue working for an employer that will require them to return to a physical workplace. To be certain, the effects of this will be far-reaching, but in organizations unable to nurture a strong, healthy culture, I'm afraid they will experience the attrition of top talent at a greater rate than those organizations that invest in their culture today and for the long term.
PRNEWS: One of the buzz words of the pandemic, and you alluded to it, is 'pivoting.' Besides 'hybrid,' what will the buzzword(s) of the return-to-work period be for communicators and the companies they advise?
Saunders: 'Agile' seems to be another buzzword–referring to the flexible policies that many companies are putting in place as they consider the new world of work. It has previously been used in a manufacturing context, but now the connotation is more philosophical as companies consider how to put processes and parameters around what is a very fluid and evolving situation.
PRNEWS: How is staff at FleishmanHillard preparing to return to the office?
Saunders: We have a group of senior leaders working on this now. We're looking at how we're going to approach a return to work, taking into consideration first and foremost employee safety, but also employee expectations of increased flexibility and the needs of our clients and the business.
Contact: [email protected]