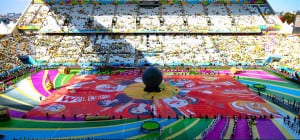 It's a custom in football (soccer) to present flags on the field or in the stands, typically representative of a team or nation. As an official sponsor of the FIFA World Cup (TM), the Coca-Cola marketing campaign for the 2014 FIFA World Cup Brazil was built upon the notion that the competition is the "World's Cup," with the goal to create the most inclusive, engaging and participatory Coca-Cola World Cup campaign to date.
The initial idea behind the Happiness Flag was simple: Create a flag that is representative of everybody, regardless of team or country. The goal was to harness the power of football to bring together people from different races, places, classes and creeds. It shouldn't be a team flag or a nation's flag, but the "world's" flag.
The Happiness Flag is the world's largest digitally produced Photomosaic flag, containing more than 220,000 fan photos voluntarily submitted across 207 countries (that's at least one photo from every country where Coca-Cola is sold).
The images were assembled into a design created by Brazilian street artist Speto, who is also responsible for creating the visuals for the Coca-Cola FIFA World Cup campaign, and Argentinian artist Tec.
'THE WORLD'S CUP'
The Flag, created by Coca-Cola with experiential marketing partner ignition and technology partner CI&T, was rolled out before the opening match in Sao Paulo, Brazil, in front of a global audience, leaving a lasting impression and creating a strong proof point for the concept of "The World's Cup."
"People naturally use social media platforms to share images everyday, and as such, we decided early on to focus our submission process through the use of hashtags," said Phil Disher, senior account director for ignition and program lead for the Happiness Flag, who worked with Brad Fields, manager, global licensing for Coca-Cola.
In addition to allowing fans to submit their pictures through social media, Coca-Cola also offered the option to submit images via email or directly through a separate Happiness Flag website.
The Happiness Flag is essentially content marketing on a massive scale. Coca-Cola compiled user-generated content and created its own content, and then gave fans an easy way to share it on social media platforms.
The flag was successful because it built upon a consumer action that already exists—sharing images online—and facilitated both the capture and the sharing process in a few easy steps for the consumer.
This leads to the first rule of thumb for running a successful content marketing campaign: don't reinvent the wheel. Form your idea around a consumer action that is already popular, and then give people a reason to share it.
The idea of the Happiness Flag sounds simple, but execution was not easy. When running a user-generated content campaign, one of the first things to consider should be the legal rules and restrictions that exist, especially across various social media sites.
If the campaign is global, there are also many country-specific rules that must be followed.
For example, Coca-Cola had to be able to identify the country of origin from each hashtag in order to meet country-specific "personally identifiable information," or PII, laws.
In addition, there was an age restriction for submission. How do you verify that the person who submitted their image is of age? For this obstacle, use tools like the Facebook " age gate" to ensure that you at least know the minimum age of each user.
"Some countries are very strict with how they interpret PII, and what companies can do with it in the name of commercialization," Disher said. "Other countries have laws surrounding where and how PII is stored."
COMPLIANCE AS KEY
To ensure compliance across the different national laws, Coca-Cola had to get explicit consent for every single person, across 207 countries and multiple languages.
The second rule of thumb for content marketing: In order for user-submitted content to be repurposed by a brand, you'll need explicit consent. Simply submitting the photo through a hashtag is not enough. How do you get consent? You have to reach out to the person who used the hashtag.
For the Happiness Flag, every time a picture was submitted using a country-specific hashtag, Coca-Cola then reached out the consumer, asking again if she agreed to have her photo reprinted on the flag. Even when a picture was submitted through the official Happiness Flag website, fans were again prompted to agree to have their pictures reprinted.
In addition to individual submission, Coca-Cola leveraged an existing campaign to spread the word. The FIFA World Cup Trophy Tour was another consumer experience developed and executed by Coca-Cola, with the help of the team at ignition. It brought the FIFA World Cup Trophy on a global tour, visiting 90 different countries leading up to the FIFA World Cup.
To use this captive audience of more than one million fans, Coca-Cola began integrating the Happiness Flag into the Trophy Tour, enabling fans the option to share their Trophy Tour pictures directly from the event.
"When fans would get their picture taken with the Trophy during Trophy Tour, they were then driven online to retrieve their image," Disher said. "When they were retrieving their image, they were also given the option to explicitly say, 'Yes, I want to use this image for Happiness Flag.'"
MAKE IT EASY
This solution leads to two more content marketing best practices: Use existing resources and make the submission process as easy as possible.
By leveraging its Trophy Tour assets, Coca-Cola was able to take control of the content that fans were sharing by producing the majority of it themselves.
Providing a simple, straightforward way to give consent for using their images, fans were also able to share their pictures quickly and seamlessly.
While consumers love to have their content recognized, they won't jump through hoops to make it happen.
Once all of the content had been submitted and accumulated, the pixels were then merged with the Happiness Flag design, creating the world's largest Photomosaic (67 meters wide and 45 meters tall).
While the Flag was being introduced before the opening match of the FIFA World Cup—in front of audience of approximately one billion people—Coca-Cola was simultaneously reaching out to all the participants, sending a real-time congratulatory message for leaving their mark on history.
While the physical flag was an impressive spectacle, Coca-Cola then employed another best practice for content marketing: Give people a reason to return.
And while fans were encouraged to visit the Coca-Cola website and social channels during the submission process, they were again asked to visit the Happiness Flag website after the unveiling to participate in the digital Flag experience.
Once online, fans were able to watch a YouTube video showing how the flag was made and ultimately zoom in and view each individual picture.
Each consumer could actually search for their name to be directed to their exact spot on the flag. They were also given the option to once again share their picture on their own social channels.
When executed correctly, content marketing is one of the most effective ways to connect with your audience on a personal level. Happiness Flag by Coca-Cola illustrates the various obstacles and best practices to use when conducting your own content marketing campaign, as well as the benefits it can produce.
The Happiness Flag not only amplified the FIFA World Cup campaign for Coca-Cola in a unique way, but also it gave football fans across the world an unforgettable experience.
(This article was written by Stacy Verner, marketing communications manager at ignition. It is an excerpt from PR News' upcoming Book of Content Marketing Strategies & Tactics. To order a copy, visit www.prnewsonline.com/prpress/.)
Wave the Flag
Here are several tips on how Coca-Cola, along with its experiential agency ignition, leveraged The Happiness Flag vis-à-vis the 2014 FIFA World Cup.
1. Fans were able to submit their photos through several digital outlets including Facebook, Instagram, Twitter, email and the official Happiness Flag website.
2. The unveiling was aired on live TV via CNN, BBC, ESPN and other networks, reaching more than 2.8 billion unique viewers.
3. After the unveiling, the flag was uploaded to the Happiness Flag website, enabling consumers to zoom in, search for their picture, watch videos and share the flag again on their social channels.
4. The physical flag was leveraged as event décor in subsequent Coca-Cola FIFA World Cup hospitality events after the unveiling; later, pieces of the flag were actually given back to participating markets after the tournament as a FIFA World Cup souvenir.
5. The Happiness Flag was both a digital and live experiential campaign, reaching an incredible amount of consumers in a unique a nd personal way. Through this campaign, Coca-Cola allowed football fans across the globe to play an active, participatory role in FIFA World Cup history. —S.V.
CONTACT:
Stacy Verner, stacy.verner@ignition-inc.com.
This article originally appeared in the October 20, 2014 issue of PR News. Read more subscriber-only content by becoming a PR News subscriber today.