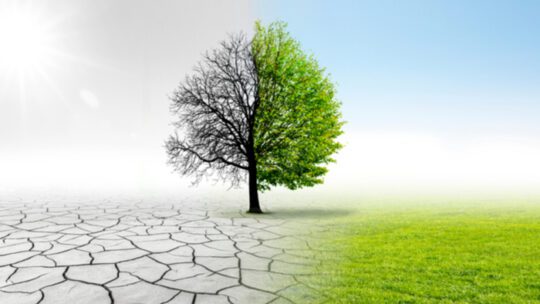 When the United Nations Intergovernmental Panel on Climate Change (IPCC) released its sixth report on global climate in early August, few expected it to contain good news.
Indeed, it predicted global warming of 1.5 to 2.0 °C during the 21st century unless "deep reductions" in carbon and other greenhouse gases are made in the next decade.
The media had a field day (or Doomsday, rather). Dire headlines included: "A Hotter Future Is Certain, Climate Panel Warns," "The Climate is About to Get A Lot Worse," and "Climate Change Report Warns of a Code Red."
But the corporate response was eerily silent. This despite some companies speaking out on several social issues during the past year and a half.
For example, many companies issued statements denouncing systemic racism following the murder of George Floyd May 25, 2020. The ensuing public unrest fueled an unprecedented amount of corporate pledges to diversity, equity and inclusion (DEI) initiatives. For example, Fast Company reported 42 tech giants committed $3.8 billion to DEI initiatives in 2020 and 2021.
Despite increasing awareness around environmental racism and the disproportionate suffering of racial minorities from climate change's most severe impacts, most companies stayed quiet following the UN's IPCC report.
Why the Silence?
Part of the problem is, right or wrong, a UN report on climate lacks the news potential of other stories breaking at that time. These included news about the pandemic, the then-upcoming exit from Afghanistan and extreme weather events. [Ironically, many argue there's a connection between such weather events and climate change, but the media often fails to make it.]
Another explanation relates not to a lack of corporate action on the environment, but the opposite. Some companies have done environmental work for years. In fact, Sandy Skees, Porter Novelli's global lead for purpose and impact, notes a corporate transformation on climate issues during the past 15 years. Those companies simply did not pull out the bells and whistles when the UN report debuted.
Some companies struggle to raise public awareness around their environmental activities, Skees says. Their communication challenge, she says, is framing long-term commitments–such as Microsoft's carbon-negative promise by 2030–as new and newsworthy at the same moment a milestone scientific report is released.
Jack Kalavritinos, principal with JK Strategies, has another explanation for companies' silence. He believes some brands are slowing their support for causes. They're concerned that too much social activity could damage the company's reputation.
"Companies need to delve into social and political issues carefully and know that they have to balance a range of interests and opinions," he says. Kalavritinos admits 50 to 60 percent of consumers want companies to take stands. But that means 40 percent want companies to stick to what they see as the core function of the business.
More than that, Kalavritinos believes the silence emanates from the belief that companies can be good corporate citizens without supporting UN reports. For companies that want to balance their interests, "they can focus on what they are doing that is both good for the environment and good for the bottom line," he says. In addition, they can encourage employees to reduce waste and incentivize energy efficiency.
New Urgency
Still, between the acceleration of extreme weather events, supply chain disruptions and the scientific community's latest dire warning, Skees says that a new sense of urgency is brewing in corporate communication departments.
"The language of business is shifting beyond the financial story—executive moves, products–to [telling] multiple stakeholders what you're doing operationally to shore up water efficiency and reduce waste," she says. This is stemming from companies seeing a shift in public attitude. For example, roughly half of US consumers prefer purchasing from companies that align with their social and political beliefs.
Luckily, communicators need not wait until the next IPCC report (due in six or seven years) to shore up their climate commitments.  COP26, Oct. 31-Nov. 12 in Glasgow, is one of the annual events companies are "considering as moments to announce new or expanded commitments, faster progress and bigger programs," Skees says.
Specifics Work Best
When discussing green activities, Skees recommends using specifics. Messages should include details on the how and what as well as the why behind companies' or executives' environmental commitments.
"A wide range of stakeholders will be looking for assurance that the company will stay the course in tackling climate issues," she says. In addition, they need to trust the specific technical approach as "meaningful and doable," Skees adds.
Making climate data relatable is also key. An example is electric vehicle charging company EV Connect. Instead of rattling off statistics, it frames metrics in terms of gas saved (765,000 gallons) and electric miles powered (31 million), says Lisa Ann Pinkerton, founder and CEO of Technica Communications, which counsels EV Connect.
Pinkerton advises using the EPA greenhouse gas equivalency calculator to help contextualize energy savings for consumers.
Climate-Concerned Talent and Clients
Another reason companies have not stepped up to address the IPCC report with the same level of urgency they did on DEI is climate change seems "abstract, too 'far away' and too big for one person or organization to make a difference," says Pinkerton. Often companies seek out social and political issues where they believe they can make a difference.
Conversely, police brutality is hardly seen as abstract or far off in the face of protests and social media documentation.
"Companies that did not announce their support of #BlackLivesMatter or denounce Mr. Floyd's murder risked being on the wrong side of history, making it more difficult to hire top talent," Pinkerton says. "The same goes for their business relationships with other companies, investors and vendors. When companies feel they need to do something to ensure their business operations continue to run smoothly, they act," she argues.
Recruitment and Retention Issues
Indeed, retention and hiring are among the most pressing concerns facing companies that aren't good on the environment, according to Pinkerton. Duncan Meisel, campaign director for Clean Creatives, says connections to oil and gas can be a risk for "recruitment and retention of young staff." Clean Creatives advocates that PR and advertising pros refrain from working with fossil fuel companies.
Meisel points to a recent Edelman report that found 60 percent of employees would leave a company doing "fundamentally immoral" work–which is how some younger people see efforts promoting fossil fuels.
The world's largest PR agency found itself in a mess late last month when a Clean Creatives report accused Edelman of working with ExxonMobil's fight against White House pro-environment policies. Edelman rejected the accusation.
It's far from the first attack on the PR and ad industries promoting oil and gas companies. Moreover, the oil and gas industry's extensive connections open a slew of companies and organizations to criticism.
For example, last Friday (Oct. 1), the advocacy group Breast Cancer Action (BCA) targeted fellow breast cancer organization Susan G. Komen. BCA complained that the Bank of America's participation in Komen's pink ribbon programs ties the group to a major funder of the "cancer-causing fossil fuels" industry.
Adds Kalavritinos, oil and gas are ubiquitous. Oil, for example, is used to power healthcare venues and labs. And oil is found in the plastic used in Apple phones and computers. It even helps generate much of the energy used in electric vehicles. As a result, communicators need to appreciate fossil fuels' reach when thinking about sustainability messages, he says.
Environmental Uncertainty
The other view is that "smart money is leaving fossil fuels," Meisel says. "Ten years ago, Exxon was the wealthiest company in history, and now they're not even listed on the Dow. These companies have wildly fraught futures, and the biggest question is whether agencies will go down with them, or get out fast enough to avoid blowback from staff, regulators, or accountants," he argues.
Given what's at stake, PR pros should have concerns, especially with recruitment and retention, Pinkerton says.
Some items Pinkerton says to consider:
A business' choice of a server host
How much the company sends to landfills
Remote work's ability to offset commuting costs
How many people fly for company business
Other indirect activities that can dramatically affect the carbon footprint
Are Fossil Fuel Clients a Reputation Risk?
When it comes to working with oil and gas companies, Meisel says, PR pros should consider crisis prevention.
"We encourage PR professionals to have frank conversations with their leadership about the growing risks of working with fossil fuel clients," including lawsuits and investigations into Big Oil's misleading communication. "Working with these clients is a reputation risk and potentially a legal one, and an increasingly shaky financial proposition."
Alternately, Pinkerton advocates giving a company an opportunity to think through its processes before a PR firm makes a decision about representing it.
"Rather than dropping [a potential client]...discuss how it plans to be involved in the energy transition. Asking about its carbon-neutral plan or sustainability goals and aligning that with talented recruiting could help encourage the company to shift operations and make it more resilient for what is coming."
Doing the Climate Homework
Consumers are more aware of climate issues and seek specific information on how corporations are meeting the moment, Skees notes. Some companies are even combining the CCO and CSO (Chief Sustainability Officer) roles. This links communication with sustainable business practices.
Given consumer awareness, it's crucial for PR pros to be well-versed on environmental issues, Skees says. PR pros should be familiar with required environmental reading such as Silent Spring, the history of climate regulation—including the latest SEC disclosure proposals—and the founding and function of the Environmental Protection Agency.
Pinkerton also suggests PR pros start resource groups or book clubs at their offices to discuss sustainability practices.
Who's Getting it Right?
Skees sees P&G as a top company to follow for climate-savvy operations and messaging. Its homepage is dedicated to CSR and sustainability, linking to a microsite that includes P&G's commitment to a 2040 net-zero emissions goal. This commitment was made last month—right after the IPCC report was published.
On its sustainability microsite, P&G lays out short-term goals, long-term goals and progress so far. The company's Climate Transition Plan links to the IPCC report. It also includes a timeline for transitioning to renewable electricity, reduction of plastic and supply chain emission reductions by 2040.
A separate report details P&G's progress and its slightly shorter-term goals for 2030—a smart move given the IPCC's accelerating timeline. These include 100 percent recyclable or reusable packaging and more transparent reporting.
Skees also points to Microsoft and its carbon-negative commitment, and calls sustainable shoe brand Allbirds' climate footprint calculator an example of "radical transparency." Meisel adds Unilever, Ikea and the PR agency Futerra to the list for their transparency.
Return to PR Basics
If all of the above is as overwhelming as the knowledge that July 2021 was the hottest month on record, it's worth remembering that successful climate communication need not be overly complex.
Pinkerton argues that PR pros should use tools they know best. These include press releases, case studies, infographics, and social media. They should, though, "adhere to scientific and factual accuracy." In addition, communicators should be ready to address skeptics. And when announcing sustainability initiatives, have a plan to provide regular updates.