In 2012, Taco Bell had more than 7 million Facebook fans, all of them garnered via organic growth. For many brands this would be more than adequate; in fact, for several brands the number is unimaginable. However, Taco Bell wasn't satisfied, so it set out to bolster its presence on the social network.
To be sure, Taco Bell's aim wasn't to gain more followers; it was to establish a platform for storytelling and engaging its stakeholders. The fast-food chain believed that storytelling was the best strategy to grow and sustain an audience, and Facebook offered the best platform to build intimate relationships with fans.
SETTING GOALS
Taco Bell captured 7 million Facebook fans pretty easily, but to reach 10 million, the company focused on four key objectives:
• Define and own Taco Bell's brand voice on Facebook. A consistent identity is something that is crucial to establish in the social space. Don't take brand recognition for granted. Taco Bell understood that it needed to tell its story succinctly and sincerely, and consider that each story could be a first impression.
• Communicate the brand's new tagline, "Live Mas." Taco Bell had been using the tagline "Think Outside The Bun" for several years; transitioning to a new tagline is a difficult and sometimes risky proposition. However, social media enables taglines to be delivered in an authentic context that can make adopting new messages more palatable.
• Bring out the "explorer" inside each Facebook fan. It was imperative that fans understood what "Live Mas" meant to the brand, and to be an explorer. In order communicate the message Taco Bell's social media team worked to recreate a voice reminiscent of an explorer, and one that would resonate with their fans.
"It's about doing more, expecting more, giving more, living life and getting more out of each and every day," said Rob Poetsch, director of communications and engagement. "That is really what our founder, Glen Bell, was driven by."
• Engage with fans in real time. Taco Bell didn't want its Facebook channel to be a platform to push content and promote the brand. Instead it set out to create a two-way communications channel in which the dialogue is circular rather than linear.
Unlike many social media or public relations campaigns, Taco Bell wasn't looking to measure its success based on quantifiable numbers, but rather qualitative engagements.
In other words, it wasn't about the number of fans, "likes" or shares the company collected; it was about the quality of conversations and interactions the restaurant company fostered with fans.
Subjectively, the company also had another goal: Being the most relevant brand on social media, according to Poetsch.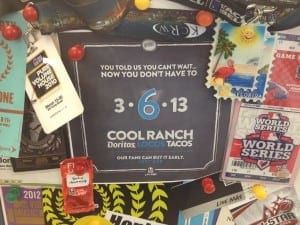 DIG IN
No matter how noble your objectives or how good your strategy looks on paper, executing on deliverables is what determines success. And to deliver, Taco Bell maintained its strategy by relying on three essential tactics:
• Share authentic content.
• Reward passionate fans.
• Participate in (and amplify) conversations.
Indeed, contests have proven to be an effective method for brands to engage with fans. So Taco Bell leveraged that notion and rolled out a Live Mas to Win Mas contest.
Taco Bell asked its fans to submit photos that illustrated how they "Live Mas" with the Dorito Locos Tacos. Some fans sent in pictures of themselves skydiving with the tacos while others offered up Dorito Locos fan art.
Poetsch suggested that the campaign embodies everything the new tagline stands for and what the brand identity is all about—exploration. Additionally, it gave Taco Bell an opportunity to connect with fans in a new and authentic way.
"We said, 'Let's shift the relationship.' By that I mean, lets go from a 'like' to a friend," Poetsch said.
He added, "When you think about how you interact with your friends [on social channels], it's a very different type of interaction than with a brand or corporation. We wanted to follow that model because we knew it was true to our brand identity."
Yet it wasn't only about PR campaigns. Taco Bell also takes a scientific approach in monitoring all the activities within its social assets and leveraging that data to deliver relevant content.
"Once we established the brand identity, we realized that we had to, number one, work a little differently and, number two, listen a little differently," Poetsch said
He added, "So there's a cross-functional team that came together and created a social listening tool. We call it 'The Fishbowl.' It's actually a room we have with giant monitors and data analysis that we can instantaneously track all public conversations around any given topic. It allows us to listen on a deeper level."
The Fishbowl's capabilities came in handy when the brand rolled out its Cool Ranch Doritos Tacos Locos in March.
By monitoring conversations, the brand discovered that some of its most loyal fans were being shut out of the pre-launch promotion offered exclusively to followers.
Because the company's social media channels were able to respond in real time and could address consumers directly, Taco Bell found solutions that ensured everyone who wanted to try the new taco could do so.
This is just one example of how the company uses its data to maintain its brand identity. Poetsch stressed that it only scratches the surface of what the PR team does on a daily basis.
NEW BITES
While Taco Bell was seeking qualitative success, the numbers spell quantitative success.
• In a little more than a year the brand increased its Facebook following by more than 3 million users (42%).
• The average number of conversations increased to an average of 17 million each year, from 15 million.
• The brand now ranks No. 1 on Digital CoCo's Restaurant Social Media Index, topping McDonald's in the first quarter.
It's tough to match Taco Bell's scale on social media. But the company's approach is universal, and one that brands can incorporate if they recognize who their fans are and what excites them. From there, it's about staying engaged, listening and keeping the conversation going. PRN
CONTACT:
Ashley Sioson, ashley.sioson@yum.com.
3 Tips for Successful Social Media Engagement
Social media offers several advantages for communicators. However, your social media strategy depends on how well you engage your stakeholders on each network. The number of followers you have is meaningless unless you have established a relationship between the brand and the community. With that in mind, Taco Bell's public relations coordinator, Ashley Sioson, offers three essential tips for boosting engagement on social channels.
1. Treat your audience similar to how you would treat your friends: Social media provides the opportunity to maintain a relationship with consumers past the point of purchase. To keep people engaged with your brand, treat them the way you would treat your friends on social media platforms. Instead of having a one-way, brand-to-consumer conversation, take the time to listen to your social media communities and engage in a two-way conversation. This will eventually lead to building a friendshipwith some of your brand's most passionate fans. There is also great benefit in listening and engaging with consumers in social because you are given them the chance to learn about what your fans care about and, in turn, they can learn more about your brand via the content that you share.
2. Be where your brand's fans are: There are many social media platforms where consumers are having open conversations and are most likely to include your brand in the dialogue. It's important to understand where your consumers are talking and listen in on these conversations in order to determine whether they want you to participate in the space. Doing so will open up channels of communication where you brand can share information in creative ways—whether it's through direct dialogue, images or video.
3. Be authentic and embrace transparency: Authenticity is important when it comes to sharing content across social media channels. Sharing images, video and stories that are real gives your audience something that they can relate to and connect with. Additionally, when your social communities have questions, respond with the facts. Doing so will help build trust between your brand and its fans.