Elsevier Health Sciences is committed to more than just publishing some of the world's most important medical texts. The b-to-b media company also strives to understand its customers' lifestyle. Medical students are among of the company's most valued stakeholders, so Elsevier wanted to ensure they were aided in all aspects of their education—beyond what's inside the textbooks. To do that, it used Facebook as its primary hub to develop a community and a virtual medical student survival guide.
"We wanted to reengage our medical students," said Madelene Hyde, content strategy director. "We sort of lost touch, so the conversation was about maximizing an opportunity to look relevant." She added, "We're a big company, and we wanted to figure out how you make 21- and 22 year-olds interested in what you have to say. So we sat around and took a step back and asked, 'What do they need?'"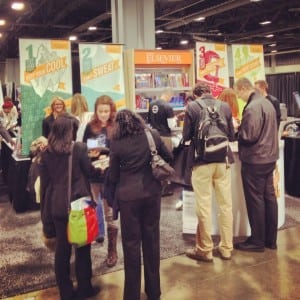 PRESCRIBING GOALS
Elsevier wanted to rebrand its Facebook page in time for the American Medical Student Association annual convention, which typically takes place in March.
In February 2012 Elsevier's content strategy and marketing teams went to work so the company would have all its ducks in a row for the March meeting.
Elsevier's goals prior to the launch were few, but concise:
• Leverage Elsevier's authoritative brands and content to engage medical students.
• Create a platform for medical students to share Elsevier content with Facebook friends.
• Offer a survival guide for students addressing pain points throughout a student's education.
Ultimately, said James Merritt, senior content strategist, the goals was to start a relationship with young stakeholders who have the potential to be lifelong customers.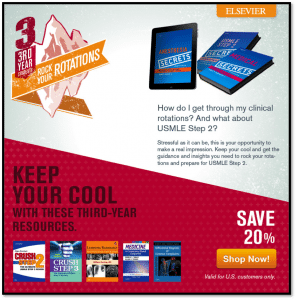 NEW TREATMENT
Steve Cisowski, social media marketing manager, said that launching the campaign was truly a team effort. But that team extended beyond just the company. That is, the new design stemmed from surveys and conversations with stakeholders.
Elsevier allocated just under $25,000 between design and advertising. The company's tactics for ensuring success encompass a four-pronged approach:
• Providing guidance throughout each year of a med student's education. Each year of a med student's education introduces unique obstacles and goals, which introduce new uncertainties and priorities.
Elsevier's objective was to provide year-by-year intuitive insights so students are prepared to deal with anything and everything.
Elsevier broke it down as follows: Year One: Sink or Swim; Year Two: United States Medical Licensing Exam (USMLE) Boot Camp; Year Three: Rock Your Rotation; Year Four: Meet Your Match. To coincide with each of these years, the company also offers complementing products at a discount for its community members.
• Connecting with students following major in-person conferences and events. Connecting face-to-face is still the most effective way to build a personal and lasting relationship. However, social media helps to maintain those relationships. That's why Elsevier wanted its Facebook community to be a place to cultivate and maintain relationships.
• Engaging with students by launching an interactive study group. Once the Facebook community was up and running, Elsevier wanted to enhance the site with more content. So it created "The Ultimate Study Group," an online community for medical students to get together and study for finals and share insights on some of the trickiest topics.
• Advertising on Facebook to increase the community size. Elsevier targeted audiences interested in medicine-related keywords along with a list of U.S. medical schools. The advertising campaign also included display ads, sponsored posts and promoted stories.
Cisowski oversaw the day-to-day campaign and took it a step further by introducing daily promotions each week. Manic Monday, Wisdom Wednesday and Fun Friday are just a few examples of how he and his team engaged the whole Elsevier community on both a daily and weekly basis.
"From a content perspective, it was really important to not be too salesy or commercial," Cisowski said. "We do feature our products when you visit the [Facebook] page, but our content strategy is to actually have content and not just sell books. You do see a mix of content. We use the page to distribute information about medicine in general."
SOLID RESULTS
Social-media campaigns are a great way to engage stakeholders, but sometimes determining the ROI can be a little blurry.
While engagement is crucial, those in the C-suite want to measure success with dollars. In this instance, Elsevier was able to quantify success on both fronts.
• Since the relaunch, the Med Student Survival Guide Facebook site has reached more than 75,000 fans.
• Fans have spilled out beyond the U.S. and the community has grown globally.
• Total reach of unique users and total friends of fans is in the tens of millions.
• More than 100 million impressions were generated from advertising, with a.06% CTR, a net CPM of $0.19 and a net CPC of $0.31.
The page has also generated thousands of referrals to Elsevier's e-commerce site, which, in turn, has generated tens of thousands of dollars in revenue.
The results exceeded Elsevier's expectations. "We were overwhelmed with the numbers we got," Merritt said.
Cisowski added: "I'm excited to see where the page goes from here, there are so many ways we can take it and further engage with students." PRN
CONTACT:
Steve Cisowski, CisowskiS@elsevier.com; Melissa Darling, Darling@elsevier.com.
5 Tips to Manage Your Facebook Pages
Facebook is arguably the most important social channel for your brand, which means your strategy on the network needs a laser-like focus. Maintaining a branded Facebook page is a cool way to connect with stakeholders, promote your brand and establish a working feedback loop. Steve Cisowski, social media manager at Elsevier Health Sciences, has these five tips to better manage your branded Facebook page.
1. Understand your fans. Because you need to speak to your fans in their own language, you need to know everything about what they expect from your brand. Your brand offers solutions to your customers, so keep in mind everything that goes through their daily lives. What are their concerns and pain points? How can you offer some solutions to their needs? Structuring your engagement strategy around meeting their challenges will ultimately help them receive the most value in being a fan of your page.
2. Strive for balance. Make sure your Facebook posts are well rounded and do not focus on one particular format. For example, bombarding your fans with promotions and discounts too frequently will only alienate them. Be sure to mix in content within your posts that are informative, educational and entertaining.
3. Be transparent and honest. Speak to your fans like they are dear friends, which they are. They have decided to be your fan in the first place because they are loyal customers and find value in your brand. Be forthcoming, appreciative and never underestimate their savvy.
4. Maintain a content calendar. The easiest way to ensure that your page remains active and loaded with engaging content is to manage a calendar that organizes all of your posts on a daily or monthly basis. This will help determine if your posts represent a balanced mixture of content and messages.
5. Give your fans opportunities for feedback. Remember to include posts that encourage discussion. For example, posting open-ended questions will allow your fans to speak their minds about your product, their needs or their wants. Your fans will comment on your posts regardless, so control the conversation in a way that will give you customer insights.