The U.S. recycling rate has been holding at a paltry 34% for the past few years, according to the Environmental Protection Agency. What's more, recyclable materials that are worth billions of dollars are still ending up in landfills each year. After assessing these numbers, Nestlé Waters North America (NWNA) set the ambitious goal of doubling recycling rates for PET (Polyethylene Terephthalate) beverage containers in the U.S. to 60% or better.
NWNA realized it would need a bold solution to such an ambitious objective. The ticket? Extended Producer Responsibility (EPR), a collaborative model that shifts the financial responsibility of recycling out of government hands and into the hands of companies like NWNA.
The company thought that EPR would help increase access to curbside recycling—and recycling away from home—not just for bottles, but all product packaging.
However, settling on this solution was just part of the problem: NWNA had to sell the plan to the media, stakeholders and consumers. Enter Cone Communications, which supported the EPR strategy and communication effort from 2010 through earlier this year.
"EPR was a difficult concept to translate for multiple audiences," said Anne Fajon, senior account supervisor, CSR/sustainable business practices senior supervisor at Cone Communications. "There was a learning curve for all of us, because we had to be able to speak and write intelligently about it."
Still, recycling is a good fit for NWNA, which thinks recycling is the cornerstone of a sustainable society and integral to its Creating Shared Value CSR approach.
With that in mind, NWNA limited the program's objectives to one goal: Lead the beverage industry in a shared commitment to increase U.S. recycling rates to 60% for PET bottles by 2018.
THE ABCs OF EPR
The research and planning phases were extremely important to the development of the NWNA's EPR efforts. It broke down into three parts:
1. The rPET problem: NWNA conducted a lifecycle analysis of its products and discovered packaging was the most significant way it could reduce its carbon footprint.
After investigating incorporating recycled plastic (rPET) into its bottles and learning that a reliable supply was not available, NWNA decided to get to the root of the issue: recycling. It was an opportunity to increase recycling rates in an innovative way and, in the process, grow consumer loyalty.
2. Discovering EPR: NWNA conducted benchmarking analyses of competitors and peers to evaluate how other companies were addressing the recycling challenge and found that most relied on state and local governments. Only a few small collaborative examples existed. It looked at European countries with higher recycling rates to learn how they had achieved them. Their key to success: EPR.
3. EPR in action: In 2010, NWNA supported the launch of an EPR pilot program in the Canadian province of Manitoba, which allowed the company to study the EPR model of recycling.
The pilot featured four key elements: curbside recycling, public spaces recycling, commercial/institutional recycling and a public education plan. Using what it learned in the Manitoba pilot, NWNA concluded EPR was the best path to a solution.
Next up was selling EPR to consumers, NWNA stakeholders, legislators and the media.
"We sat down with the VP of sustainability and talked about what the logistics are of this recycling model," Fajon said. "We wanted to make it as easy as possible to understand, so that we could turn it into messaging that would resonate with people."
Within this framework, NWNA embarked on the following strategies:
• Collaborated with a broad range of stakeholder groups, including brand owners, trade associations, private haulers, municipalities, state legislatures, environmental NGOs, retailers and more, and advocate for the potential of EPR.
• Promoted the value of recycling and recycled materials by expanding the use of rPET in its own packaging, ultimately increasing the supply of recycled PET plastic (rPET).
• Spread the word to consumer and trade media, industry influencers, recycling experts and other stakeholders, demonstrating the potential/business case for EPR and how NWNA creates Shared Value through recycling.
• Position NWNA Sustainability Director Michael Washburn and CEO Kim Jeffery as thought leaders on EPR, and secure speaking opportunities at conferences aimed at key audiences, including socially responsible investors (SRIs), policymakers and recycling trade associations.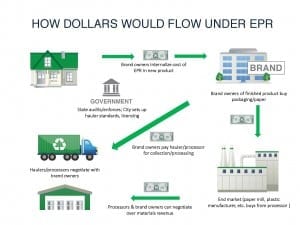 SOLID RETURNS
While NWNA still works towards its original goal of increasing U.S. recycling rates to 60% by 2018 via the EPR model, its recycling advocacy efforts and initiatives so far have delivered impressive results, including:
• More than 75 unique media placements in CSR and environmental trade publications such as GOOD and Plastics News as well as general publications like Forbes and The New York Times, garnering more than 100 million media impressions.
• Demonstrating thought leadership via Michael Washburn's interview in Resource Recycling and bylined blog posts regarding EPR's business case on the Global Producer Stewardship Council website and GreenGoPost.com.
• Presenting the benefits of EPR at several recycling conferences, including Kim Jeffery's presentations at the SRI (Sustainable, Responsible, Impact Investing) Conference, World Environment Center and Yale University, and Michael Washburn's presentations at Sustainable Packaging Forum and The Conference Board.
• Creating strong partnerships with key EPR stakeholders, including Recycling Reinvented, Future 500 and As You Sow.
• Partnering with Keep America Beautiful to conduct the Recycle Bowl, which garnered participation from high schools throughout the country.
For Cone Communications, watching the program grow has been inspiring. In June, Fajon helped NWNA host a Twitter chat about its Creating Shared Value program in conjunction with news outlets CSR Wire and TriplePundit.
"The chat reached more than 550,000 Twitter accounts," Fajon said. "It was a big moment, because it was the first time that NWNA used a social media platform to talk about EPR in that way."
NWNA may still be working towards that 60% rate, but one thing is clear: The company has vaulted to the top of the recycling heap. PRN
CONTACT:
Anne Fajon, afajon@conecomm.com.
Translating a Complex Topic for Lay Audiences
By: Anne Fajon
As communicators, our job is to make messages and ideas come to life for various audiences—but that's not easy when you're trying to communicate something like Extended Producer Responsibility (EPR). Here are some tips to use whenever the topic seems bigger than the words:
▶ Understand the issue. Good communicators know what they don't know. Do your homework and then come to the table with a list of smart questions for your client that can inform strategy, messaging and materials development.
▶ Read it out loud. Use language that's simple enough for everyone to understand. If it's straightforward and makes sense when read aloud, you have a message that will resonate. If what you're reading still sounds convoluted, it's time to go back to the drawing board.
▶ Make it relatable. Create proof points that bring your story to life for all of your stakeholders. Whether you're speaking to the millennials, the media, legislators or others, adapt your messages to make them as relevant as possible to your audiences.
This article appeared in the August 19 issue of PR News. Subscribe to PR News today to receive weekly comprehensive coverage of the most fundamental PR topics from visual storytelling to crisis management to media training.