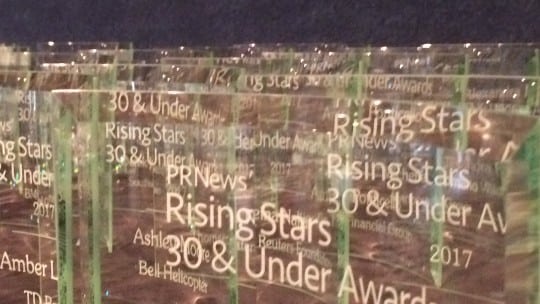 In a profession that demands new skills for an ever-expanding set of digital and analytics tools, the next generation of communicators will be need to be equal parts storyteller and data scientist.
Both of those skillsets were on full display as a fresh class of young communicators were honored as Rising PR Stars at the PR News' 2017 PR People Awards Luncheon on Dec. 5 at the historic National Press Club in Washington, D.C.
The Rising Stars 30 and Under awards were given to some of the industry's best and brightest from PR agencies, corporate and nonprofit organizations.
Among the criteria the judges considered for Rising PR Stars were leadership potential, growth, campaign innovation, success at media pitching, growing audiences and increasing awareness and engagement, as well as relationship building and mentorship qualities.
Honorees were asked to answer one of the following questions:
What's one skill learned on the job that you didn't learn in school?
What's your favorite thing about working in communications, and why did you choose it as a career?
What is your top communication goal going into 2018?
"The most important skill they didn't teach me in school, and I'm still developing it, is the ability to listen—to your clients, to the media and to what's going on in the world," said Byron Cordero, a senior account executive at Andrew Joseph PR. "Right now we're living in a world of too much noise, so the most important skill is to really zone in and listen."
We always knew @jrothschild6 was a star, but today @PRNews made it official ✨
The warmest congratulations to Jessica for being named one of PR News' Rising PR Stars 30 and Under.

View the full list of recipients here: https://t.co/UTS2xTB0u7 pic.twitter.com/SyQHQc8QES

— J Public Relations (@jprpublicity) December 5, 2017
Addressing her favorite thing about working in communications, Brianna Gavio, a senior director at McCabe Message Partners, talked about the impact of the work. " I wanted to have a career that makes me feel like I'm making a difference in the world," said Gavio. "We work on healthcare and nonprofit communications, so that's what I feel I'm doing every day."
Looking forward, many honorees listed the need to acquire new digital and video skills among their goals for 2018.
"I'm really excited to take on a lot of the new digital tools out there to connect with our audiences in new and creative ways, as well as a lot of new tools that allow us to measure and refine the work we're doing," said Kara Ferguson, communications specialist at Blue Engine Message & Media
Proud of GSG's @hilarythelyons who was honored today for being named one of @PRNews' Rising Stars in PR. pic.twitter.com/90xV506CdB

— GlobalStrategyGroup (@GSG) December 5, 2017
View the complete list and read individual profiles of our 2017 Rising Stars 30 and Under.
The Rising PR Stars 30 & Under of 2017
Agency
Elle Arlook, APCO Worldwide
Kathryn Arrigg, PAN Communications
Noelle Bonner, Bonner Communications
Kristina Breux, Ruder Finn
Kaylee Carnahan, RunSwitch Public Relations
Byron Cordero, Andrew Joseph PR
Brittany G. Cummings, Weber Shandwick
Amanda Desourdis, BAE Systems, Inc.
Danielle Dickinson, Hill+Knowlton Strategies
Kelsey Eidbo, Infinite Global
Laura Beth Ellis, Clyde Group
Tiffany Farney, Andrew Joseph PR
Kara Ferguson, Blue Engine Message & Media
Brianna Gavio, McCabe Message Partners
Jacqueline Gogel, Vested
Dionne Gomez, Gagen MacDonald
Lauren Gongora, BODEN
Brailyn Hardy, KC Projects PR
Brian Hart, Flackable
Patricia Jimenez, RockOrange
Christopher Joseph, Davies Public Affairs
Shelcie Kalinowski, Hill+Knowlton Strategies
Meghan Keane, CLS Strategies
Jessica Klein, Baretz+Brunelle
Hilary Lyons, Global Strategy Group
Desirae MacGillivray, Portavoce PR
Amy McDowell, Tanis Communications
Stephanie Ng, Mighty
Caitie Nolan, AMF Media Group
Kate Northway, Porter Novelli
Louise Oliver, PERITUS public relations
Sarah Osment, Largemouth Communications
Darah Patton, InkHouse
Maggie Pendleton, Beehive Strategic Communication
Justin Pugh, Sports 1 Marketing
Dan Roman, Weber Shandwick
Mike Rosich, Marina Maher Communications
Jessica Ross, Tonic Life Communications
Jessica Rothschild, J Public Relations
Joseph Sala, Joele Frank, Wilkinson Brimmer Katcher
Joe Scannell, Edelman
Gillian Small, Gillian Small Public Relations
Dan Smith, CLS Strategies
Patrick Sutton, Paragon Public Relations
Gabriella Tancona, Warschawski
Melanie Wallner, LeadDog Marketing Group
Cari Wildasinn, Fahlgren Mortine
Corporation & Nonprofit
Angela Alfano, Tough Mudder, Inc.
Rachel Allen, Digital Air Strike
Allie Bodack, Turner
Christina Burnham, Cox Enterprises
Danielle Cassagnol, Consumer Technology Association
Diana Cheng, Children's Hospital Los Angeles
Josh Criscoe, PayPal, Inc.
Marta Danylyk, Jamba Juice
Katie Derkits, HP Inc.
Alyssa Eliasen, Southwest Airlines
Lance Frank, CBS News
Lance Frank, CBS News
Rachel Gerds, BMO Financial Group
Aaron Gould, NCR
Ellen Hoffman, Jefferson Dental Clinics
Derek K. Hubbard, Southwest Airlines
Christina Kelly, Allstate Insurance Company
Sarah Kingsley, Hilton
Amber Leahy, TD Bank
Rachel Lodi, Scripps Networks Interactive
Jaclyn Montalvo, HP Inc.
Ashley Moore, Bell Helicopter
Zeina Najjar, Thomson Reuters Foundation
Maria Nicolaou, SAP Global Marketing
Amy Ponticello, Lincoln Financial Group
Katie Pudwill, POLITICO
Krystina Puleo, Shutterstock
Michelle Romano, ManpowerGroup
Alexandra Rosenberg, World Wildlife Fund
Lauren Sarno, Revlon | Elizabeth Arden
Brooke Traister, Children's Health
Taylor Tropea, Valley Forge Tourism & Convention Board
Natasha Zeller, Veuve Clicquot, Moet Hennessy