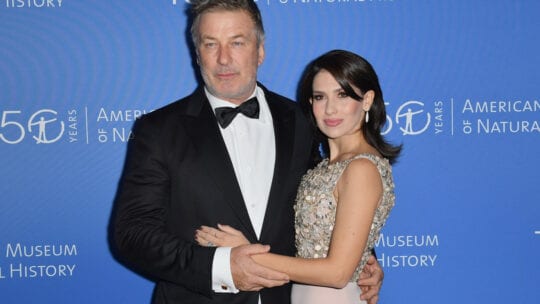 Just in time for the last week of 2020, the internet has been twisted into knots over the Hilaria Baldwin heritage scandal. Whether it's due to general end-of-year boredom, schadenfreude, or the story's hard-to-believe elements (e.g. the now infamous cucumber video), countless news outlets and internet sleuths have devoted serious time to breaking down the controversy.
It turns out that Hilaria Baldwin, previously best known as Alec Baldwin's mommy influencer/yogi wife, may have been less than truthful about her heritage. Essentially, she impersonated a Spanish person for the majority of the last decade. The performance included a curious accent that seemed to come and go. In reality, her given name is Hilary Hayward-Thomas. She was born and spent most of her childhood in Massachusetts, seemingly with non-Spanish parents.
The story smacks of privilege, cultural appropriation, and more than a dash of delusion. To make matters worse, the extremely defensive way the Baldwins are responding is not what most crisis counselors would advise.
From a crisis management/PR perspective, here's how I would advise them:
Lay low on social media
The Baldwins have done the exact opposite of this and added fuel to the fire. Hilaria went on a long, defensive rant as the controversy gained steam. She vowed to stay off social for a while…which lasted all of a few hours. Ms. Baldwin then returned to social, posting random Instagram stories about her children.
Alec made a rambling video defending his wife, posted Mark Twain quotes, and used expletives against people on social media–making even more news about the scandal.
Baldwins, please, stay away from your phones for a while!
Reckon with your actions
Hilaria might've thought she was celebrating a culture she admired and wanted to be a part of, but as one immigrant writes in a poignant op-ed:
"Watching interviews in which Hilaria exaggerated her accent, one that she appropriated as an adult, is downright infuriating…While she found success this way, American immigrants from all over the world—especially immigrants of color—are constantly ostracized and marginalized, ridiculed and given fewer opportunities, all for not having 'perfect' English."
Especially in a pivotal year like 2020, where society has faced a true reckoning, stories on cultural appropriation resonate and enrage. Hilaria needs to understand why so many have found her actions offensive.
Express awareness and contrition–preferably on 'Red Table Talk'
Offer a true apology, one that shows awareness and understanding.  Do a comeback interview via a program like Red Table Talk, which offers a somewhat controlled setting.
For example, Lori Loughlin's daughter, Olivia Jade, recently chose to break her silence on Red Table Talk about the infamous college admissions scandal–and it actually worked. Why is this a good venue? Jada Pinkett Smith and her co-hosts (her mother and daughter) have a reputation for exemplifying a level of honesty and transparency on the show, lending credibility to the format.
Give back and show genuine appreciation
Alec and Hilaria Baldwin support various causes through their foundation. However, if Hilaria wants to claim her love for Spanish culture and society, then why not show it through charitable giving? Hilaria loves Mallorca and its people (until recently, her speaking bio claimed she was born there). So, donate and support Mallorca causes like Zaqueo, Cruz Roja, or SOS Mamas. As someone who has built much of her public persona on being a mommy influencer with five young children, why not support other moms in need?
In summary, the Baldwins should lay low for a while, show they understand why Hilaria's actions were hurtful and/or problematic, express true contrition, and use this as an opportunity to give back.
Also, Hilaria should consider not referring to her children as "Baldwinitos" anymore–just a thought!
Jenny Wang is a VP at kglobal