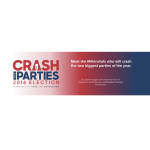 2017 Social Media Awards
Facebook | Contests / Games
Voto Latino and Fuse Media – Crash The Parties
Crash the Parties, a national campaign developed by Fuse Media and Voto Latino, was designed to bring new excitement and diverse voices to the 2016 election. In 2016 more than 27.3 million Latinos were eligible to vote with close to 12 million of those being Latino millennials. With that in mind, Fuse Media and Voto Latino set out to find two aspiring reporters to cover the 2016 Republican and Democratic National conventions.
The first phase of the competition called for contestants to submit a one-minute video telling why they should be selected to report from the conventions along with three interview questions they would ask elected officials. Out of nearly 200 applicants, only two would be selected to attend a respective convention.
The second phase consisted of public voting. Videos were made public for viewing and allowed voters to select their favorite RNC and DNC contestant. The voting period began May 16 and ended May 31. It prompted contestants to share with their networks and encouraged voting for their video. After more than 12,600 votes the top videos were sent to the next phase.
The third and final phase of the competition sent the top 10 publicly selected RNC and DNC contestant videos for expert judging and selection. Judges included Alejandra Campoverdi, Pulitzer Prize-winning journalist Jose Antonio Vargas, Katherine Vargas, Lizza Monet Morales, Maria Hinojosa and Rachel Maddow.
After the judges reviewed the entries and scores were calculated there were two clear winners. James Villalobos, a rising senior at the University of Massachusetts Amherst, was selected as the RNC winner who would be sent to report from Cleveland. Arlene Santana, a Los Angeles based actress and host, was the DNC winner who would be sent to Philadelphia.
In all, on social media, this campaign resulted in 771,728 total impressions with a total reach of 3,824,930.
Honorable Mentions:
HISTORY - Vikings 3D Prophecy
Idea Grove - Zombie Dispatch
Live Nation Entertainment - Game of Thrones: Live Concert Experience Sweepstakes
United Heritage Credit Union - 2016 Austin City Limits Music Festival Giveaway