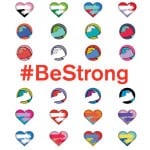 2017 CSR Awards
Social Media Campaign
Vodafone – #BeStrong Anti-Bullying Emojis
Vodafone - #BeStrong Anti-Bullying Emojis
While cyberbullying is a growing concern in the digital world, young people lack the tools to help them take a stand and show support for friends being bullied online. Vodafone set out to address the cyberbullying epidemic with a campaign anchored on the creation of a new set of anti-bullying emojis to empower young people to support each other across multiple social media platforms and markets.
The entire campaign was a collaborative process with teenagers. A panel of 5,000 teens surveyed by YouGov chose the final emojis that were used on Snapchat, Imoji and the #BeStrong emoji keyboard. These assets persuaded Tyler Oakley and other major influencers to join the #BeStrong conversation.
The global research revealed that most teenagers struggled to find the right words to show support for friends being bullied online. Vodafone used the YouGov study to involve the teenagers in the design and selection process for a series of "support" emojis, to ensure the emojis would appeal to their target market.
In back-to-school month (September) the research, emoji designs and an emoji equation video were released. A Snapchat partnership and the #BeStrong Snapchat filter was released overAnti-Bullying Week (November 2015). Safer Internet Day 2016 (February 2016) was leveraged to launch an emoji keyboard on Snaps and Imoji, as well as collaboration with leading digital influencers who released their videos from February to March to a combined following of over 20 million people.
In all, 153.5 million people were reached across social and online media, with 12.6 million #BeStrong emoji interactions on the Imoji keyboard app (averaging 300,000 interactions per day over a six-week period). Politicians and prominent outspoken celebrities, including Baroness Joanna Shields (who praised Vodafone for creating the #BeStrong emojis in a speech for Safer Internet Day 2016), Caitlin Moran, Arianna Huffington, Monica Lewinsky, Tyler Oakley, Bars And Melody, Alan Cumming and Jon Ronson spoke positively about the campaign.
Honorable Mentions:
CBS EcoMedia - Charity Champions League: The Competition for Social Good
CIT - Foodortunity
Food Lion Feeds - The Great Pantry Makeover II
Largemouth Communications - Kyle Petty Charity Ride Across America
MSLGROUP for The Home Depot Foundation - Celebration of Service: #ServiceSelfies Create Independence at Home for U.S. Veterans
Workiva Inc. - July 2016 Sustainability Report