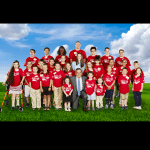 2017 CSR Awards
Corporations (>25,000 employee)
Speedway LLC
Speedway LLC began raising funds for Children's Miracle Network (CMN) Hospitals in 1991. Since then, Speedway has contributed more than $70 million to CMN Hospitals.
Today, CMN Hospitals is Speedway's primary charitable focus, and Speedway the charity's fourth largest contributor. Fifty-eight member hospitals in Speedway's operating area directly benefit from these fundraising efforts. For many of these hospitals, Speedway is their largest contributor.
Speedway's CSR efforts in support of Children's Miracle Network Hospitals are executed year round at all of the 2,700 locations Speedway operates. The primary venue for execution is at the point of sale; other events are executed at the pump and in the community.
Speedway was on track to raise between $11 million and $12 million in 2016, which is significant growth from a $10 million fundraising total in 2015. Over the lifetime of the partnership, Speedway has raised over $76 million for CMN Hospitals. Both in-store efforts and Speedway's golf tournament have seen continuous growth averaging from 5% to 15% year over year.
Donations to Children's Miracle Network Hospitals, through partners like Speedway, stay local to fund critical treatments and healthcare services, pediatric medical equipment and charitable care. Member hospitals use funds where they are needed most.
Speedway's fundraising efforts are already being put into use at local CMN Hospitals: In Dayton, OH Speedway helped fund a Mobile Intensive Care Unit; in Detroit, Speedway funds have provided a waiting lounge for families with children in the Neonatal Intensive Care Unit at Beaumont Children's Hospital; and, in Columbus, OH, the family lounge at Nationwide Children's Hospital is another example of Speedway's local impact, not just for sick kids, but for their families as well.
Honorable Mentions:
Food Lion
ManpowerGroup
Oracle