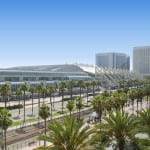 2017 Nonprofit PR Awards
Blog
San Diego Convention Center Corporation – The Convention Center Connection
The San Diego Convention Center Blog: The Convention Center Connection helps prepare attendees and visitors to the region with relevant information about the facility and the surrounding area while helping meeting planners generate excitement about the destination where their meeting will be held.
It also serves as a useful vehicle to communicate with the community, highlight successful convention center events, feature employee accomplishments and to share facility accolades.
By utilizing an in-house team to create a visually stunning blog featuring relevant information for audiences, the blog has supported the primary mission of the San Diego Convention Center Corporation: attracting conventions and trade shows and providing information to meeting planners.
The Corporation's Communications team delivered an editorial year that accomplished all their goals, including publishing 48 blog posts and balancing messaging to all of their audiences. Blog posts were published in advance of events to drum up excitement and attendance; blog posts were also published day of to keep the community informed. The blog site saw a total of 34,430 page views, a 45% increase compared to the prior year.
The increase in page views affirm that the blog is being used as an educational tool. The decision to produce an online blog with a mobile-friendly, responsive design proved beneficial as mobile and desktop traffic is an almost even split.
Utilizing an in-house custom-designed blog RSS feed, quarterly blog recap and a mix of social media channels (Instagram, Twitter, Facebook and LinkedIn) the team was able to reach a wider audience than ever before. Overall, they saw an increase in community engagement on social media, and as a result, blog sign-up increased 41%.
Honorable Mentions:
Better Business Bureau - WatchYourBuck.com
Texas811 - Scott Finley