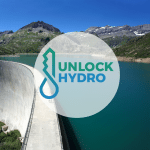 2017 Nonprofit PR Awards
Public Affairs/Issues Management
National Hydropower Association – UnlockHydro
As Congress began debating the first comprehensive energy legislation in nearly nine years, the National Hydropower Association (NHA) launched a new campaign called UnlockHydro. The purpose of the campaign was to educate policymakers, raise public awareness and generate support for the inclusion of provisions to modernize the hydropower licensing process.
With limited resources and funding, the aim was to create a nimble campaign that could evolve as the bill made its way through the legislative process. Above all, the goal was to start a conversation about hydropower, which is clean and is helping the nation fight climate change.
NHA's communication's staff is a robust team of one. In order to execute a successful campaign with many moving components on a small budget, NHA managed a small fleet of outside vendors to develop key elements of UnlockHydro. NHA tapped Fathom Creative to design its digital ads and branded materials and Knapsack Creative to construct the microsite. Its motion graphic video was produced by Shine Creative.
Recognizing the need for a coalition of voices, NHA worked closely with allied groups to help carry the message. For example, NHA published a joint op-ed in The Hill with the American Public Power Association, National Rural Electric Cooperative Association, Edison Electric Institute, Business Council for Sustainable Energy and American Council on Renewable Energy. Following publication, NHA was able to coordinate its social media outreach to maximize impact.
At several points during the campaign, NHA led efforts to send joint letters to Congress, urging for passage of the hydropower licensing provisions. In turn, NHA was successful in pitching the letters to reporters to generate media coverage. Rapid response also played a major role in the campaign. Groups in opposition to the provisions published op-eds in media outlets throughout the country. In response, NHA worked quickly to publish pieces to dispels the myths about the bill.
Today, the Energy Bill sits before a Congressional Energy Conference Committee where the final language is being negotiated—the last stop before final passage. NHA's digital strategy introduced hundreds of thousands of people to the benefits of hydropower, reaching over 253,000 people—many of whom were probably not familiar with hydropower. And display ads, with 906,000 impressions targeted at "Green Living Enthusiasts," introduced individuals that are concerned about the climate to hydropower.
Honorable Mentions:
Children's Health - Fostering Excellence for Children in Foster Care
Singer Associates, Inc. - UCSF Benioff Children's Hospital, Oakland