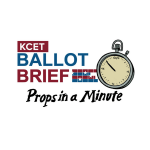 2017 Social Media Awards
Facebook | Use of Video
KCETLink Media Group – Ballot Brief: California Propositions in a Minute
In a climate where news stories constantly pop up on the internet from unverified sources, KCETLink Media Group set out to create Ballot Brief, an online electoral destination at KCET.org/ballotbrief and LinkTV.org/ballotbrief to provide users with informative, intelligent political information and balanced analysis pertaining to California state and national elections. The online guide's objective was to enhance understanding of the issues and candidates and to encourage political participation.
A key component of the initiative included a non-partisan effort to help voters understand 17 complex propositions on California's ballot that ranged from legalizing marijuana to banning the use of plastic bags. The Ballot Brief news team conceptualized a Facebook video series of one-minute explanations for each of the ballot measures called "California Propositions in a Minute," wherein Social Connected's news anchor Val Zavala would run voters through the key points of each proposition in 60 seconds, utilizing fun graphics and easy-to-understand language.
In early August, the team started posting the one-minute videos on Facebook. By November 8, the videos had won 1.5 million impressions. At one California high school, a teacher of a U.S. government class made watching all 17 of the videos an extra credit assignment for her students. The team also shared the videos with the NPR affiliate KCRW, which posted them to their website. Additionally, the team partnered with Southern California public radio station KPCC to feature the "Props in a Minute" explainers as part of their election guide.
The videos gained 1.5 million impressions on Facebook, with the explanation of California Proposition 64, the marijuana legalization initiative, seeing the highest engagement at 41,161 views, 471 likes, 451 shares and 55 comments. The project ended up being the most successful digital video campaign for KCET in 2016.
Honorable Mentions:
C+C and BECU - Sue's Surprise
Global Visi Media - Unity
Hennessy - Bottle Alchemy
HISTORY - Vikings 3D Prophecy
Houston Community College - Game of Tuition: A Song of Education and Learning, Episode 1
HSS I Hospital for Special Surgery - Gabrielle's Story
IBM - 360-Degree Research Labs
National Association of Insurance Commissioners - "Bad Breaks" Social Media Campaign with Celebrity Spokesperson RJ Mitte
Novartis Pharmaceuticals Corporation - NET Fusion
Las Vegas Convention & Visitors Authority - Vegas 360 Video
Raytheon Company - Veterans Day Facebook Campaign
Ruby Tuesday - Shy Girl Video
Waldorf Astoria Hotels & Resorts
The Woodlands Convention and Visitors Bureau - The Woodlands in a Minute
World Wildlife Fund - An Underwater Chorus of Wildlife