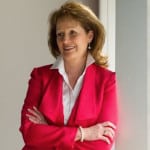 2017 Top Women in PR
Jill Wilson
Vice President, Communications and Marketing
Gray Construction
Jill Wilson has been with Gray Construction for 28 years and has been instrumental in taking the company from a small business with a regional presence to a nationally ranked corporation that serves customers all across the globe. Her strategic communication initiatives that focus on relationships first and foremost coupled with her discernible wisdom and guidance have been invaluable toward Gray reaching this position.
In 2016, she led an initiative to promote Gray as a sought after engineering, architecture and construction firm for manufacturing construction projects with the ultimate goal of generating new leads. Preparation for this effort involved meticulous brand messaging, visuals and positioning. Once established, Wilson strategically guided her team to exhibit at targeted trade shows; engage with media; distribute relevant press releases, marketing newsletters and materials; embrace content marketing strategies on the company website and social media; and above all, focus on building and strengthening relationships.
These efforts resulted in 26 total trade show exhibits; promotion through social media including mainstream media such as CNN Money, The New York Times, Forbes and The Wall Street Journal as well as trade publications including Manufacturing.net, Area Development & Industry Week; press coverage including The Washington Times, Engineering News Record, Concrete Construction, and the Chicago Tribune. The effort assisted in increasing manufacturing construction project leads generated by 33%, which led to 19 manufacturing project wins. Wilson's strong leadership pushed these efforts from start to finish offering experience, clarity and fortitude.