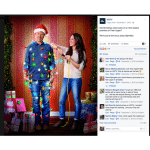 2017 Social Media Awards
Twitter | Most Engaged Followers
HGTV – Fixer Upper Season 3 Social Media Campaign
This campaign generated buzz and connected with #FixerUpper social conversations to build momentum for the Season 3 premiere of the hit HGTV show.
With their own multi-tiered mega-market complex, bed and breakfast, bakery and multiple media appearances, show stars Chip and Joanna Gaines are powerhouse influencers in their own right. Before Fixer Upper launched and during its first two seasons, they built a community of more than 10 million followers on their combined accounts.
To harness their influence, the team coordinated efforts to share content with their followers and to engage with HGTV's own community, including exclusive messaging that more than tripled their average reach. They also participated in live tweeting during the premiere, sharing real-time behind-the-scenes commentary, and during encores to build fan engagement throughout the season.
From previous seasons, the HGTV team identified several celebrity fans who engaged with their followers about the show on a frequent basis, including Scott Foley, Bellamy Young, Seth Rogen and Ryan Reynolds. The team incentivized celebrity fans with a holiday package of show-themed premiums and an exclusive advance screening of the premiere, contributing to buzz around the new season.
Grassroots social marketing launched as a holiday-themed countdown, featuring never-before-seen, exclusive bonus content. The HGTV blog gave fans directions on how to "join the fun" and to receive/share the content, including daily postcards with tune-in reminders, interactive polls to vote on past favorites and behind-the-scenes videos.
The effort ultimately resulted in 3 million+ impressions from tweets and 400,000+ mentions of Fixer Upper and #FixerUpper throughout the campaign. HGTV attributes the social media campaign as having an indirect impact on viewership milestones, including the Season 3 premiere being the highest-rated season premiere for the series.
Honorable Mention:
Palo Alto Networks - Navigating the Digital Age: The Definitive Cybersecurity Guide for Directors and Officers