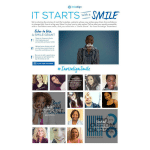 2017 Social Media Awards
Facebook | Best Marketing Campaign
Gold PR + Social Media – Invisalign Confidence in Action
With Gold PR + Social Media leading the charge, the Invisalign "Confidence in Action" campaign aimed to raise the value of a smile by showcasing the real-life stories of Invisalign patients sharing how their lives were transformed once they had the confidence of a new smile. The campaign was rooted in user-generated storytelling through social video content to bring to life individual, real-life transformations as told by real Invisalign patients.
The campaign launched with the release of new survey data to uncover statistics related to teeth/smile improvements that make a big difference in individuals' self-confidence. Invisalign spokesperson Valorie Burton used the survey data points combined with her personal expertise as a life coach to support the premise and the campaign.
A Los Angeles casting call was initiated via the Invisalign Facebook community to recruit patients with no incentive other than to share their story with the world. These testimonials were then produced into a call-to-action video with mini-vignettes. Social content published throughout the campaign encouraged prospective patients to enter for a chance to win a Smile Grant for free Invisalign treatment in exchange for sharing a photo and what they felt they could accomplish with a confident smile.
Over 2,500 entries were collected and narrowed down to five powerful stories, all deserving of free Invisalign treatment. The microsite also engaged users by driving them to take a Smile Assessment, effectively entering them into a lead generation stream.
In all, the "It Starts with a Smile" video had over 350,000 views and the microsite received nearly 21,000 unique visitors.
Honorable Mentions:
Albertsons Companies - Stock Up Sale
Hawke Media - Smooth Tech
Intuit - #QBTeamDream
King Media - Tabor Hill USA Today 10Best Vote Campaign
Newlink - MTV Super Shore
OpenVAPE - Keep it Curious
Regence BlueCross BlueShield Health Plans - Fearless Nation Awareness Campaign for Pacific NW
Schneider Electric - Electrical Contractors Campaign
TLC Marketing - Lift Off With Lilly
TopFire Media - i9 Sports Drives Franchise Growth through Facebook