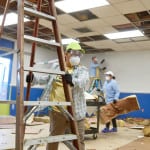 2017 CSR Awards
Employee Relations
Food Lion Feeds – The Great Pantry Makeover II
In September 2016, Food Lion combined grocery know-how with a passion to end hunger to "makeover" 38 food pantries in its 10-state footprint in 30 days through the Food Lion Feeds Great Pantry Makeover.
From Georgia to Pennsylvania and many states in between, Food Lion mobilized its community to eliminate hunger by providing more than 1 million meals during Hunger Action Month and over 1,400 volunteer hours by renovating facilities, providing equipment and stocking pantries. The Makeover served as part of Food Lion's commitment to ending hunger and providing 500 million meals by 2020.
To successfully execute the Great Pantry Makeover, Food Lion used 30 food bank partners as a resource to identify the 38 recipient pantries. To ensure diversity geographically and organizationally, Food Lion requested three nominations per food bank and selected 38 locations based on philanthropic budget and agency needs. Additionally, Food Lion's Community Relations coordinated with Food Lion store associates to volunteer and be the feet on the ground to completely transform each of the pantries.
The Food Lion Public Relations team utilized its owned and shared online channels to promote the Great Pantry Makeover in conjunction with Hunger Action Month, highlighting the work that was done at each pantry makeover by Food Lion associates. Channels included the grocer's "Lion's Tale" blog, Facebook, Twitter, company website and other social media channels. Food Lion implemented a social media toolkit that was shared with food bank partners to align external communications.
In addition to Food Lion's social posts, each food bank shared their personal photos, videos and testimonies, which garnered even more engagement on digital platforms. To further tell the story, Food Lion proactively conducted local media outreach in each food pantry market to raise awareness and support of hunger relief throughout the area.
Honorable Mentions:
Bacardi Limited - No Straws Pledge
Golden State Foods Associates Catch the Make a Wave Campaign
Hill+Knowlton Strategies and Banfield Pet Hospital - Pet-Friendly Workplace PAWrometer
MSLGROUP for The Home Depot Foundation - Celebration of Service: An Army of Associates Creates Independence at Home for U.S. Veterans