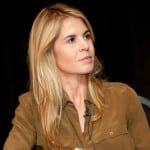 2017 Top Women in PR
Caroline Venza
CEO & Founder
mc²
Caroline Venza founded mc² for early-stage clean energy companies that needed high quality results at reasonable budgets. Its diverse group of client innovators is a real testament to the reputation Venza has earned within the industry, amassing high impact campaign results that have attracted millions in capital investment and customer contracts for clients. Since founding mc², she has grown the company organically, through word of mouth only, allowing it to triple in size.
mc²'s campaign strategy to cement Wrightspeed as a must-have for the heavy-duty vehicle market has been incredibly successful, resulting in 200+ media features, 20+ speaking engagements, increased web traffic by 5x, and driving new interest from 11+ investors and nine customers.
After introducing Wrightspeed's innovation and creating a new product category for range-extended electric vehicle powertrains, mc² designed the "Makers" campaign with the goal of cultivating and retaining talent at Wrightspeed. Headquartered in what is widely acknowledged as an emerging global hub for next-gen transportation companies, Wrightspeed benefits from the overall positioning, but wanted to distinguish itself from others.
While companies like Apple and Tesla built their brand around a single inventor/leader as an icon—there's a new legion of young companies that are attracting (and shining the light on) the young creators behind some of technology's most radical transformations. This culture is forming at the intersection of the "Maker" movement, which applies small-scale, artisanal approaches and niche expertise to advanced manufacturing to disrupt traditional corporate practices. mc²'s campaign included ongoing and consistent internal communication with employees to keep morale high, as well as the external public relations campaign that aligned with the current Maker movement.