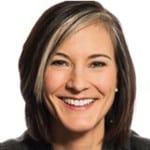 2017 Top Women in PR
Bernice Neumann
Practice Leader, Food & Nutrition
Exponent PR
Bernice Neumann has helped shape Exponent PR into the award winning and nationally recognized agency that it is today. With more than 20 years in the business, Neumann knows the food industry inside and out—and from farm to table.
She has built client relationships and created innovative ideas for established brands such as Florida's Natural Orange Juice, Land O'Lakes Butter, Kozy Shack Pudding, The Hershey Company, the Peanut and Tree Nut Processors Association (PTNPA) and numerous General Mills and Pillsbury products. Her enthusiasm and ability to make instinctual adjustments have earned her a reputation as an unflappable PR practitioner.
Land O'Lakes needed Exponent PR to find a way to sell its new European Style Butter—a higher-fat product sold at a much higher price point than the brand's core offering—in a largely competitive field, without confusing loyal customers or denigrating their core product. With Neumann at the helm, Exponent developed an integrated campaign that used a variety of highly targeted, digitally driven tactics to bring the premium butter experience to new consumers and help them create extra-special moments of connection with their friends and family.
Campaign tactics included select sampling with modern influencers ahead of product launch, editorial and social content created by a network of popular culinary bloggers, a month-long Instagram takeover with micro video content, and event activations in New York City and at the Music City Food + Wine Festival in Nashville. The result was one of Land O'Lakes' most successful product launches in recent history, generating 51 million impressions from top blogs and outlets in only three months.